Since moving to our new home at the Abbotsford Convent, the ANAM staff and cohort still have a lot of exploring to do in our new neighbourhood. As we begin transitioning back to our offices and practice rooms, we asked friends, staff and musicians who have been working and living in the community for activities and places to look forward to post-lockdown!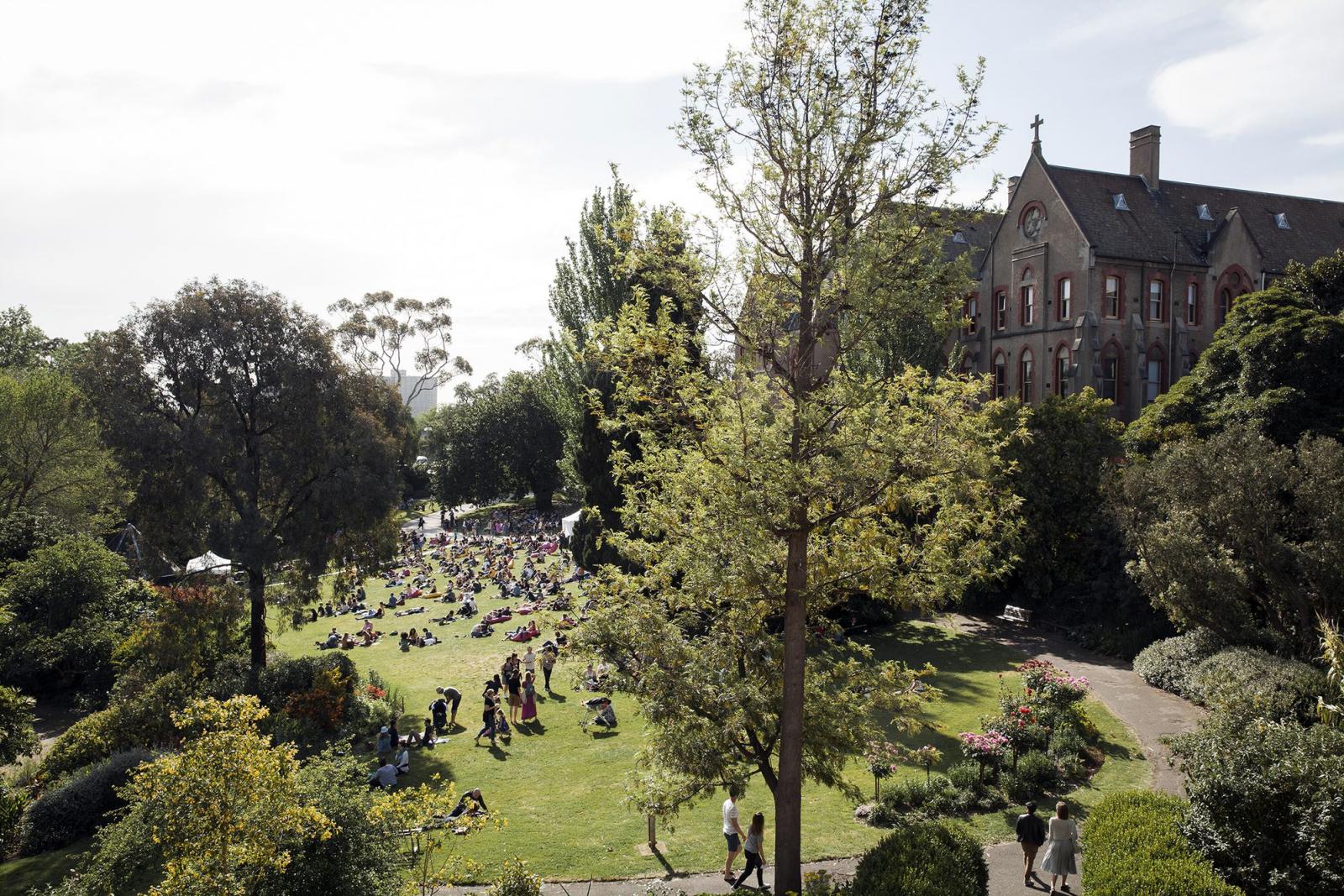 The Abbotsford Convent grounds. Photo credit Charlie Kinross
---
We regularly ride to The Farm Café with our kids for lunch on the weekend - and we always drop into the excellent Vinnies around the corner and hunt for bargains.
-Kate Mazoudier, ANAM Deputy General Manager
I suggest:
-Just up the hill, toward Kew, the Studley Park Boathouse, for a coffee, hire a row boat and linger by the river;
-Collingwood Children's Farm for a coffee and pat an Alpaca;
-Walk from the Convent down to Dights Falls, to look at the Fish Ladder;
-Wander the shops and cafes in the east end of Johnston St;
-Visit Collingwood Yards
-Personal favourite shop at the Convent, ULO for African designed fabrics
– Nick Bailey, ANAM General Manager
I just love anything with pickles from Cam's at the moment. On occasion I take a walk, or if a friend comes to visit, we take a walk. I walk the perimeter of the convent or venture into the back streets of Abbotsford. I enjoy that mix of the natural landscape of the Yarra, industrial landscapes and the individual personalities of the little Victorian workers cottages around here. I also like to pop out to buy fresh produce from the stall at the Children's Farm sometimes.
– Katheryn Leopolseder, Jeweller and Artist Leopolseder
Cam's is without a doubt one of my favourite places to eat or grab a coffee at any time of the day. Their delivery soups sustained me during Lockdown 2.0 in the dead of winter. And my friend had her 50th there. It turns into a surprisingly good dance floor.
For a drink you can't go past the wonderfully unique Fee Fee's Bar in Johnston Street Collingwood, for great tunes and cocktails, amazing interior design and the bar staff are usually sporting fantastic Farrah Fawcett hair styles - great American rock chic.
– Olivia Allen, Community Arts Officer Yarra City Council
Being American, it would be sacrilege not to recommend Le Bon Ton in Collingwood. If you're into Louisiana style barbeque, a fabulous blues soundtrack and moody exposed brick lit by dripping candles, this place is nothing short of iconic. Laissez les bons temps rouler!
The coffee at Uncle Drew Café in Clifton Hill is beautiful, and the fare is exquisite—thanks to Uncle Drew's artful presentation and commitment to the best seasonal ingredients. The vibe has a cosy neighbourhood feel to it, lending itself to a wonderful dine-in experience, or you can opt for a delicious coffee and croissant to take with you on a walk around nearby Dight's Falls.
– Jennifer Whitten, Artist
Every 4th Saturday of the month brings the freshest and tastiest produce straight from the farm to the Convent, with the Abbotsford Farmers' Market. Everything from seasonal vegetables and fruits to the tastiest olives and gnocchi to seafood and flowers - grab your shopping list and get to know your produce from the people who make it.
– Nkechi Anele, Marketing Coordinator Abbotsford Convent
Paddling on the gorgeous Yarra River, on a kayak hired from Sea Kayak Australia, has to be one of the most glorious ways to start the day. Meandering past graceful gums and billowing wattle, birds calling in the background, provides a very different perspective of the majesty of this ancient waterway.
After that, hungry appetites can be happily replenished at Admiral Cheng Ho for excellent coffee and vegan treats or another local favourite, 8 Murray Street for delicious and imaginative, also with good coffee.
– Virginia Blue, Architect Blue Fruit Interior MelbourneBlue Fruit Interior Melbourne
As a new resident in the inner-eastern suburbs of Melbourne I have really enjoyed exploring my new home and what this gorgeous little pocket of Melbourne has to offer. Abbotsford Convent is one of my favourite places to visit; simply to appreciate the beautiful gardens, the gorgeous buildings and enjoy the great food there is on offer. Cam's is a particular favourite of mine, serving classic lunches, tasty snacks and hearty dinners. Their hot chocolates can't go unmentioned - absolutely unbeatable on a cold Winter's day.
– Nicola Robinson (horn, QLD)
Bodriggy Brewing coBodriggy Brewing co. on Johnston Street has been a lovely venue to hang out with friends after a concert or a long day of rehearsals. It's quite a big space and has live music. I would also recommend Mavis caféMavis café for coffee, conveniently located on Nicholson Street right near our practice studios at Marine Parade. And of course, I would have to mention the Park Hotel which has a fantastic happy hour and is a regular social spot among my colleagues and I.
– Tim Allen-Ankins (horn, QLD)