Creative Coordinator Leigh Harrold keeps us up-to-date with everything inside The ANAM Set with monthly blogs and insights in to what's going on behind-the-scenes.
June update: Mushrooms and Meteorology
It was such a thrill when the first ANAM Set piece hit our inboxes a few weeks ago. We had all seen the tantalising pictures of ANAM cellist James Morley working with Liza Lim, two cello bows in his hands but to see the finished work, Cello playing - as Meteorology, on an actual music stave with Liza's characteristically beautiful musical calligraphy was quite moving. In some ways it was the first tangible glimpse of The ANAM Set legacy. I'm perusing the manuscript as I type this, and it looks like a work of subtle timbral beauty, inspired by both the animacy and the intimacy a cellist develops with their instrument over time.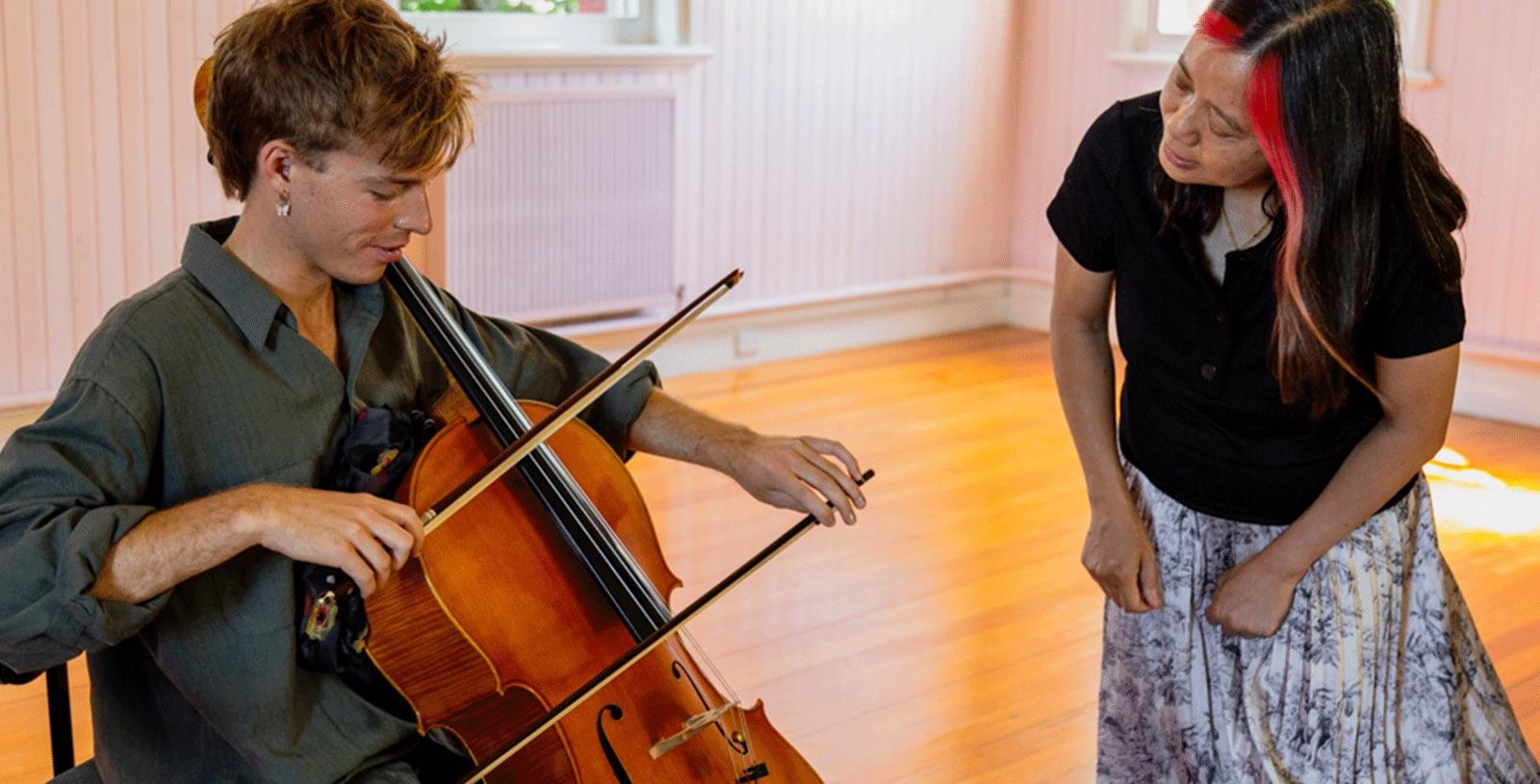 ANAM cellist James Morley (SA) with composer Liza Lim. Photo by Pia Johnson
Less than a fortnight later, "an anti-opera for piano, toy piano, extended rock kit, and vocal/guitar playback" dropped into our DMs. Not so subtle, perhaps, but Michael Kieran Harvey's composition, Death Cap Mushroom for pianist Hannah Pike (and her percussionist partner Alex Bull) is an angrily political work bathed in dark humour, deliberate banality, and metal virtuosity of the 'Bang-on-a-Can' variety.
In some ways, Michael's and Liza's works are aesthetic opposites, but they both draw heavily on analogies from the natural world, and that seems to be an emerging theme as more ideas from The Set start to crystallise. Maybe the climate crisis is causing artists to commune with nature in a more urgent way, or perhaps the stasis of last year's lockdowns made us slow down and reflect on our surroundings more. Whatever the reason, the world outside our four walls has stimulated the imaginations of our composers in a multitude of ways. There's Lim's meteorology and Harvey's mushrooms; Chris Dench has drawn parallels between the pincers of fiddler crabs and the stance of trombonists; Ross Edwards is paying homage to 'Mother Earth' via fragments of mediaeval Marian chant.
The personal connections continue to be revealed too: it's been discovered that Cathy Likhuta and cellist Charlotte Miles (paired together) have close relatives that work in the same scientific fields; Alex Voltz and violinist Emily Beauchamp met at a National Music Camp in 2020. Oh, and Elena Kats-Chernin did end up dropping in for that FIFO visit. She crammed about 10 hours' worth of wisdom and enthusiasm into a 3-hour meeting with clarinetist Oliver Crofts, who not only workshopped ideas with her for his 'Set' piece, but also played her a couple of movements of her clarinet concerto. Her reaction? "I'll never worry again whether parts of the piece are playable or not, because you've proven that it is all perfectly playable".

The Set project continues to inspire, and grow beyond its boundaries!
ANAM Artistic Director Paavali Jumppanen, composer Elena Kats-Chernin and ANAM clarinetist Oliver Crofts (WA)
May update: 3am thoughts
"So, the good thing is, for the last two weeks I've stopped waking up with a start in the middle of the night thinking about The ANAM Set", I proudly declared to our General Manager last week. I would never dare to suggest that pairing our 67 chosen composers with the 67 ANAM musicians was as complicated as playing chess (rather, more like a jigsaw puzzle where you don't know what the final image should look like), but I'd certainly been experiencing my fair share of 'Queen's Gambit'-esque ponderances while staring up at my bedroom ceiling late at night. I'd be just drifting off to sleep when my brain would suddenly say to me "But if Lilijana is paired with a percussionist, then Nathan or Jamie risk not getting their first choice, unless we ask Elliot to write for double bass, which will take pressure off the bassoons, but then we might have to ask Elizabeth to write for horn, which I don't think she really wanted to do, but perhaps she could write for piano - we do need one more composer for piano… or is it one less? I can't remember. Oh look, it's 3am".
Jeanette (our fantastic ANAM Set Project Manager) and the rest of the team have similar stories involving other various complex matrices. It was so important to us to collect as much data as we could: composers that ANAM musicians wanted to work with; instruments that composers wanted to write for; collaborations that faculty members saw great potential in. Each new piece of information inched us towards our final image, while also making manoeuvring the puzzle pieces that much harder. When, over a Zoom connection, the final pairing was confirmed (I believe it was Mark Wolf with oboist Alexandra King) several people in several work-places around Melbourne gave a little happy-dance.
Now, of course, it's over to the composers and musicians. The 'Set' is already starting to weave itself into the busy schedule that occupies our musicians: casual coffee-chats have been spied on campus between performers and composers; it's rumoured there'll be a FIFO visit from Elena Kats-Chernin sometime soon so she can meet with clarinettist Oliver Crofts; Liza Lim has all but finished a new work for cellist James Morley. There have been some serendipitous surprises too: Emile Frankel and pianist Kathy Chow, paired together, know each other from their Uni days; Thomas Green and violinist Claire Weatherhead, also paired together, had apparently been keen to collaborate on a project for a while - who knew?!
The next few weeks are all about building relationships, being inspired by mutual exchanges of ideas, and sowing the resultant artistic seeds. To see this happening all around the grounds of ANAM is incredibly invigorating. It's exciting to think about how much new music is currently being incubated, and how soon it is until we get to hear it all. We really are in for a treat.