Update by
Phillip Sametz
Alumni Coordinator
Every day more exciting news comes my way about the musical lives of the alumni cohort. You can read about some of their recent adventures below. And if you studied at ANAM, or if there are ANAM alumni in your life, help us spread the word about ANAM Artists and the 2020 tour opportunities. Expressions of interest for 2020 ANAM Artists are now open. In the meantime, watch our 2019 ANAM Artists and hear about their upcoming tours.
ALUMNI UPDATES

Gladys Chua (piano 2013) writes "I'm excited to be joining the Conservatorium of Music at UWA in 2019 as part-time faculty to teach chamber music, work with the vocal department, and generally do piano things".
Thea Rossen (percussion 2016) will be co-creating and presenting the projects for the Melbourne Symphony Orchestra¹s Education Week later in 2019.
The Musica Viva in Schools program Water, Water Everywhere, featuring Thea, Leigh Harrold (piano 2004 and Associate Faculty) and Luke Carbon (clarinet 2016), toured NSW and Victoria in 2018 (116 performances in total) and will be touring regional Victoria and South Australia this year, as well as metropolitan Adelaide, Sydney and Melbourne.
The Brisbane-based Southern Cross Soloists, which include Ashley Smith (clarinet 2010), Alex Raineri (piano 2016) and Lina Andonovska (flute 2013) have announced their 2019 season. Their season opens with a Lunar New Year concert on Sunday 17 February.
You can read a new profile of Madeleine Easton (violin 2000) on the alumni profile page, created just as she returned to Australia after some years in Europe. As co-principal in the Orchestre Revolutionaire et Romantique, she also talks about playing on gut strings, in this video.
Madeleine, along with Iona Allan (violin 2016), were among the musicians performing for the centenary celebrations for Australia House in London. At a special reception in November, attended by Prince Charles and the Duchess of Cornwall, Madeleine and Iona took part in the premiere of a new work written for the occasion, The House, by Joe Chindamo. On Sunday 17 February Madeleine will appear as soloist with Queensland Baroque and its artistic director John Foster (trumpet 1998) in the concert The Bach Effect, at St. Andrew's Uniting Church in Brisbane.
Some news from Ashley Carter (trombone 2014): "Since finishing at ANAM I have been to the USA, specifically Chicago to study my Master of Music at Northwestern University with Michael Mulcahy (trombone faculty), graduating with Program Honours and as the Bienen School of Music Concerto Competition winner in 2017. During my time in Chicago I had the opportunity to perform with the Chicago Symphony Orchestra. I am now based in Sydney and I am the Trombone Lecturer at the Sydney Conservatorium of Music. I also perform regularly as a casual with the Sydney, Melbourne and Tasmanian Symphony orchestras and the Opera Australia Orchestra. Amongst teaching at the Conservatorium and performing with the orchestras I teach at The King¹s School in Parramatta, Pymble Ladies College and Roseville College".
Donna Parkes (trombone 1996) has been Principal Trombone of the Louisville Orchestra in the USA since 2008 and has been Principal Trombone of the Colorado Music Festival since 2009.
In November, after three years in Melbourne, Thomas Hutchinson (oboe 2011) decided, as he put it, "that it's time for a bit of an adventure, so I've packed my bags and will be spending the next six months in Europe living out of a suitcase. Here goes nothing!" His adventures since then have included a performance of Mahler's Symphony no. 3 at the Konserthus in Stavanger, Norway, as guest principal oboe with the Stavanger Symphony Orchestra.
The Sydney Symphony has announced the members of its 2019 Fellowship program. Of the 12 musicians taking part this year, half are ANAM alumni. They are: David Barlow (double bass 2018), Beth Condon (viola 2018), Aidan Gabriels (horn 2017), Eve Osborn (oboe 2017), Eliza Sdraulig (viola 2018) and Dale Vail (trombone 2018).
The SSO's 2018 European tour, which saw the Orchestra travel from Warsaw to Paris, performing 12 concerts in seven countries, featured, among its band of strolling players, Alex Morris (clarinet 2012) and 2018 SSO Fellows, including Aidan Gabriels and Magdalena Krstevska (clarinet 2017). Here, photographed in the Berlin Phiharmonie, are the SSO clarinets, from left: Magdalena, Alex, Christopher Tingay and Acting Principal Frank Celata. In the meantime, Alex has successfully passed his trial as the orchestra's Principal Bass Clarinet.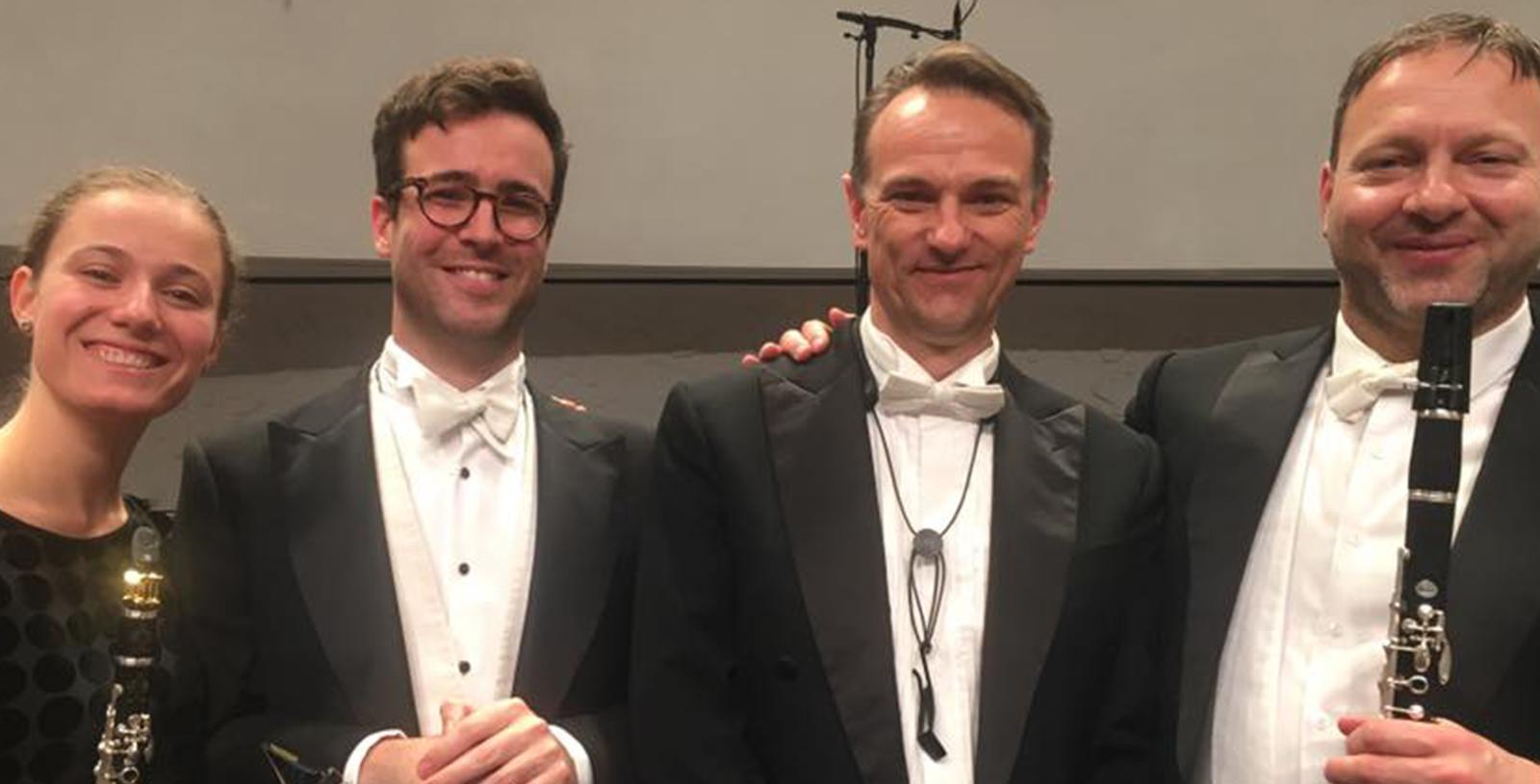 Speaking of clarinets, Kenny Keppel (clarinet 2016) is acting Principal Clarinet with the Turku Philharmonic Orchestra in Finland for their spring season, which runs January-May 2019.
The initial iteration of the Australian Youth Orchestra's newly-formed Momentum Ensemble – which toured NSW in December – featured many ANAM musicians past, present and future, including alumni Yena Choi (violin 2013), Charlie Westhoff (violin 2015), Jack Bailey (cello 2013), Chris Martin (bassoon 2016) and Ben Messenger (horn 2015).
The Flinders Quartet will give the world premiere of a new string quartet by Matthew Laing (viola 2013) later this month. The quartet, entitled Out of Hibernation, was commissioned by the Flinders, who will perform it as part of their first subscription concert for 2019. Performances take place in Montsalvat (Eltham), the Collins Street Baptist Church, the Melbourne Recital Centre and for Peninsula Music Society (Mornington). The quartet say of this concert that they are impressed by Matthew's "unique and engaging concept of sound and gift of musical architecture. We asked him to choose which works best pair with his compositional voice. He chose to have his work programmed with Schumann's String Quartet no. 3 and Haydn's String Quartet op. 64, no. 3; shining a new perspective on these enduring works of the repertoire and using it to place his own work into a historical context." The Flinders Quartet comprise cellist Zoe Knighton, violinists Nicholas Waters (violin 2016) and Thibaud Pavlovic-Hobba (Violin, 2012) and violist Helen Ireland (viola 2001).
Thomas Williams (piano 2013) writes "I'm going to be the music teacher at a brand new high school in Richmond, Victoria (Richmond High School), where I will be setting up the music department." Congratulations, Thomas!
Through her organisation Mountain Concerts, Grace Kim (piano 2001) will present the world premiere of Leonard the Lyrebird: A Musical Story, an original composition by Ian Munro based on the children's book by Jodie McLeod, Leonard the Lyrebird. Performances take place at Scenic World in the Blue Mountains NSW. Other musicians taking part include Philip Green (clarinet 2000). The work will be narrated by the composer. Performances take place on 23 and 24 February.
Stefanie Farrands (viola 2010), currently in Berlin, has performed as a guest member of the Berlin Philharmonic Orchestra. In December, she wrote: "so special last week playing The Firebird with the Berlin Philharmonic and conductor Valery Gergiev. This week is Mahler's Resurrection Symphony with Andris Nelsons... No words. A tick off the bucket list for me!"
FOR ANAM ALUMNI
Chamber music call-out! Entries are now open for the Queensland International Chamber Music Competition, administered by Ensemble Q. Entry is open to a wide variety of ensembles with a maximum age of 35. A panel of esteemed musicians from across the country have been selected to adjudicate the competition, and prizes will be offered in a variety of categories. The semi-final and final rounds are open to the public, and the overall winners will open the 21 July Ensemble Q series concert. The final round takes place in the Conservatorium Theatre, which is widely hailed as one of Australia's best chamber music halls. Entries close at midnight on Saturday 4 May.