Each year a number of young musicians relocate from New Zealand to Melbourne to start their ANAM journey. Because of this, and the professional opportunities available there for our graduating musicians, we've been looking for ways to strengthen our ties with New Zealand for a number of years. In 2019 we're excited to partner with Auckland Philharmonia Orchestra (APO) and Auckland Arts Festival for the first time.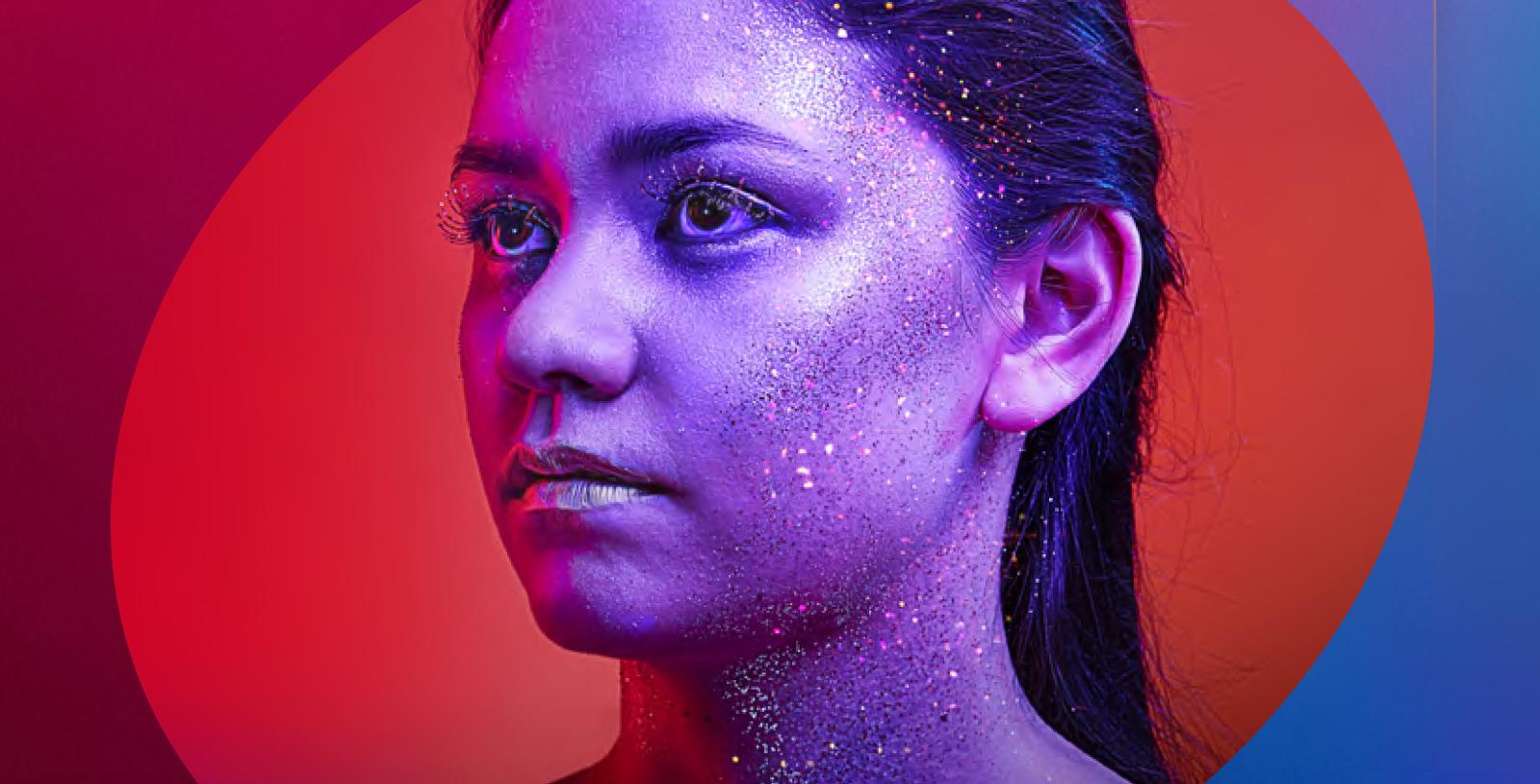 Today (March 19), 25 of our musicians will travel across the Tasman to immerse themselves in the APO. They will rehearse the magnificent Turangalîla Symphony by Olivier Messiaen, one of the great composers of the 20th century, and will perform this work alongside the APO to close the Auckland Arts Festival on Saturday 23 March at the Auckland Town Hall.
Everything about the Turangalîla Symphony is exuberant, colourful and excessive. It is an extravagant celebration of love, with music of total exhilaration centred around a blissful movement called, beguilingly, The Garden of Love's Sleep. The Turangalîla Symphony demands a massive orchestra of more than 100 players and two soloists – piano, and a mesmerising electronic instrument called the ondes martenot. A number of ANAM musicians performed this piece with the Australian World Orchestra and Simone Young in 2017 but it will be new to most of our 2019 cohort.
"Being embedded in a world-class orchestra is one of the most beneficial training opportunities for musicians of exceptional quality," ANAM Artistic Director Nick Deutsch said. "The opportunity in New Zealand will be an invaluable experience for our musicians and in 2019 they will also be taking part in similar 'side-by-side' projects with the West Australian Symphony Orchestra and the Tasmanian Symphony Orchestra. We hope that this is the first iteration of a rich, ongoing partnership with arts organisations in New Zealand."
For four ANAM percussionists, the collaboration had an added bonus. In addition to Messian's Turangalîla, and also as part of the Auckland Arts Festival, percussionists from ANAM and the APO will come together to perform an all percussion program, led by APO Principal Percussionist Eric Renick. This concert on Tuesday 19 March will be performed in the atmospheric surrounds of the Spiegeltent in Aotea Square NZ. Pre-rehearsals commenced in early March when Eric Renick visited ANAM to meet and work with the percussionists involved. (Pictured below: Hamish Upton, Alex Meagher, James Knight, Eric Renick and Alison Fane at ANAM pre-rehearsals).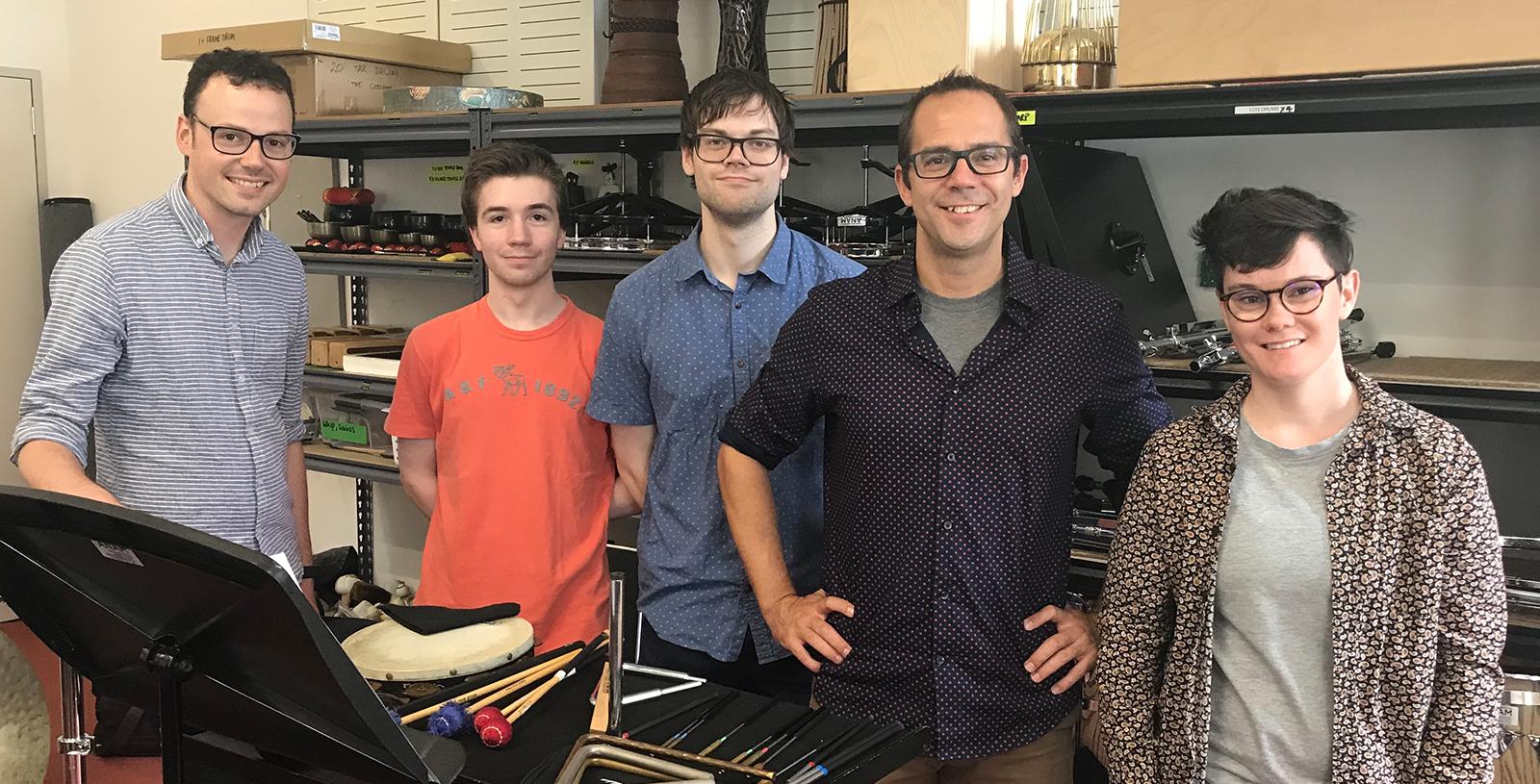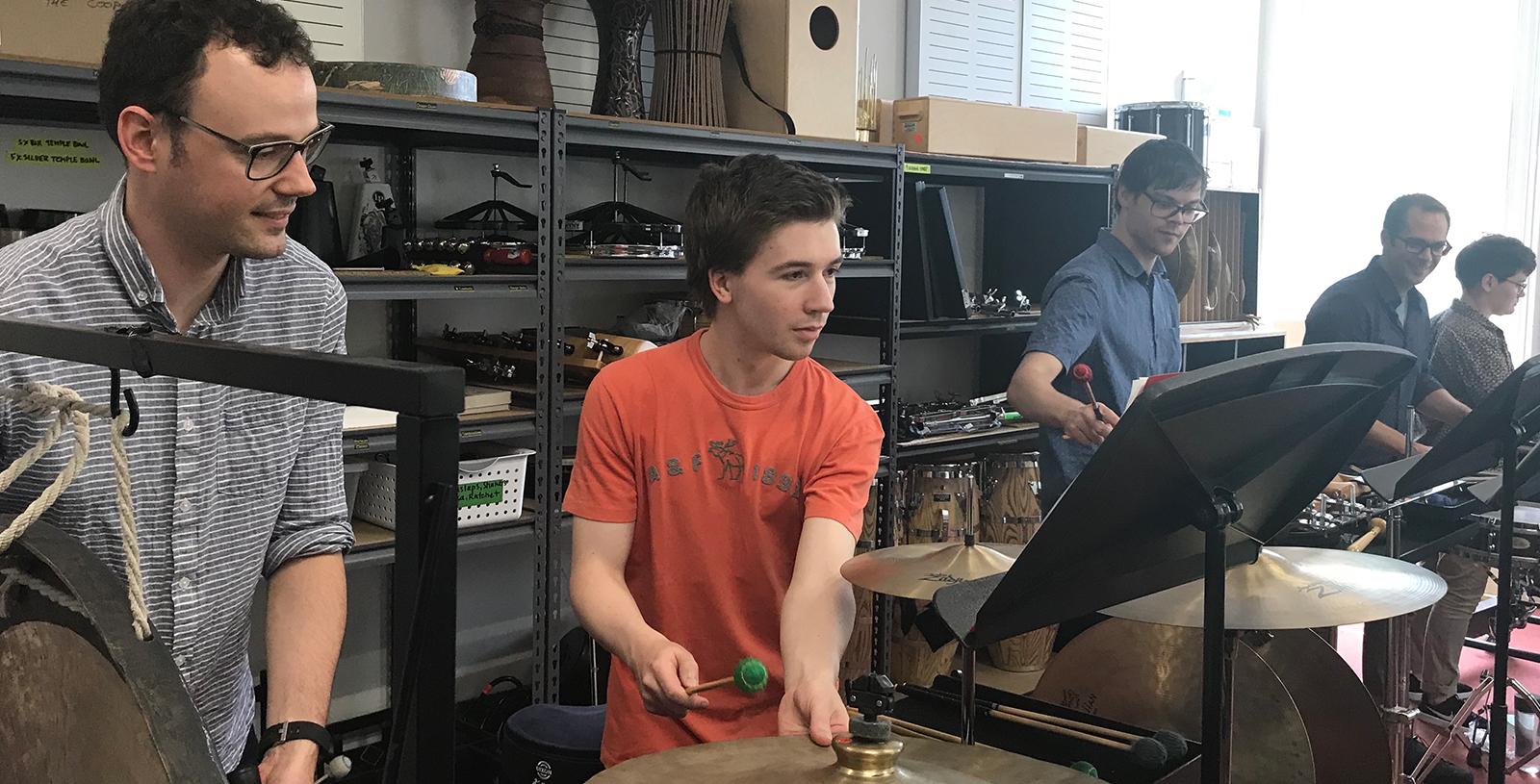 The percussionists travelled to New Zealand earlier than the rest of the group to prepare for the percussion concert.
"On Monday morning we had our first full rehearsal for In C which is going to be a totally awesome performance." says Hamish Upton (ANAM alumnus) and one of four ANAM percussionists in the project. "Eric has created a really great instrumentation with tuned percussion, tabla, gongs, synthesisers, and other weird and wonderful percussion sounds. We're all really excited about the performance tomorrow!"
In C is considered to be one of the most influential works of the late 20th century. With its insistent, repetitive rhythms and harmonic mutations it has inspired contemporary classical composers such as John Adams and Philip Glass as well as rock artists like John Cale and Brian Eno.
As a part of the Auckland Arts Festival accessibility program ANAM percussionists will also participate in a Touch Tour before the In C performance. The tour is for members of the blind community who are attending the concert. The tour allows blind or low vision audience members the opportunity to get close to the elements of the concert beforehand. They will be guided around the space and introduced to the musicians who will then talk about the music, play some extracts, and identify a couple of instruments that can be handed around giving the blind ro low-vision audience members a more tactile, personal interaction to enhance their experience.

IN C
Tuesday 19 March 6pm
Speigeltent (NZ)

FIND OUT MORE

MESSIAEN'S TURANGALÎLA
Saturday 23 March 7pm
Auckland Town Hall

FIND OUT MORE
To open the Turangalîla concert, musical expert Graham Abbott will present an insightful and informative mini Unwrap Messiaen's Turangalîla
NOT IN NEW ZEALAND?
Messiaen's Turangalîla will be streamed online through the APO website (commencing approximately 5pm AEDT Saturday 23 March) and on Facebook (commencing approximately 5.50pm AEDT).