ANAM is thrilled to announce Mee Na Lojewski (cello, 2015) and Katie Yap (viola, 2014) as the two inaugural recipients of ANAM's Ian Potter Emerging Performers Fellowship, made possible with support of The Ian Potter Cultural Trust.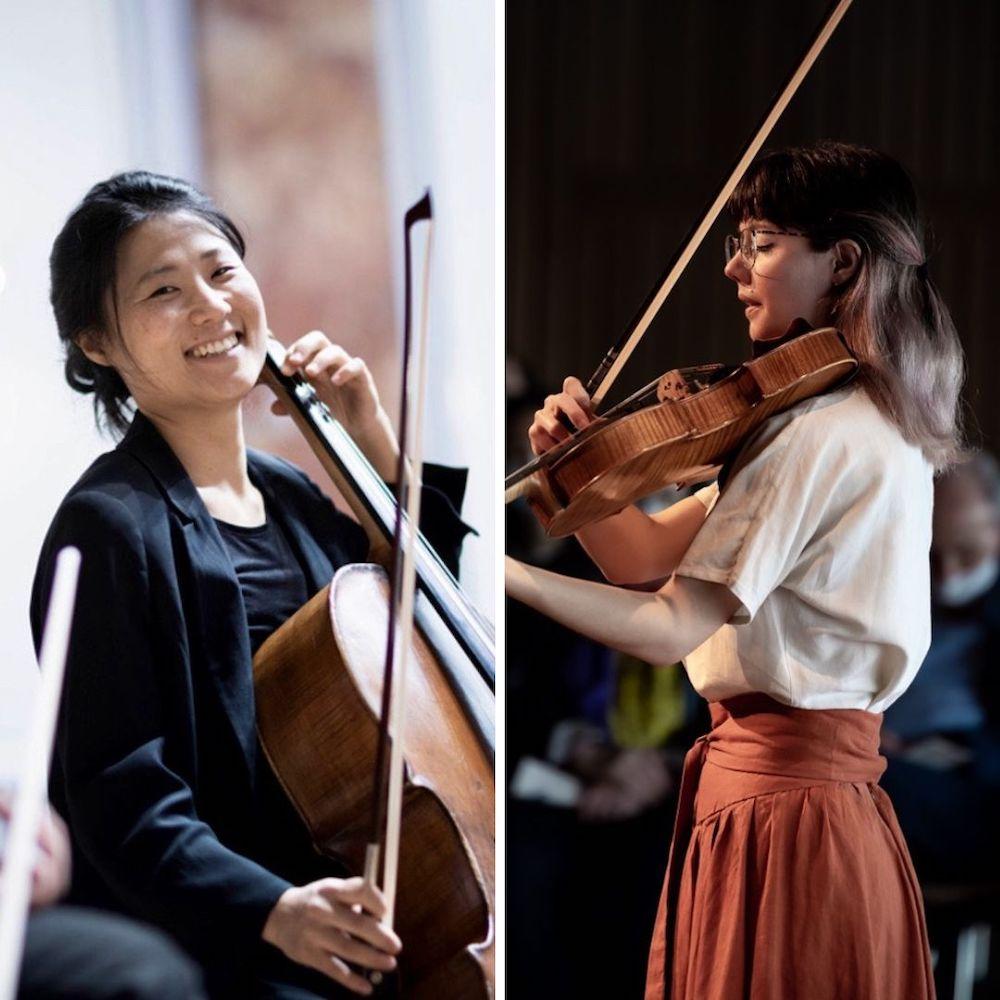 (L) Mee Na Lojewski (photo by Benjamin Ealovega) | (R) Katie Yap (photo by Grant Leslie)
Each of the Fellowships are valued at $50,000 each year for two years (total value $100,000), will include mentorship, and are awarded to ANAM alum who display a demonstrated commitment to establishing an independent performance practice.
After an impressive round of applications received, Panel Chair and ANAM General Manager Nick Bailey said: "Hearing something of the dreams and aspirations of the shortlisted alumni who generously shared their time and stories with us meant we had an inspirational day of conversations.
"I am very proud of the legacy and the distinctive inquisitive musical personality that is starting to form out of ANAM's activities of the past twenty years.
"The panel felt that both Mee Na and Katie already have an impressive body of work behind them, and that both have much more that they can achieve and create. ANAM is very appreciative of The Ian Potter Cultural Trust putting its trust in these emerging musicians by way of this visionary program of support. We are certain that wherever they land professionally, the country will be the better for having Katie and Mee Na as part of the national creative conversation".
Katie Yap said "It's hard to articulate the significance that The Ian Potter Emerging Performers Fellowship will have for my career, work, and life. The financial support it provides is a true gift - it will allow me to dedicate the time, energy, and resources to my creative work that until now, I thought was a pipe dream. The guidance of mentors through this largely self-directed process will be invaluable, and I am so excited to learn from them. To be given the time and space to dream and work over the next two years, knowing that I have the support of this Fellowship as well as my mentor, is an overwhelming joy".
Mee Na Lojewski said "I am thrilled to receive one of the inaugural Ian Potter Emerging Performer Fellowships. It has come at a pivotal point in my development and my next steps as a chamber musician and founder of Affinity Quartet. To have The Ian Potter Cultural Trust's recognition and support of my independent practice is life-changing. Without a doubt, it will enable me to create new opportunities for Affinity Quartet and for Australian chamber music."
Chair of The Ian Potter Cultural Trust, Charles Goode AC, said: "Congratulations to our inaugural Ian Potter Emerging Performer Fellows. In awarding these fellowships, The Ian Potter Cultural Trust continues its commitment to support outstanding emerging Australian artists.
"We look forward to following Mee Na and Katie's professional journeys over the next two years as they use this investment in their career development to realise their artistic ambitions."
Two Fellowships will be awarded each year between 2024 and 2028 to two ANAM alumni. Fellows selected will have achieved a high skill level in their chosen instrument and demonstrated vision and resilience along with a desire to further grow and contribute to Australia's cultural life. The Fellowships are not attached to specific activities, budgets or outcomes and are essentially untied funds to allow recipients to 'go and be an artist – we trust you to undertake meaningful work'.