Words by
Eliza Shephard and Eunise Cheng
ANAM Alumni
2018 ANAM Directors Prize winner and recipient of 2018 Outstanding Recital Award Eliza Shephard, and winners of 2018 ANAM Chamber Music Competition the Partridge String Quartet (violinists William Huxtable and Mana Ohashi, violist Eunise Cheng and cellist Daniel Smith) sit down to update us on their latest adventures as they prepare for their ANAM Prizewinners Concert at the Melbourne Recital Centre, as well as for the Port Fairy Spring Music Festival.

Partridge String Quartet
2019 has been a busy however incredibly rewarding year for the Partridge String Quartet. Many opportunities opened up to us since our first prize at the ANAM Chamber Music Competition which marked the end of our study at ANAM for myself, Daniel and Mana. We've been lucky enough to have had numerous performances and programs take us around Australia and it has been immensely enriching to be able to perform with clarinettist Paul Dean, host our own Soundbite concert at ANAM, perform on 3MBS, be given intensive mentorship by the Dover String Quartet and perform at the Musica Viva Festival in Sydney as part of the Australian Youth Orchestra Chamber Players Program. where we were interviewed by Ed Ayres broadcasted live on ABC Classic. In July, the Quartet competed at the inaugural Queensland International Chamber Music Competition winning joint first prize with another ANAM alumni ensemble Ensemble Francaix which was a huge honour and then as part of the prize had the privilege of performing at Ensemble Q's Winners Concert. We've since been busy preparing for the Melbourne Recital Centre Prizewinners Concert which we were granted with our first prize win at the ANAM Chamber Competition and are also eagerly anticipating the Port Fairy Spring Festival. Our list of repertoire we are performing next week include the Ravel String Quartet, Ligeti String Quartet, Scherzo for quintet by Andrew Foote, two Gesualdo hymns arranged by Stefan Cassomenos, five Mills String Quartets including a world-premiere, Summa by Arvo Pärt and Beethoven's stunningly poignant 'Heiliger Dankgesang' from his opus 132 quartet.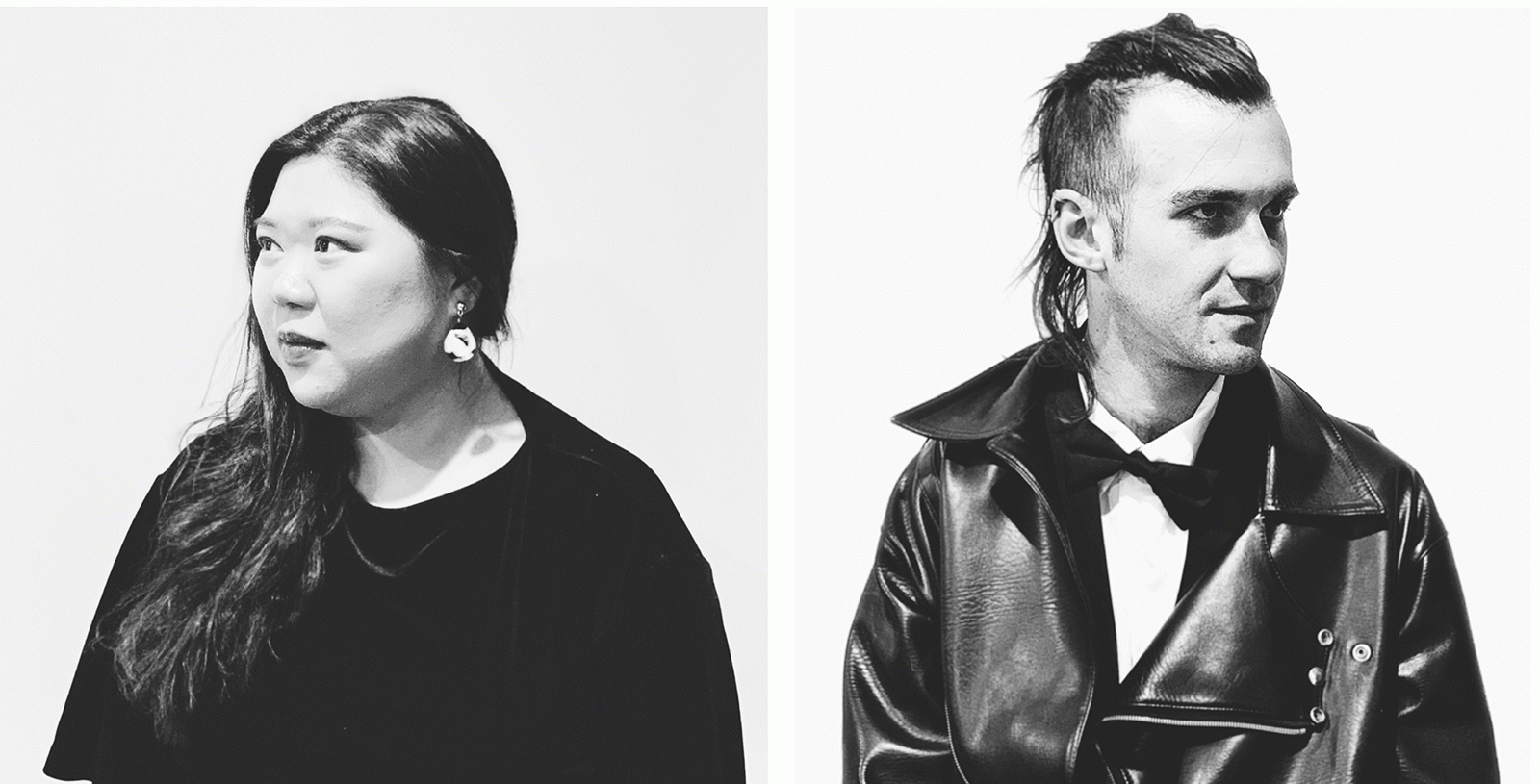 While it has been a delight to prepare all these works, we are particularly excited to be the first string quartet to prepare and present a full cycle of veteran Australian composer Richard Mills' wonderful string quartets. While learning more traditional classical works is essential for the quartet's growth and part of what we believe makes chamber music so timeless, Australian works are a true passion of ours, especially as an upcoming Australian string quartet. It was very special for us to be able to bring Australian composer Paul Stanhope's String Quartet No. 2 to Canada last year in our three-week long workshop in Banff, and we hope to keep sharing amazing Australian string quartet works to audiences all over the world.
Spanning nearly thirty years since writing his first string quartet, Mills' string quartets have been world-premiered and performed by the Goldner String Quartet, Takacs String Quartet, Jerusalem String Quartet, Flinders String Quartet and Australian String Quartet. It has been a personal and incredible journey for us to be part of this lineage to work with Mills as we prepare for the world-premiere of his fifth string quartet. Mills' works open up a colourful soundscape of rich harmonies filled with vibrance and character. While often serious or reflective, his later String Quartet No. 4 includes quirky movements with nonsensical titles such as 'The Circumspect Ibis', 'Scheming and Latte drinking' and 'Rise of the Airheads in Public Life'. It has been a wonderful journey for us to explore Richard's colourful, delightful and complex musical language.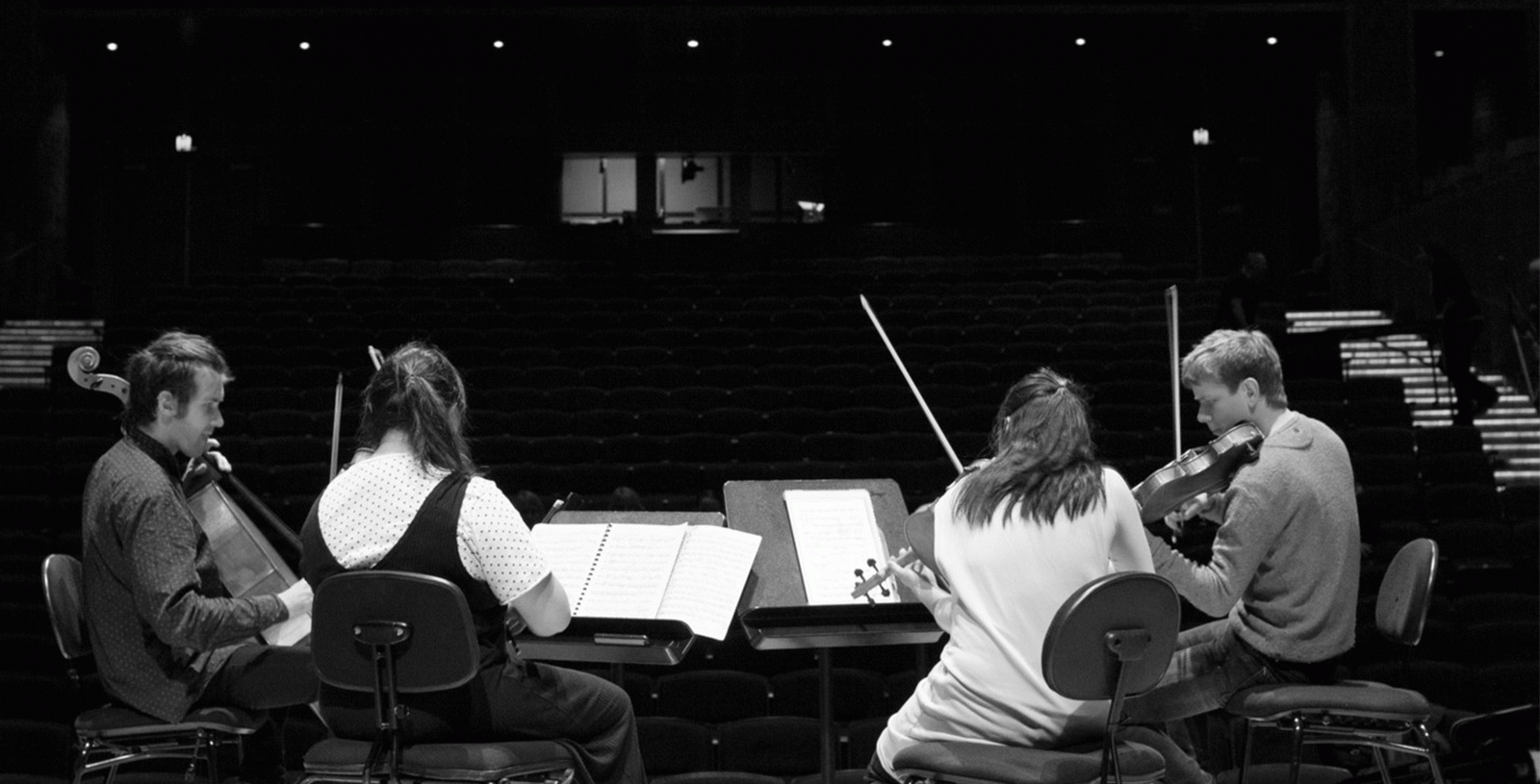 After finishing at the Port Fairy Spring Music Festival, we will be on break for a few months as we pursue our individual careers and performances. For William and Mana, they will be heading off right away to tour with the Australian Chamber Orchestra Collective while Eunise and Daniel rush back to perform a chamber music series and teach at the Melbourne Symphony Orchestra Education Program 'Pizzicato Effect'. We look forward to returning in 2020 where we will tour and present two concerts in regional New South Wales. There is more exciting news to be announced so watch this space!
- For more information about what the Partridge String Quartet are doing as part of the Port Fairy Spring Music Festival, click here.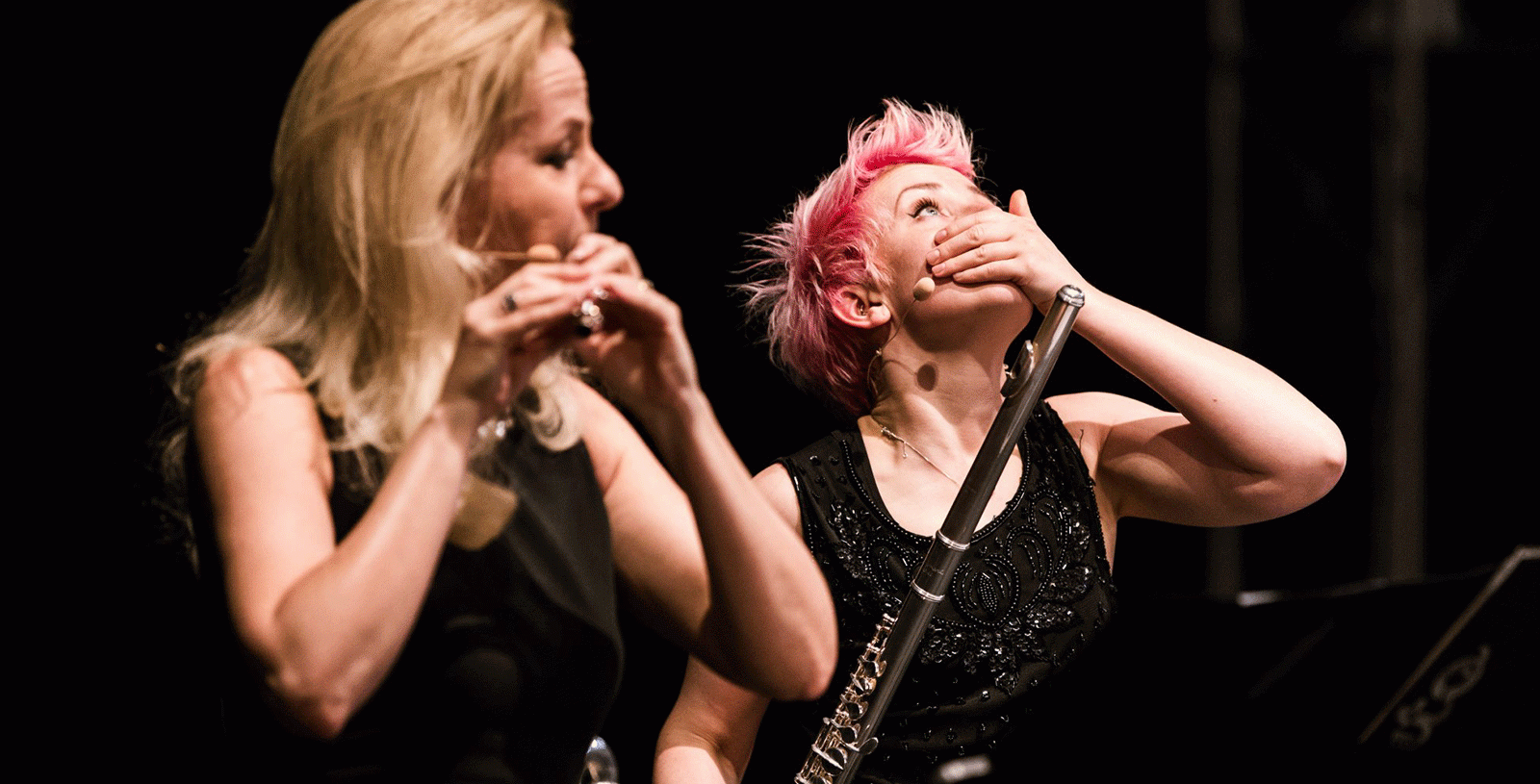 Eliza Shephard
Since leaving the Australian National Academy of Music, I have been paving my way as a freelance musician and artist in Australia's performing arts scene. I was lucky to be invited to participate in Plexus Collective's Melbourne Recital Centre performance Phosphorescence in March, which was a great eye-opening experience to engage with such professional and welcoming musicians. This year I have also worked alongside Elision Ensemble, Arcadia Winds, and Momentum Ensemble performing a wide variety of new and old repertoire, a highlight being performing Dobromila Jaskot's Hgrrrsht alongside Paula Rae (pictured).
I've recently returned from an 8 week tour of Australia performing Madama Butterfly with Opera Australia, and what an experience! Not only did I get the chance to perform an extraordinary opera surrounded by stunning musicians, I also got to sightsee around this fantastic country of ours! It has inspired me to further my performances next year around Australia (and beyond!).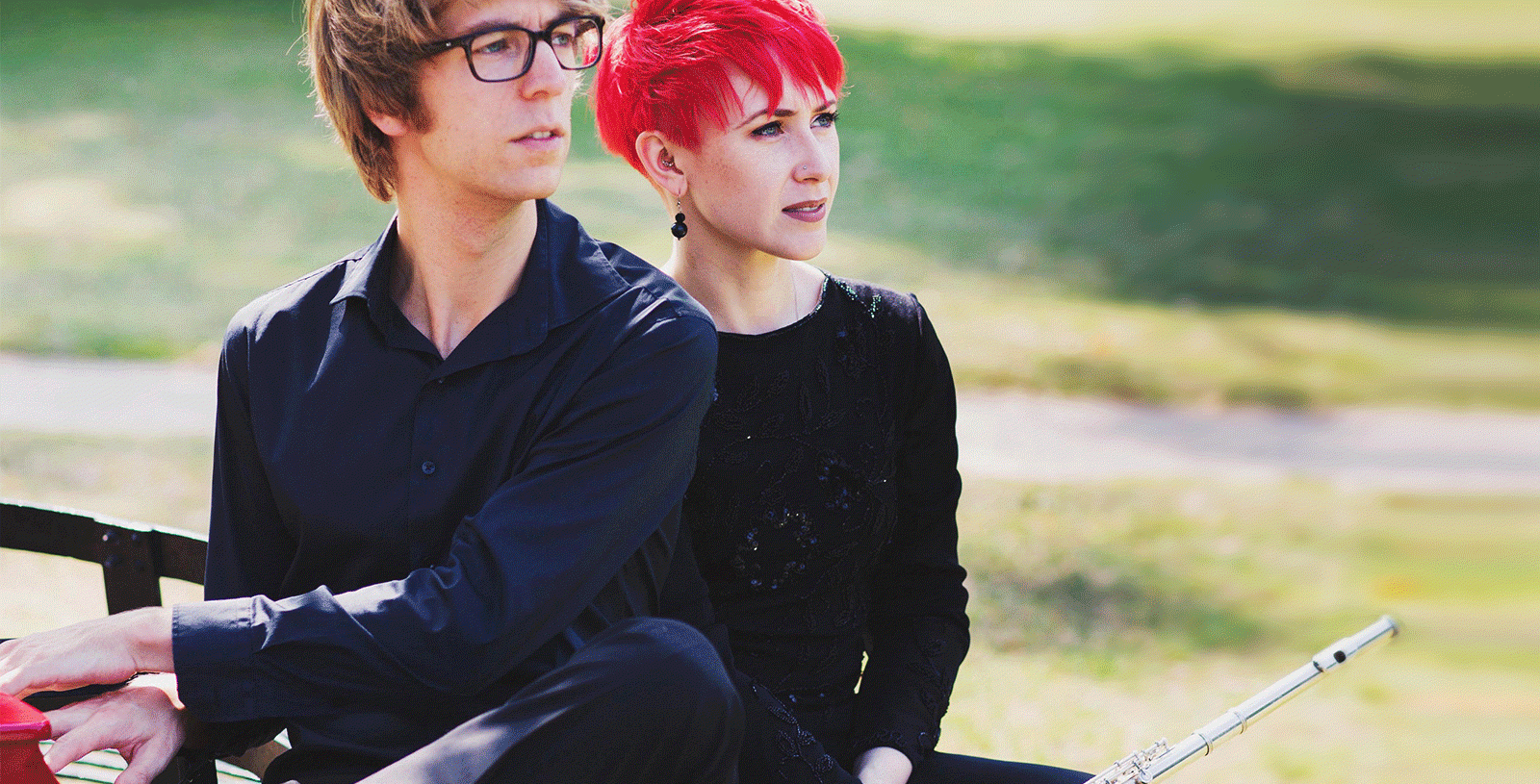 My flute and piano duo Polarity, alongside Alex Waite (ANAM 2018), has also flourished this year, with us performing in both Victoria and New South Wales, making recordings, and challenging ourselves to work through some of the prolific repertoire available to us. In early September, Alex and I visited my home town, Wagga Wagga, for a performance at the Riverina Conservatorium of Music. It was a thrill for me to not only share where I came from with a good friend and colleague of mine, but also to showcase where my journey as a musician has taken me, and perform to friends and family.
For the Prizewinners concert on the 8th of October, it will be a slightly bittersweet performance, due to it being mine and Alex's last performance together before he heads overseas to pursue further study. I wanted to challenge myself to best demonstrate my skills on my instrument, and to have a grand ol' time doing so! I chose to perform Lowell Liebermann's Sonata for Flute and Piano Op. 23 alongside Alex because it is full of emotion, angst, and luscious musical expression at all moments. Greg Pattillo's Three Beats for Beatbox Flute was a wild card for myself, and I've loved the test of expanding my knowledge of using the flute as a percussion instrument. I'm also excited to be sharing the stage with my colleagues from Partridge Quartet, and it will be such a joy to make music with them for the audience on Tuesday evening.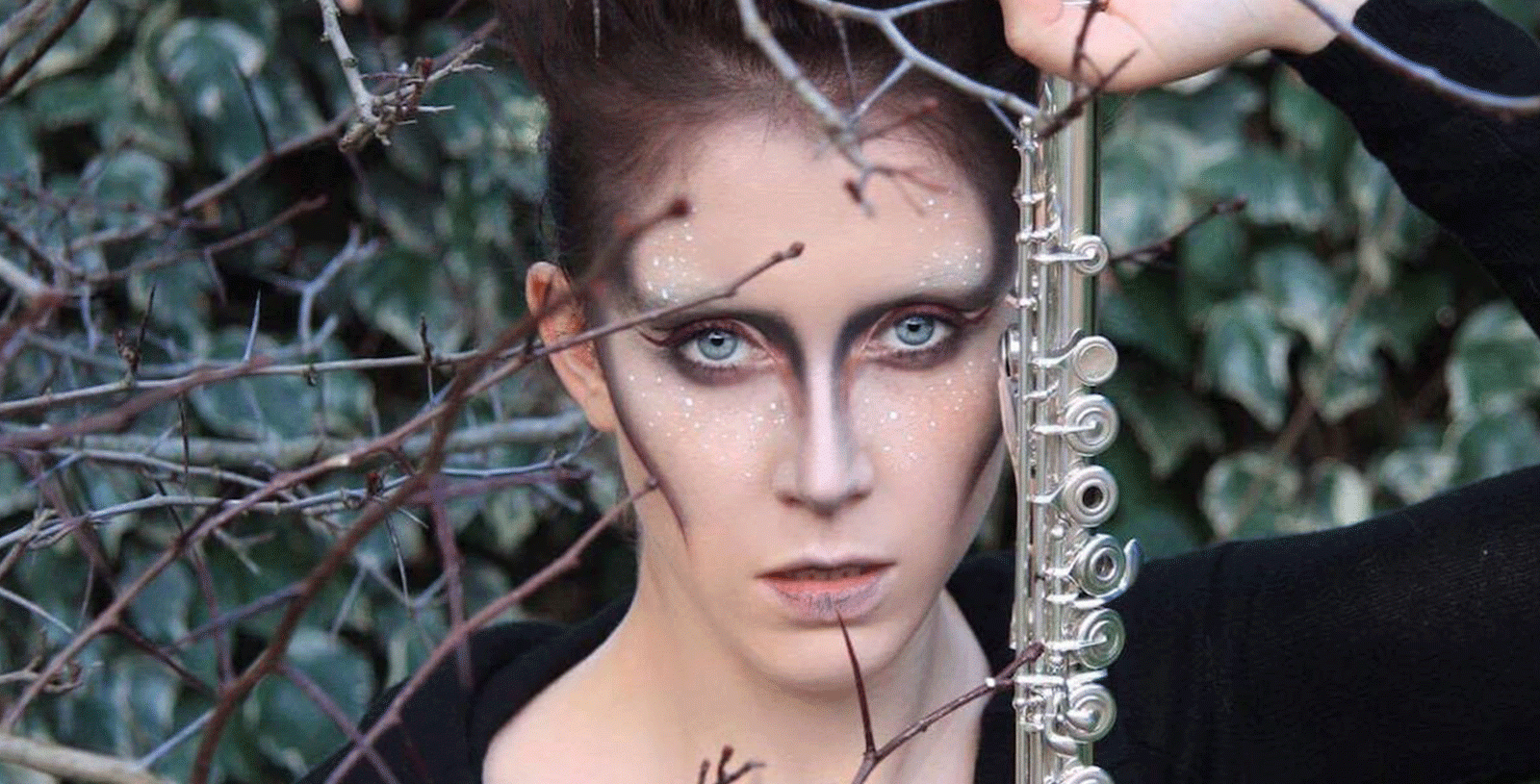 My engagement for the Port Fairy Spring Music Festival is an exciting opportunity to stretch my recital skills, and I'm thrilled to be bringing some great flute and piano repertoire, including Matthew Hindson's Odysseus and the Sirens and André Jolivet's Chant de Linos, to Port Fairy with Peter de Jager (ANAM Associate Artist). I'll also be involved in their Closing Gala performing Gustav Mahler's Song of the Earth under the direction of Fabian Russell. I cannot thank Monica Curro and Stefan Cassomenos for inviting me to perform at the Port Fairy Spring Music Festival, what a special experience at a special festival that celebrates so much about music.
For the next few months, I'm planning solo and chamber performances around Australia for 2020, as well as pursuing further training with musicians further abroad. 2020 is shaping up to be an extremely exciting year, keep your eyes peeled.
- For more information about what Eliza Shephard is doing as part of the Port Fairy Spring Music Festival, click here.
ANAM PRIZEWINNERS CONCERT #2
Tuesday 8 October 6PM
Primrose Potter Salon, Melbourne Recital Centre
FIND OUT MORE
---
Read more about the incredible journeys of our ANAM alumni.