I keep coming back to Kate Milligan's Lux Levis for violin and piano, written for ANAM violinist Josef Hanna. Working from home is the norm now, and when I'm in front of my desk or my piano I often just feel a compulsion to look at Lux Levis (pictured below) and lose myself in it. With its shards of rainbow-flecked notation arching upwards against a black background, it is just so aesthetically beautiful and invigorating. I almost want to frame part of the score and hang it on my wall. It's a shining ANAM Set success.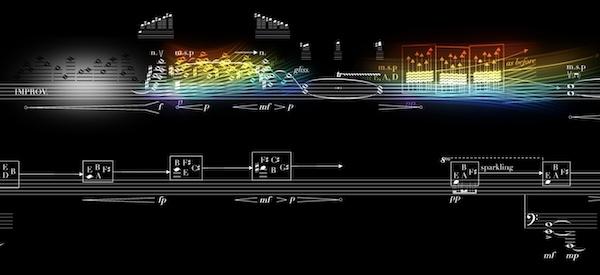 And yet, for all its successes so far, The ANAM Set has not really gone to plan. At all. And that's because not much has gone to plan for a large part of Australia since June this year. ANAM has become quite expert at pivoting in and out of an online world, but this way of living, while necessary, can never mean 'business as usual'.
There are now 50 complete ANAM Set pieces, and at least 6 of them should already have received their premieres. As an ANAM Associate Artist, I should already be knee-deep in rehearsals for Jack Symonds' Eau Vivant, Elena Kats-Chernin's Grand Rag, and Alex Voltz's Prayer for a Lost Friend. Instead, it's like managing a truck stuck under the Montague St bridge: the road to the destination is currently blocked, but the traffic keeps coming. And yet, thank goodness it does, because the grind of lockdown seems to have caused a seismic shift in the thinking of many of these composers.
A lot of the themes that have been unearthed may be discomfiting (Matt Laing's Destructive Interference) or confronting (Andrew Batterham's A Black Dog Near Me), but – importantly – they wouldn't 'be' at all without the events of the last two years. The ANAM Set is looking to become an artefact that will provide us with a snapshot of Australian life at a time of great upheaval – documenting a crisis in a way that only an artist's eye can.
And I think that's why I keep being drawn back to Milligan's Lux Levis. There's a nod to pride and diversity in its rainbow shadings; an acknowledgement of a surrounding darkness; an embracing of chaos in its improvisatory moments; and an acceptance of inevitability in the way the score is meant to inexorably scroll past the performer. It doesn't always paint a rosy picture, but it reflects so much of our current mindset back at us. These composers see us, and they have our backs. For that, we can all be thankful.