Creative Coordinator Leigh Harrold keeps us up-to-date with everything inside The ANAM Set with monthly blogs and insights in to what's going on behind-the-scenes.
September update: Slight Light
I keep coming back to Kate Milligan's Lux Levis for violin and piano, written for ANAM violinist Josef Hanna. Working from home is the norm now, and when I'm in front of my desk or my piano I often just feel a compulsion to look at Lux Levis (pictured below) and lose myself in it. With its shards of rainbow-flecked notation arching upwards against a black background, it is just so aesthetically beautiful and invigorating. I almost want to frame part of the score and hang it on my wall. It's a shining ANAM Set success.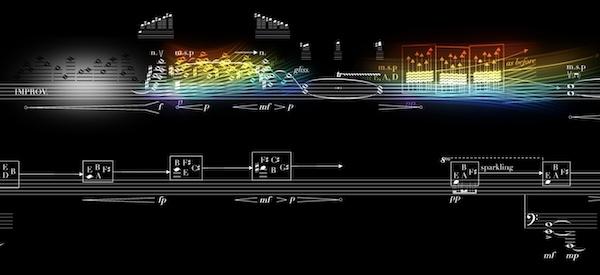 And yet, for all its successes so far, The ANAM Set has not really gone to plan. At all. And that's because not much has gone to plan for a large part of Australia since June this year. ANAM has become quite expert at pivoting in and out of an online world, but this way of living, while necessary, can never mean 'business as usual'.
There are now 50 complete ANAM Set pieces, and at least 6 of them should already have received their premieres. As an ANAM Associate Artist, I should already be knee-deep in rehearsals for Jack Symonds' Eau Vivant, Elena Kats-Chernin's Grand Rag, and Alex Voltz's Prayer for a Lost Friend. Instead, it's like managing a truck stuck under the Montague St bridge: the road to the destination is currently blocked, but the traffic keeps coming. And yet, thank goodness it does, because the grind of lockdown seems to have caused a seismic shift in the thinking of many of these composers.
A lot of the themes that have been unearthed may be discomfiting (Matt Laing's Destructive Interference) or confronting (Andrew Batterham's A Black Dog Near Me), but – importantly – they wouldn't 'be' at all without the events of the last two years. The ANAM Set is looking to become an artefact that will provide us with a snapshot of Australian life at a time of great upheaval – documenting a crisis in a way that only an artist's eye can.
And I think that's why I keep being drawn back to Milligan's Lux Levis. There's a nod to pride and diversity in its rainbow shadings; an acknowledgement of a surrounding darkness; an embracing of chaos in its improvisatory moments; and an acceptance of inevitability in the way the score is meant to inexorably scroll past the performer. It doesn't always paint a rosy picture, but it reflects so much of our current mindset back at us. These composers see us, and they have our backs. For that, we can all be thankful.
August update: An avalanche approaches!
What began as a trickle has now become an avalanche…
Questionable metaphors aside, it now actually takes considerable effort to remember how many completed works we've received for The ANAM Set – as the number changes daily! At last count, there are 18 works sitting on my ForScore setlist, but by the time I've finished typing this, there may well be more.
What I find fascinating though is that while I might have difficulty remembering exactly how many works I've seen, each work – once glimpsed – is never forgotten. There is no sense of genericness about these submissions, nor a danger of them all blending together as one. As we had hoped from the outset, each work is a unique mix of composer know-how and performer personality. Without having actually heard a note of any of the pieces yet, their character jumps off the page, and the results of careful collaboration are obvious and joyful.
There is no denying that we are in the midst of difficult and worrying times, and being isolated from each other currently plays a larger role in our lives than I'm sure most of us want. It is quite emotional, then, to see in these works the huge part that human interaction has played in shaping the final products. In fact, the idea of connection – to the self, or to others – is emerging as a major theme in this anthology.
Matt Laing's Destructive Interference for flautist Lily Bryant is inspired by "the experience of lockdowns… whether everything went great or terrible before, you're in lockdown and you're brought closer to those lives you left behind, even if they're completely unrelatable"; K. Travers Eira's [sound is] A Body in Space for percussionist Alison Fane is all about how "a person is constrained to inhabit and enact particular types of body in particular ways… and express responses, including frustration or refusal". In a lighter vein, Ian Whitney's An architecture of butter and sugar for flautist Lilly Yang is an extravagant response to the pair's shared love of desserts and pastries!
We are dearly hoping that the Melbourne concert scene can come out of hibernation soon. As I mentioned, lockdown can't stifle the creative process, but it can most definitely assist in heightening the anticipation. The ever-fattening file of ANAM Set pieces is seething with a potential energy that you can almost feel – these pieces are aching for their world premieres!
As soon as the ANAM Recital season begins, the connection between composer and performer will be joined by a third person – you, the listener – and the full communicative loop will be complete.
PS... As I predicted, while I was typing this, another ANAM Set submission hit our inboxes. It seems as though Jet Kye Chong's work requires a piece of fruit and a knife amongst its instrument battery. What was I saying about uniqueness and memorability? To say more would spoil the surprise. Perhaps we should hand out face-shields at the door…
July update: Collaboration finds a way…
It's the middle of July and, suddenly, the submission date for the first wave of ANAM Set scores is almost upon us. At the same time, the onset of another wave of lockdowns - first in Victoria, and now New South Wales - has scuppered some well-laid plans for composers and ANAM musicians to meet in person to help flesh out ideas for the soon-to-be-completed pieces.
But it certainly hasn't stopped the art of collaboration. ANAM horn player Josiah Kop, paired with composer and internationally-renowned didgeridoo player William Barton were due to meet up in Sydney to workshop ideas. Nevertheless, the resultant meeting over Zoom was wondrous, and Josiah was kind enough to share some of it with us. It was inspiring from the get-go: "Imagine yourself in a Grand Canyon, or a Cathedral… conversing through music to connect with other cultures… you are the flowing spirit," said William, describing the mood of the opening bars of his piece for Josiah. From there, a lively discussion and demonstration evolved, where horn and didgeridoo techniques were combined and merged to create wholly new sounds (and, in the process, posing new challenges of musical notation!).
The whole situation was reminiscent of most artistic life for Melburnians in 2020. Being the softie I am, I found it incredibly moving back then, and I do now as well - the idea that the collaborative process finds a way, flowing like water around any obstacles that might appear to stand in its path.
Graeme Leak, currently based overseas, will not get to meet ANAM percussionist Alex Meagher before Alex premieres Graeme's piece 'THIS is IT', but is confident he can finalise those parts of the score that need to be worked out "collaboratively on the rehearsal room floor" nonetheless. K Travers Eira and ANAM percussionist Alison Fane view their collaboration as not just a musical one, but one that aims to "take risks, challenge binary perceptions of the world, and reach out to members in the community to collaborate and create meaningful change".
Good musical collaborations don't stop at the printed page - they transcend them, creating ripples that enrich the wider world in ways that are both personal and political. When you come to ANAM to hear the first instalment of The Set pieces in September, we hope you'll hear that defiant spirit burning through these pieces, and through the musicians performing them. There's not long to wait now…
June update: Mushrooms and Meteorology
It was such a thrill when the first ANAM Set piece hit our inboxes a few weeks ago. We had all seen the tantalising pictures of ANAM cellist James Morley working with Liza Lim, two cello bows in his hands but to see the finished work, Cello playing - as Meteorology, on an actual music stave with Liza's characteristically beautiful musical calligraphy was quite moving. In some ways it was the first tangible glimpse of The ANAM Set legacy. I'm perusing the manuscript as I type this, and it looks like a work of subtle timbral beauty, inspired by both the animacy and the intimacy a cellist develops with their instrument over time.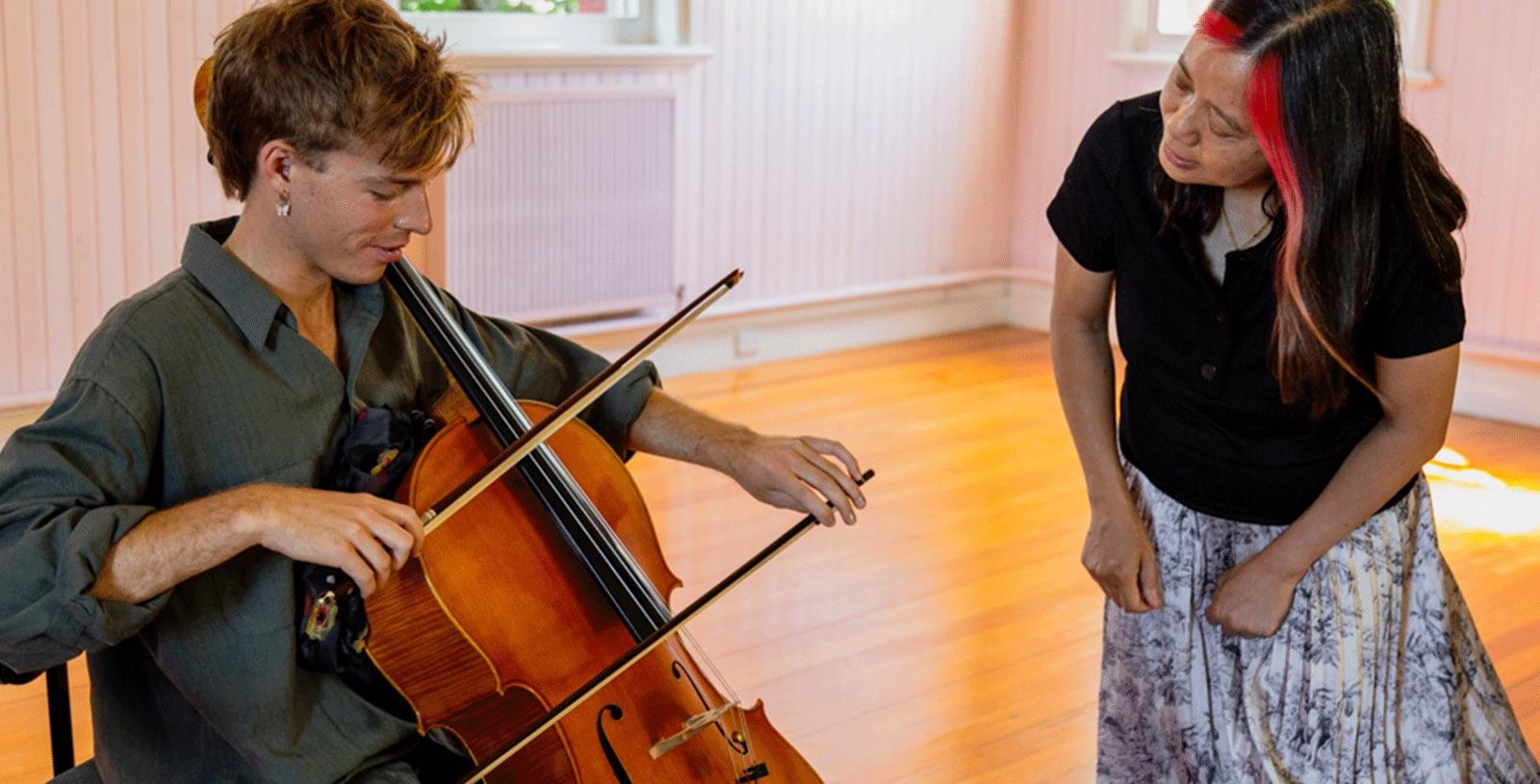 ANAM cellist James Morley (SA) with composer Liza Lim. Photo by Pia Johnson
Less than a fortnight later, "an anti-opera for piano, toy piano, extended rock kit, and vocal/guitar playback" dropped into our DMs. Not so subtle, perhaps, but Michael Kieran Harvey's composition, Death Cap Mushroom for pianist Hannah Pike (and her percussionist partner Alex Bull) is an angrily political work bathed in dark humour, deliberate banality, and metal virtuosity of the 'Bang-on-a-Can' variety.
In some ways, Michael's and Liza's works are aesthetic opposites, but they both draw heavily on analogies from the natural world, and that seems to be an emerging theme as more ideas from The Set start to crystallise. Maybe the climate crisis is causing artists to commune with nature in a more urgent way, or perhaps the stasis of last year's lockdowns made us slow down and reflect on our surroundings more. Whatever the reason, the world outside our four walls has stimulated the imaginations of our composers in a multitude of ways. There's Lim's meteorology and Harvey's mushrooms; Chris Dench has drawn parallels between the pincers of fiddler crabs and the stance of trombonists; Ross Edwards is paying homage to 'Mother Earth' via fragments of mediaeval Marian chant.
The personal connections continue to be revealed too: it's been discovered that Cathy Likhuta and cellist Charlotte Miles (paired together) have close relatives that work in the same scientific fields; Alex Voltz and violinist Emily Beauchamp met at a National Music Camp in 2020. Oh, and Elena Kats-Chernin did end up dropping in for that FIFO visit. She crammed about 10 hours' worth of wisdom and enthusiasm into a 3-hour meeting with clarinetist Oliver Crofts, who not only workshopped ideas with her for his 'Set' piece, but also played her a couple of movements of her clarinet concerto. Her reaction? "I'll never worry again whether parts of the piece are playable or not, because you've proven that it is all perfectly playable".

The Set project continues to inspire, and grow beyond its boundaries!
ANAM Artistic Director Paavali Jumppanen, composer Elena Kats-Chernin and ANAM clarinetist Oliver Crofts (WA)
May update: 3am thoughts
"So, the good thing is, for the last two weeks I've stopped waking up with a start in the middle of the night thinking about The ANAM Set", I proudly declared to our General Manager last week. I would never dare to suggest that pairing our 67 chosen composers with the 67 ANAM musicians was as complicated as playing chess (rather, more like a jigsaw puzzle where you don't know what the final image should look like), but I'd certainly been experiencing my fair share of 'Queen's Gambit'-esque ponderances while staring up at my bedroom ceiling late at night. I'd be just drifting off to sleep when my brain would suddenly say to me "But if Lilijana is paired with a percussionist, then Nathan or Jamie risk not getting their first choice, unless we ask Elliot to write for double bass, which will take pressure off the bassoons, but then we might have to ask Elizabeth to write for horn, which I don't think she really wanted to do, but perhaps she could write for piano - we do need one more composer for piano… or is it one less? I can't remember. Oh look, it's 3am".
Jeanette (our fantastic ANAM Set Project Manager) and the rest of the team have similar stories involving other various complex matrices. It was so important to us to collect as much data as we could: composers that ANAM musicians wanted to work with; instruments that composers wanted to write for; collaborations that faculty members saw great potential in. Each new piece of information inched us towards our final image, while also making manoeuvring the puzzle pieces that much harder. When, over a Zoom connection, the final pairing was confirmed (I believe it was Mark Wolf with oboist Alexandra King) several people in several work-places around Melbourne gave a little happy-dance.
Now, of course, it's over to the composers and musicians. The 'Set' is already starting to weave itself into the busy schedule that occupies our musicians: casual coffee-chats have been spied on campus between performers and composers; it's rumoured there'll be a FIFO visit from Elena Kats-Chernin sometime soon so she can meet with clarinettist Oliver Crofts; Liza Lim has all but finished a new work for cellist James Morley. There have been some serendipitous surprises too: Emile Frankel and pianist Kathy Chow, paired together, know each other from their Uni days; Thomas Green and violinist Claire Weatherhead, also paired together, had apparently been keen to collaborate on a project for a while - who knew?!
The next few weeks are all about building relationships, being inspired by mutual exchanges of ideas, and sowing the resultant artistic seeds. To see this happening all around the grounds of ANAM is incredibly invigorating. It's exciting to think about how much new music is currently being incubated, and how soon it is until we get to hear it all. We really are in for a treat.