Words by:
James Crabb
---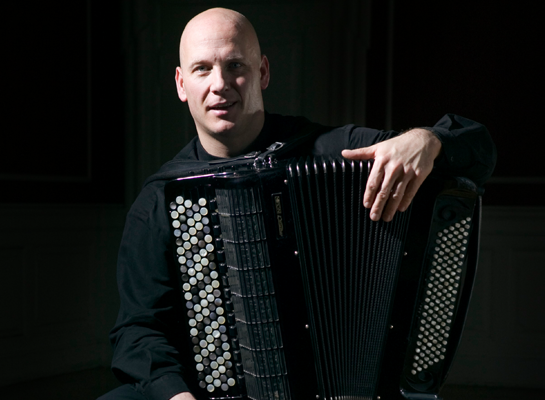 James Crabb
Photo credit Christoffer Askman
This performance is based around compositions which have become masterpieces of the classical accordion repertoire. I wanted to introduce those unique musical languages in more depth with the fabulously talented ANAM musicians. Performing concertos without a conductor is a wonderful way to make spontaneous music-making, where every musician has an equal responsibility and role to play. Trust is everything!
I've chosen two iconic composers of the second half of the 20th Century who have taken similar journeys from opposite sides of the world. Many critics had already branded Gubaidulina's music as a mistaken path. Shostakovich understood and encouraged a young Gubaidulina's spiritual musical voice with hidden references to her Russian Orthodox faith, advising her to be strong and to follow her chosen path. Gubaidulina's exploring and original voice of blending music and spiritual beliefs was a clear escape from constraints of the socio-political climate in Russia. The composer often uses unusual instrumentation, incredibly effective sound worlds and clear narratives in her music. Gubaidulina once told me that she thought of herself more as a gardener than an architect, suggesting that the life and energy in music created by human expression is always the priority. It's very clear however that the incredible detail, hidden structures and forms in her compositions play a very important part in Gubaidulina's music.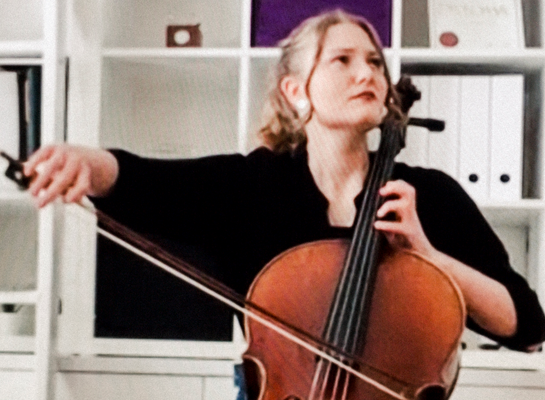 Charlotte Miles (cello 2021) returns to ANAM to perform Gubaidulina's Seven Words with James and ANAM musicians. Photo credit Pia Johnson for ANAM
Nadia Boulanger had similar advice for a young Piazzolla in Paris after hearing by chance some of Astor's own music. Piazzolla was embarrassed by the strong influences of tango in his own music and therefore tried to abandon his style for a more traditional classical sounding music. Boulanger quickly addressed the issue, "In your new scores I hear Stravinsky and Bartok but the music you just played on piano – that's Piazzolla." His quest to evolve tango music into more than just a strict dance musical form was also seen by many traditionalists as a mistaken path. Threats to his life for changing the tango style were a clear sign of the resistance to changing unwritten rules. Those defining moments would shape both composers' incredible journeys, becoming significant musical voices of the 20th Century. Their compositions are now thankfully more widely understood and accepted, and continue to be some of the most performed contemporary art music today.
Spiritual Mysticism inspired by religious faith, and the evolution of tango with European and African immigrants, suffering and disillusioned by the false promise of a better life in foreign lands, is an absolute melting pot of raw emotions. Music and human expression become an extraordinary and fascinating voice, which takes the listener and the players on an incredible emotional adventure.
Gubaidulina's use of the solo classical accordion and solo cello symbolises the flesh and soul of Christ. The strings provide the role of a heavenly choir of angels providing moments of comfort and reflection. Piazzolla's Aconcagua (the highest mountain in the Southern Hemisphere) seems to summarise the story of the tango with all its historical influences, from the seedy brothels to illegal gambling, poverty, brutal street fights, seduction, love, despair and hope, and everything else that a colourful imagination can add.
Hope you enjoy the performance.
JAMES CRABB: DARING PIONEERS




Friday 29 July, 7pm
ASTOR PIAZZOLLA Suite Punta del Este for classical accordion and small orchestra
SOFIA GUBAIDULINA Seven Words for cello, classical accordion and strings
ASTOR PIAZZOLLA 'Aconcagua' Concerto for bandoneon
James Crabb classical accordion/director
Charlotte Miles cello (alumna 2021)
ANAM Musicians