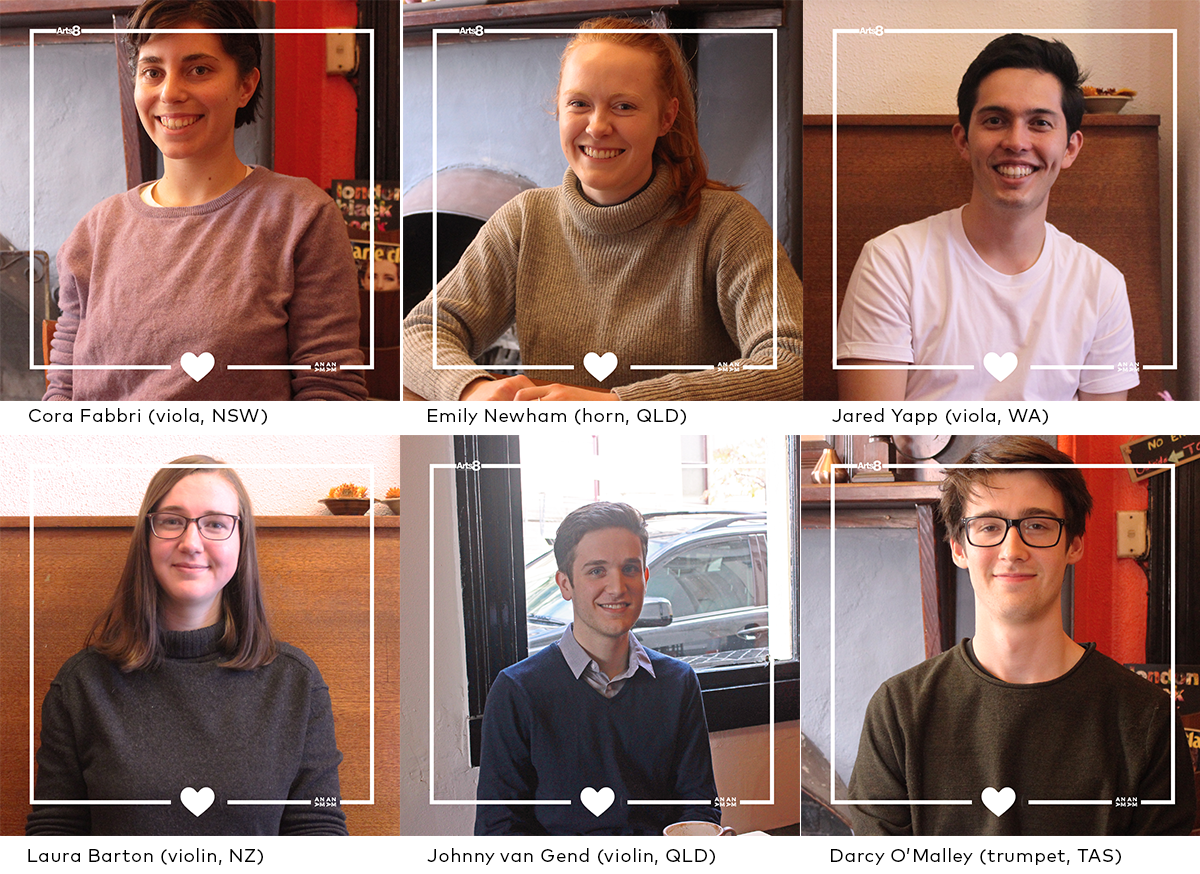 Do you have a favourite practice room?
Laura's choice is rather unexpected. "Everyone thinks it's weird but I really like Practice Studio 1.07 – it's one of the small rooms without any windows. Everyone's like…'why?' I don't know, I feel very safe in there. It's like a little cave. Studios 1.06 and 1.07 are my favourite rooms. They are less in demand as well, so I am more likely to be able to book them, which is good."
"I love 2.02 – it's out of the way in a nice big room with a piano; when I need a practice break and can't get outside, I play around with the piano," says Johnny. Practice Studio 2.02 is also directly opposite Resident Violin Faculty Dr Robin Wilson's office, which makes it a perfect choice for ANAM violinists.
The musicians also love the Apartment Studios. These Studios form a complex of their own towards the back of the South Melbourne Town Hall, promising more privacy and solitude. On the other hand, the Ballantyne Room, which is closest to the common area and ANAM's Recording and Online Coordinator's desk, is more spacious and better equipped for recording. Cora frequents the Apartment Studios for practicing, and the Ballantyne Room and Music Room 1 – which is also one of the most beautiful rooms in the South Melbourne Town Hall – to do any recordings.
"As a brass player, practicing in a small room all day can get a bit loud," Darcy comments; "It might be a small thing, but I like having the option. My favourite room for practicing is the Council Chamber. I like it because it's a nice big space, and I can play loud if I want. It doesn't ring so much." Practicing in smaller rooms has its merits; but it's the larger rooms like the Council Chamber that help the musicians get used to having more resonance.
To find and reserve their favourite practice space, ANAM musicians can simply log into the online system Arts Vision, which provides an overview of everything that's going on inside ANAM at any given time. According to Laura, the Calendar on Arts Vision was one of her favourite things about ANAM before she even started her first week. "From two months before we start the year, everything is in there. I know when my recitals are in October; I know that 10 months in advance…it's so good. […] I went through and put the entire first semester into my diary. And then I could plan everything around it."
One last comment from Laura? "Every room has an adjustable orchestral chair - I didn't realise how much I rely on them. Little things like that make the whole thing much nicer."
What's it like to live in Melbourne?
Darcy says he was always lucky to live close to the University of Tasmania. In South Melbourne, he managed to find somewhere close to ANAM as well, which allows him to drop into the practice rooms, and then go home for lunch and a quick coffee break. He's already found one of the small pleasures of life – a home espresso machine.
For many of our musicians, South Melbourne is very much a part of their community. For some, it's home. 'Bank Street' might not be the first name that pops into your mind when you think of student living. However, as Darcy mentions, South Melbourne is a good suburb to get cheap eats and beautifully crafted cups of coffee – and it's much more laid back than the city centre. There are many hot-spots around the block. Darcy, for one, recommends the South Melbourne Market for cheap and fantastic food stalls, and the Ambitious Act for the ambience; he says it's also useful to have Seven Eleven close by. The South Melbourne Market, Café Zappa, Wynyard, Bamboo Chopstix, Bibelot, and Red Petite are frequently named as favourites by ANAM musicians; whenever you walk into these local hangouts, you will be greeted by at least one person who's connected to ANAM – members and guest artists also frequent the cafes within this block.
"People know you – [and] when the building closed last year, we felt really bad for the shops around here, we were like, they rely on us! We are not there anymore!" Laura says,
As Jared reassures, "if you are looking for things to do you will always find them." So, "take time away from the instrument so you come back with a fresh mind." He particularly recommends getting a bike; exercise, save money, and de-stress. When you first start at ANAM, everything is going to be tough for a while. "It's also important to spend time with good people who have their values sorted out," Jared says. It's easy to retreat into yourself when the time is tough – however, even small things like calling parents or chatting in the common area can help. "Forming connections with other people, that's what music is. It's difficult to do music well if you are just locked in a practice room." Go out to the Abbotsford Convent, where there's always something happening, and try Lentil as Anything. One final piece of advice from Jared? There are always people who are organising fun activities – so make sure you go out!
As Emily acknowledges, the first time living out of home can be a lot to handle. But, once you make friends in the new city, things will get easier – it will be easier to find jobs and to have time for leisure. Johnny, who lives with two other ANAM musicians, says their friendships keep life from being completely dominated by practice. Random boardgame nights, going for a run together, topping each other's iPad game scores, and kicking the footy in the park all help maintain a healthy work-life balance. But that's not what matters the most. The real benefit is living with someone who understands the intensity of life at ANAM, and who is able to wake you up in time for the early mornings. He particularly enjoys the debriefs at home after the Season Concerts.
"The biggest thing [that you need to be aware of] is that you will be hanging out with your friends all day," Cora admits. "My favourite part of music making, I guess." Cora also advises the first-year musicians to sort out the logistics as soon as possible, and spend at least a month figuring out how to get to Melbourne.
Coming over from New Zealand, Laura expected there would be extra hassles like cultural difference, but that wasn't the case – "it's just getting used to saying things like servo, woollies, and bottle-o." All it takes is a bit of preplanning, and having the support of friends, partners, or family members.
What about the relationships you develop within the ANAM Orchestra?
Find the answer to this question HERE.
Do you have any other advice for ANAM's first-year musicians?
The answer to this question is available HERE.