Words by:
Noah Rudd (oboe 2021)
---

Noah Rudd's ANAM interview, 2020
I feel like I'm living the life after the movie ends. You know, after everything that happens in the movie and then things return back to, well, life…
After getting my Bachelor of Music from the University of Auckland and three years at ANAM, the hope is you have everything lined up: a job to walk into or an academy to go to.
For better or for worse, that is not the case for all of us.
It is a weird place to be. Arguably, it is the most challenging place to be because it's so unpredictable, but it is also exciting and liberating and full of possibilities!
Already this year I have been lucky to travel to New York, to do auditions in person, to rehearse and play and perform. I have always been curious to see where music would take me and without the commitments of being in a specific institution it has been awesome to see what music means in different parts of the world.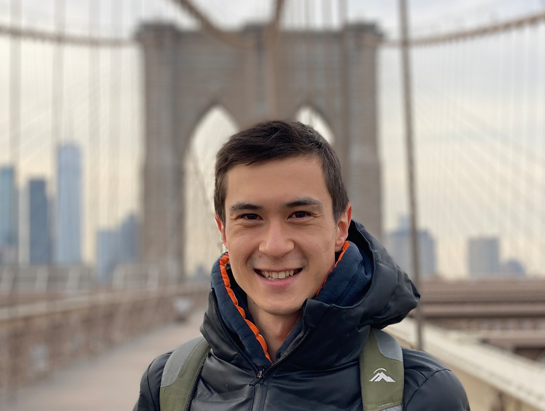 Noah is all smiles during his visit to NYC
To see the razzle dazzle of Broadway, to the more intimate excitement of a house recital, I've learned a lot about myself and what I want to do right now, while also opening my eyes to what the possibilities could be for the future.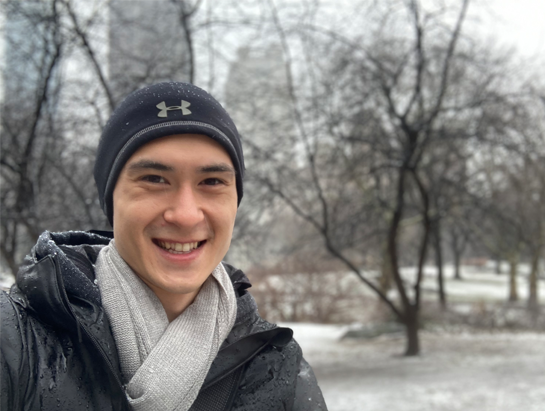 Noah in NYC winter
Uncertainty? Yes, but let's call it opportunity…
I expected ANAM to be my jumping off point. I guess I just didn't know what I was jumping off into. I dare say I still don't. And that's okay. ANAM is about readying us to do whatever we want to do and be whoever we want to be.
For anyone who knows me, they will know I enjoy the process of things. I like to analyse and plan and figure things out. (Let me take this opportunity to apologise to my mum for making her listen to the circles that I go around in my head!). Music is a process of continually improving and striving for more.
Not to be cliché, but it is about the journey. I know this is something I really want to do right now, I don't know where it is going to lead me and I know it's hard right now but I'm committed to it.
So here's the reality, neither good nor bad, both terrifying and exciting.
Where will I be at the end of this year, or next year, or the year after that? Let me get back to you on that one…
---
My upcoming concert is entitled open waters which I will be performing at the Primrose Potter Salon at the Melbourne Recital Centre on 4 May 2022. Alongside fellow prize winners from the class of 2021, Jye Todorov (bassoon) and Amanda Pang (piano), we explore the journey from the navigable channels of ANAM to the open waters of life as a professional musician through the lens of Anne Cawrse, Benjamin Britten, André Jolivet, Jeff Scott and Francis Poulenc.