Interview with
Paavali Jumppanen
ANAM Artistic Director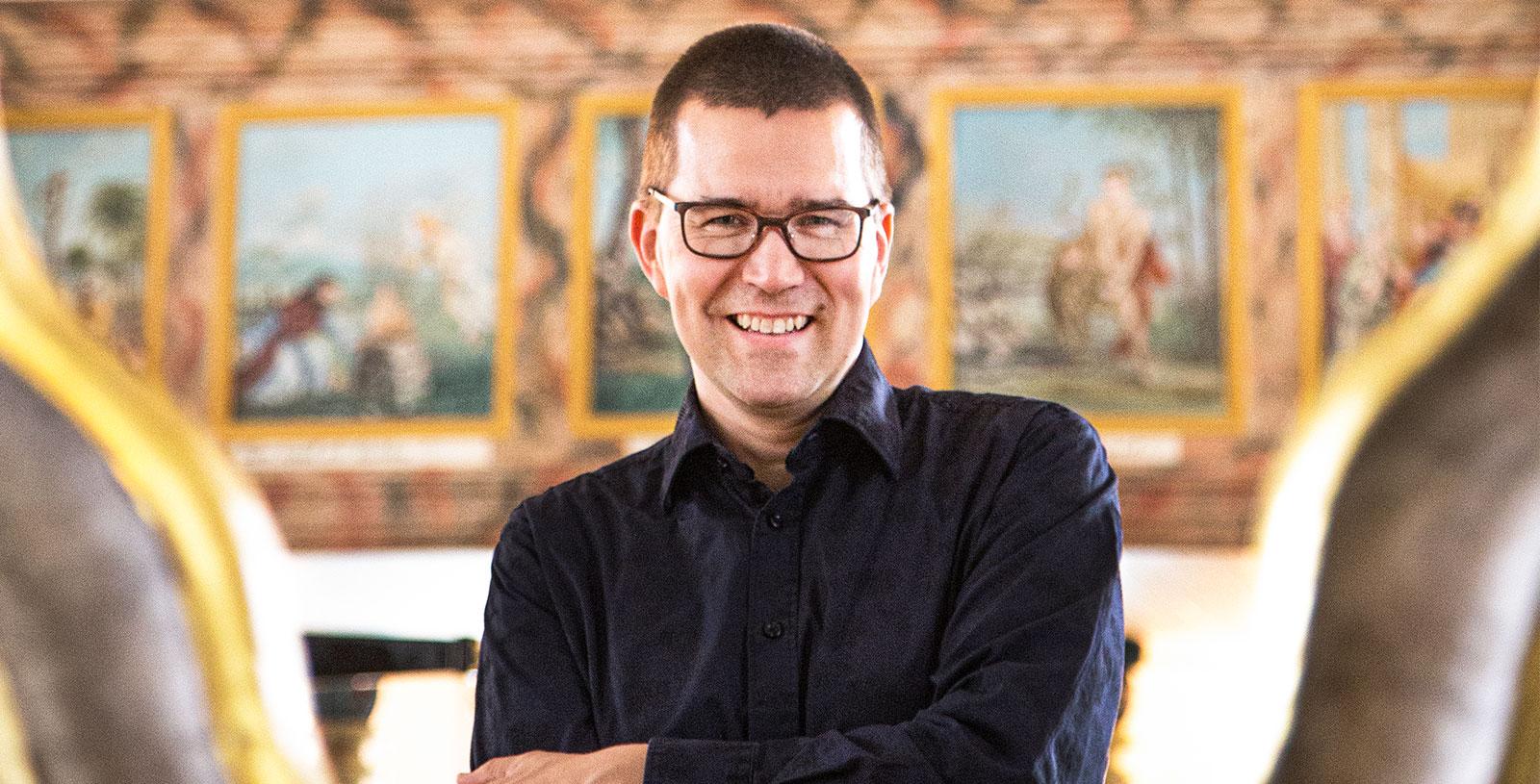 Can you tell us a bit about where you live and where you grew up?
Our home is in Espoo, the neighbouring city of Helsinki, Finland. I was also born in Espoo and went to school here. I did my rounds in Europe when I studied in Switzerland and then lived in Paris after my studies. Later on, I also spent a year living in the US – so along with Helsinki, Basel, Paris, and soon Melbourne, I consider Boston to be one of my hometowns.
Currently we have a second home in Lapland in the far north of Finland in the municipality of Enontekiö. That's a very sparsely populated area above the tree-line and where the biggest hills of Finland are found. It's so far north that during midsummer the sun doesn't set for about six weeks and in the winter the sun doesn't rise for about the same time. We share our time between the culturally busy south and the tranquil north, where we adapt to a calmer pace.
What about your musical background, when did you first start to play the piano and where did you study?
My lessons with the Suzuki method began when I was five but already before that I had been bitten by the piano-bug big time! My two older brothers' piano teacher came to our home to give lessons to them every week. He was a very charismatic personality who completely captivated me with his spirited musicianship. For a period, I used to disturb their lessons demanding to be taught myself and finally my parents gave in and I got to enter the Suzuki group.
I subsequently went on to learn at the Espoo Music Institute where I was tremendously lucky to land in the class of a wonderful young piano teacher who came to educate a very large number of young musicians that ended up becoming professional musicians. The scope of her pedagogical talent was still unknown then but looking back, entering her class at that time was probably the single most important moment on my musical path. I stayed with her until I was 18 and entered the Sibelius Academy, so the period spent with her was invaluable.
Who was your musical mentor or who has had a key impact on your musical career and success?
I feel grateful for having been blessed with many wonderful teachers who all in their turn influenced my path. I already mentioned my long-time piano teacher at the music institute but there have been others whom I encountered for a shorter period of time but who nonetheless have been vastly important. The Polish maestro Krystian Zimerman, for instance, was my teacher for three years in Basel at a time when I had already started to concertise. The work he led me to came to be extremely helpful. How to learn new repertoire quickly? How to really dig in deeply into a composition? How to work with orchestras and conductors? How to prepare for a recording? etc.
Another person to mention here is Pierre Boulez. I went to Boulez in 2000 having learned his magnum opus, the Second Sonata. Boulez liked it a lot and invited me to play and record the other sonatas as well. Working with Boulez on his music was eye-opening. He stressed the two poles of interpretative work: playing the score – all of the score but also nothing but the score – on the one hand, and trusting one's interpretative instinct on the other hand.
Two people I met when I did a research project at Harvard University about 10 years ago must also be mentioned. The fabled Mozart expert Robert Levin was great in demonstrating how to feed musical inspiration with knowledge. Another great set of lessons came from a young professor of musicology, Sindhumati Revuluri, who taught unforgettable sessions concerning curious and critical reading about music.
But there is also a person who has been a mentor in a more traditional sense. When I was still in the music institute, I met a Russian born pianist Konstantin Bogino at the Kuhmo Chamber Music Festival in Finland. Boy, was this man blessed with an incredible musical imagination coupled with the hands of a wizard! I first went to Bogino for lessons at the age of 15 but I've never left his pedagogy. I still visit him from time to time to play for him and to learn from him.
You've often been described as having a strong 'collaborative approach' to music, can you elaborate on that comment?
I don't believe anybody owns music, although we performers tend to think that we do… Rather, I feel music as a force belongs to anybody who is willing to take a piece and savour it. Playing, listening, feeling, reading about, liking or disliking, sleeping to it. All of these activities and more are, in my mind, equally important aspects of being with music. Chamber music captures the essence of this obviously, but even playing a solo recital is a collaborative act. The performer not only plays his or her instrument but is also the first listener. And the audience provides the performer a human resonance board that feeds back to the music-making. When the curator of a concert series and the performer choose a program for a recital, they have an idea of the audience's preferences. They might want to please or perhaps shock the audience. So, the audience is a participant there as well. This, by the way, is why this past year with limited social contact has been so challenging to all of us who live with music. But regardless of the method of distribution, be it a live concert or a streamed one or even an essay written about a piece of music, music stands as something to be shared and something that binds us together. When we encounter music, we also encounter ourselves and others, that's the point.
And as far as pedagogy goes, I don't think there is a more effective and fun way of teaching music than doing it together, which is probably why when I first visited ANAM 10 years ago, I felt completely at home right away. You see, that was the way I had also been taught, by my long-time teacher who put people to play side by side as well as by Bogino who always led a path of discovery into music, and never a dogma of repeating how things ought to be played.
When did you first travel to Australia and what do you remember most from that visit?
Scarcely out of the plane at Adelaide airport in 2004 I sent a bunch of text messages to my closest friends telling them that "I'm in Australia, can you believe it!". The month-long tour then took me to nearly all capital cities – and I loved it! I also met a number of people who still are my close friends, and everyone was so welcoming! I also remember writing a huge number of postcards (that's what people used to do before smart phones) and I had a big list of people who absolutely needed to get a card from me for that one time I went to Australia, as I thought that I would never return. So, I was crossing names off that list on all the flights during the month. My manager poked fun at me for doing it so systematically. Little did I know that I would return to Australia for tours many more times and eventually land at ANAM for what we're about to begin here. In addition to the friendliness of the people, I soon learned to appreciate the culture of music making in Australia. There's a sense, and this is also very strongly present in ANAM, of sincere fun in Australian music making. I think this is something to be proud of and something that we can show to others as well.
What are you most excited about in your role as ANAM Artistic Director?
When describing ANAM to people who haven't experienced it, I've often said "heck, they don't even have a box to think outside of, that's the spirit of the place". I'm very curious about the collective potential we have if we are able to unleash the creativity of each and every one at ANAM. That we can do that is such a gift and to be part of it is perhaps what I'm most excited about. We also have one of the clearest goals of any educational institutions within music: learning to become better musicians and doing it together.
What's your key focus for your time at ANAM?
I want to see us explore Australian music and have fun with the classics of our repertoire. I've already mentioned that the potential I see in collective creativity and empowering our musicians, faculty, and visiting artists to be imaginative is an important personal goal for me. I also think we are at a time when it is crucial to be sensitive to where the world is heading. We must think hard about where and how music is best presented now and soon. But we mustn't become limited or provincial, rather we need more bridges than before, it's just that some of the bridges can be made by using technology instead of burning jet-fuel. ANAM has a great asset in its dedicated audience, its existence removes the vacuum we otherwise might be in as an educational institution. Learning from this aspect is also on my list of things to use to help us learn better.
---
The position of ANAM Artistic Director is generously supported by Janet Holmes à Court AC