Before starting his first year at ANAM in 2022, Oakley Paul asked 2021 alumnus and double bassist Hamish Gullick for helpful advice. We check back with Oakley to see what he's been up to in his first six months of training.
---
Words by:
Oakley Paul (double bass WA)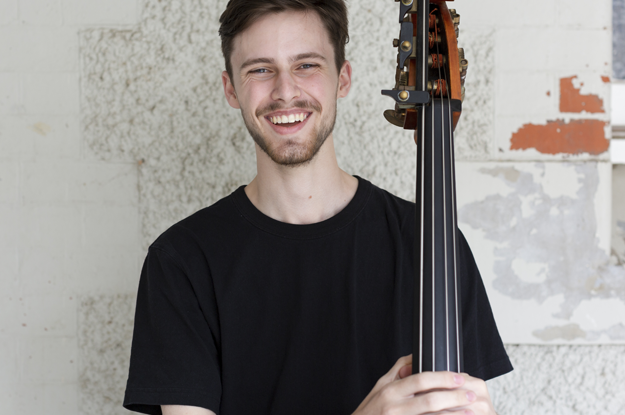 Oakley Paul
In my first two terms at ANAM, there have been so many opportunities to collaborate and perform. The people you meet and the music you play, has truly elevated my personal approach to making a career out of this profession.
Following my interview with Hamish Gullick earlier this year, I was pleasantly surprised and welcomed by so many like-minded people. Making such a big move over to Melbourne from Perth and joining ANAM was very intimidating at first, but very quickly, I felt at home, excited to experience what ANAM had to offer with my colleagues.
The workload at ANAM perfectly sets you up to deal with professional life. It is not uncommon to have back-to-back programs with completely different styles and repertoire, and it teaches you to prepare and adapt quickly. I've found that some of my favourite experiences have been during these crazy weeks of rehearsals, and it is really inspiring to see what we have created at the end of it.
This semester at ANAM, we already had so many opportunities to collaborate with established professional groups and individuals. As string players, we have collaborated with members of the Australian Chamber Orchestra and the Australian String Quartet. Orchestrally, we got to work with the Melbourne Symphony Orchestra and be coached and directed by Johannes Fritzsch, Fabian Russell, and Erin Helyard. These programs are all such unique experiences, filled with so much things to learn. It really has opened a whole new world getting to work with and make connections with all of these prominent figures in the music scene across Australia. Over the next six months, the collaborations will continue to expand with a focus on side-by-side programs with some of Australia and New Zealand's leading orchestras.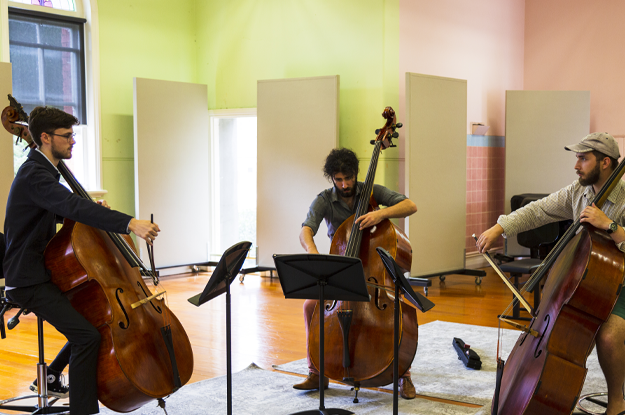 Oakley Paul with fellow ANAM double bassists Ben Saffir (NSW) and William Taber (NZ)
One of my questions for Hamish was about chamber opportunities at ANAM. As a bass player, Idid not have many opportunities in the past to combine with smaller groups and it was something I was really excited for before I joined ANAM. Thanks to all the faculty and staff, there has been a huge push for musicians to perform chamber music as much as possible. In our first two weeks, we were all assigned to mixed ensembles and trio/quartets, expected to perform at various concerts over the next two terms. We played at public venues or livestreamed our performances through ADCH so there was something for everyone. For musicians, chamber music plays such a vital role in all settings, and it has been great to work in different sized groups with different instrumentations to elevate those skills.
To really sum it up for those who are looking at joining us next year, ANAM provides an experience you won't get anywhere else in Australia. Not only are you immersed in so many unique opportunities, but you also get to hone your skilss with so many great musicians at the same time. The faculty and staff do an amazing job making all of these possible, giving us the best connections and tools to eventually move into the profession after our time at ANAM. Whether you want to become an orchestral or chamber musician, or an individual artist or teacher, there are so many opportunities that will help make it a reality.