Passing the baton is an ANAM exclusive series featuring some of ANAM's 2021 alumni and new first year musicians.
Follow us on Facebook and Instagram to read weekly entries of this series.
---
Words by:
Darcy O'Malley (trumpet 2021) and Bella Thomas (trumpet VIC)
Prior to the year commencing, we invited a number of incoming ANAM musicians to seek wisdom from a few most recent alum. In this latest release of Passing the Baton, first year Bella Thomas (trumpet NZ) asks recent alumnus Darcy O'Malley (trumpter 2021) what other non-musical activities ANAM musicians look forward to.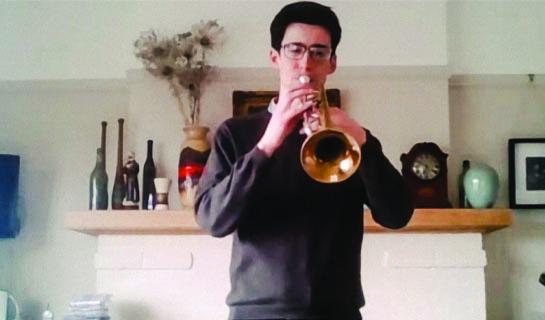 Darcy O'Malley training from home in 2020. Photo by Pia Johnson for ANAM
Isabella: Are there any non-musical activities organised within ANAM for students to mingle with each other, like dinners or bar meet-ups?
Darcy: There are non-musical activities organised at ANAM for musicians to mingle, like trivia nights or other group activities. These events are great fun and add to the incredible sense of community at ANAM. I've heard many people talk of the "ANAM family", which describes beautifully the sense of closeness and camaraderie amongst the musicians, faculty and staff of ANAM.
Isabella: What tips do you have for acclimatising to the busy schedule that ANAM brings?
Darcy: I've found it really valuable to plan ahead and be organised both in the short term (looking through the coming weeks on the ANAM schedule and marking activities into my calendar) as well as making lists of important or high pressure events throughout the whole year. I've realised how important it is to look ahead and see where the very intense periods are and when I have relaxed weeks which I can use to prepare myself.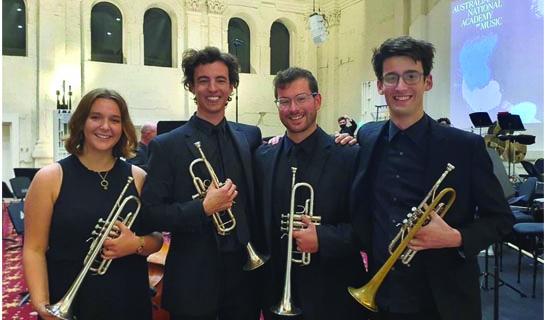 Bella Thomas performed with fellow trumpeters Joel Walmsley (VIC) and Nicholas Corkeron (QLD) and alumnus Darcy O'Malley in her first ANAM orchestra concert at the St Kilda Town Hall
Isabella: What does your average day at ANAM look like?
Darcy: One of the things that makes ANAM so unique is the variety and quantity of different performances and programs. We have weeks where guest faculty are in the building and we spend much of our time in masterclasses or lessons and we also have weeks where we are required to rehearse and perform intensively in ensembles. This flexibility means that no two days are ever the same at ANAM, we're constantly exposed to different musical situations.