Words by
The Partridge Quartet
ANAM Alumni
Members of the Partridge String Quartet discuss their repertoire for the upcoming Soundbite on 1 May, life after ANAM, and future quartet plans.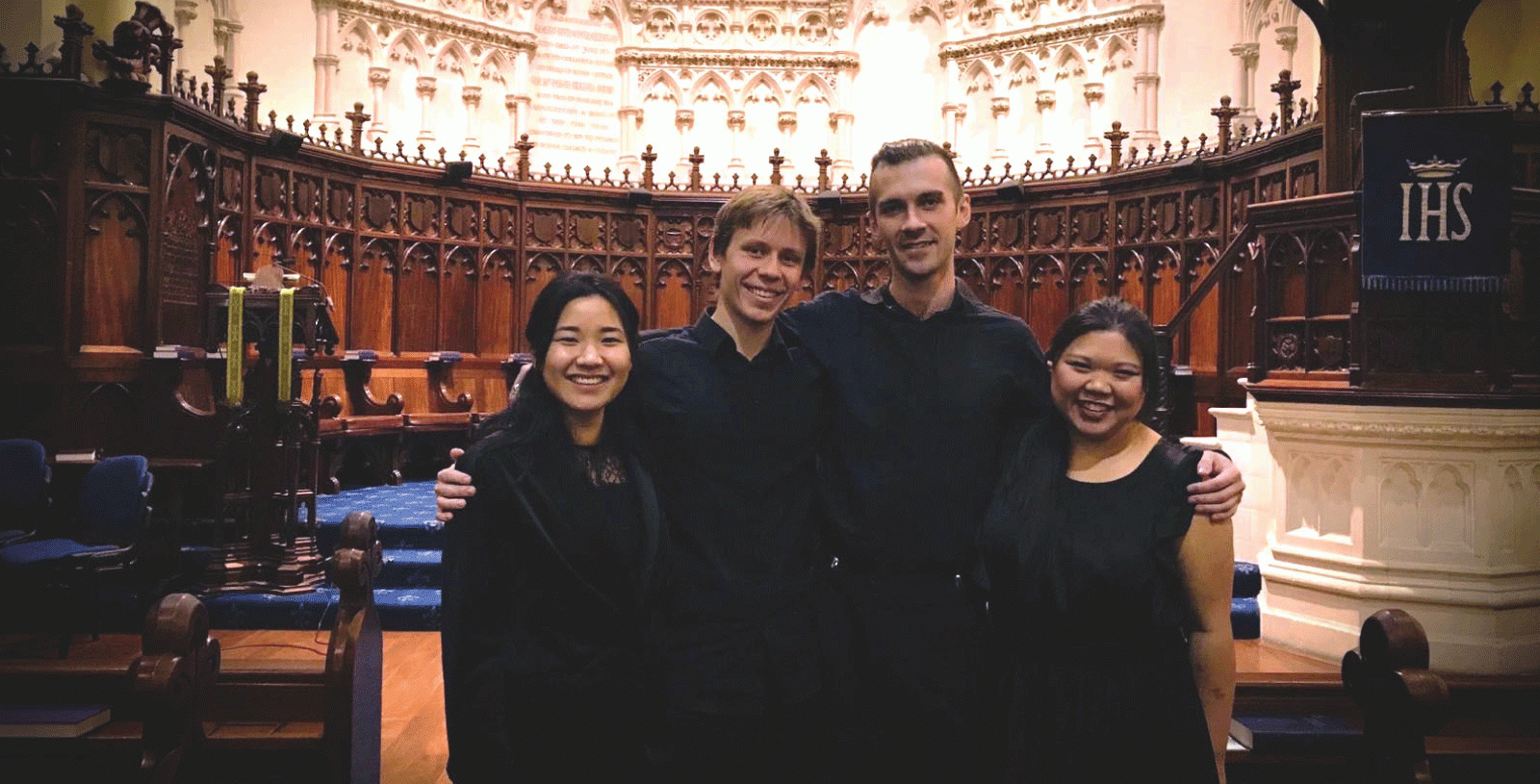 Since winning the 2018 ANAM Chamber Music Competition, it has been such a busy start of the year for the Partridges! Out of numerous performances, our most recent highlight was performing alongside Paul Dean at the Melbourne Recital Centre. As the four of us are heavily involved in other programs, work, and courses, such as the ACO Collective for Mana and William, and the MSO 'Pizzicato Effect' Education program for Daniel and Eunise, lining up personal schedules has been one confusing matrix. We were so ecstatic to find a time that lined up perfectly on 1 May to return and perform at ANAM.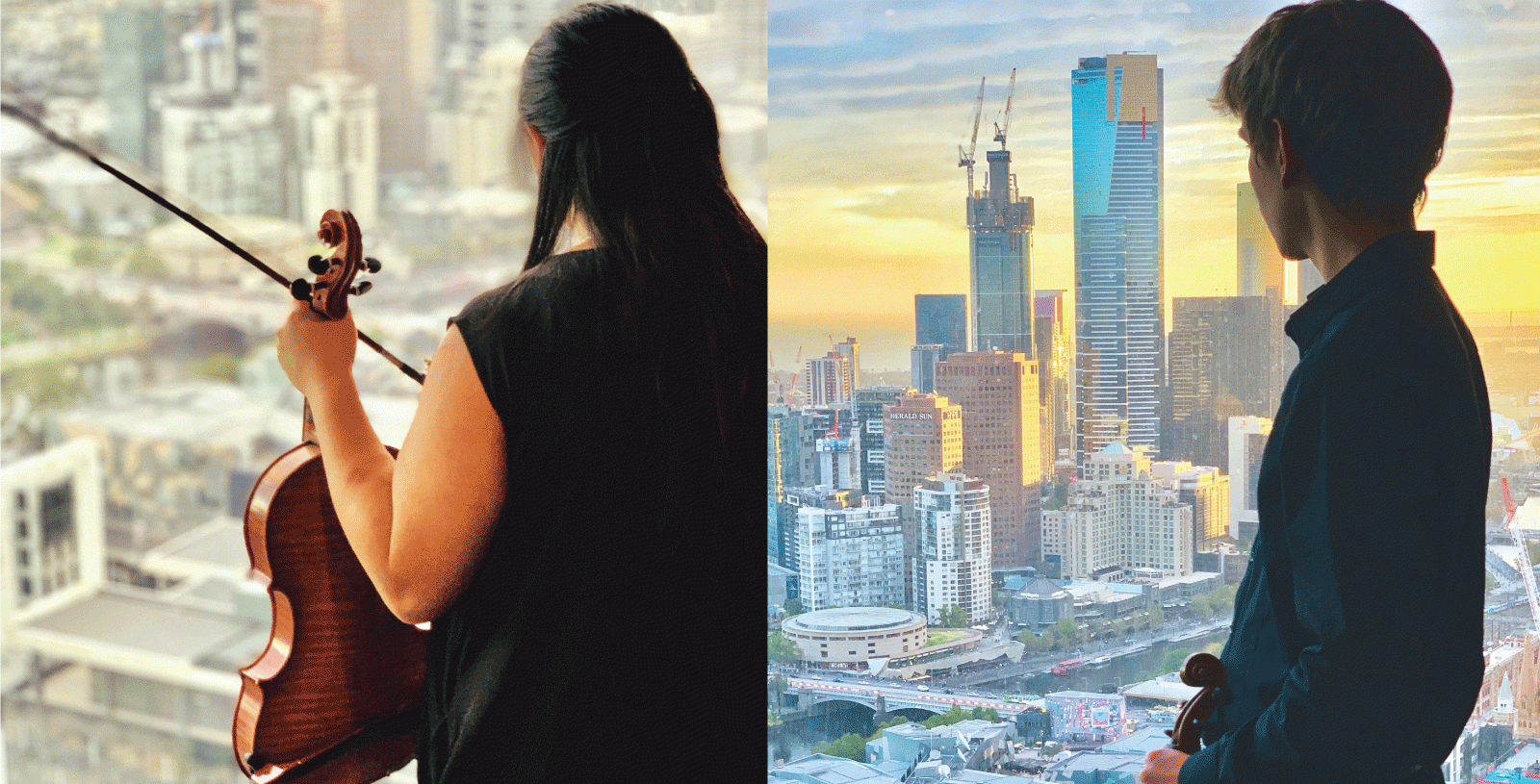 Mana:
Having had an immensely memorable experience at the Banff Centre for Arts and Creativity in Canada last year, we are really excited to be in a mentoree position once again in the 2019 AYO Chamber Players program. This is an intense ten-day program. Being surrounded by chamber music, being mentored by one of our String Quartet idols, the Dover String Quartet, and having access to amazing concerts is a thrilling prospect. In mentoring programs like these, groups like ours really thrive and grow as an ensemble because we can focus intensively on our work as well as having our minds blown open and superchaged with inspiration while coming to realise our vision step by step.
We have experienced many eye-opening and exciting moments together as a quartet. Together, we witnessed magic unfold on stage many times; together, we watched the performers push boundaries and move the listeners through their passion and conviction. These moments shaped our collective goal as a quartet: to venture out in all different, and often challenging, performance platforms, keeping our mind open and creating performances that we can truly call 'our own'. One of the most interesting things I have found about playing in a quartet is that every new piece comes with its unique lessons. We come out as different people, having studied, rehearsed, and lived with a certain work for a while. Our thoughts and feelings about the String Quartet is constantly evolving. It always keeps us wanting to explore more!
Eunise:
As Mana has mentioned, we have a drive to explore and discover. This push to discover is also reflected in our repertoire choices. Fortunately, we are at a stage where we still have the freedom to pick pieces that resonates with us personally. For example, Mana chose Mozart's String Quartet K.590 and Daniel picked the Ligeti String Quartet no. 1 which we have performed recently. Usually, one of us will come up with a composition they'd love to play for a certain reason and we'll all go and have a listen before deciding together whether it would be a practical choice. We also have to take our rehearsal schedule and availability into consideration. The best part of the process is that we're working through many works together. So it really combines a fun personal journey with our journey together as an ensemble, and together we develop our own unique and cohesive interpretation of the work. Luckily, everyone has a great taste in music so I've come to love every work we've performed together so far.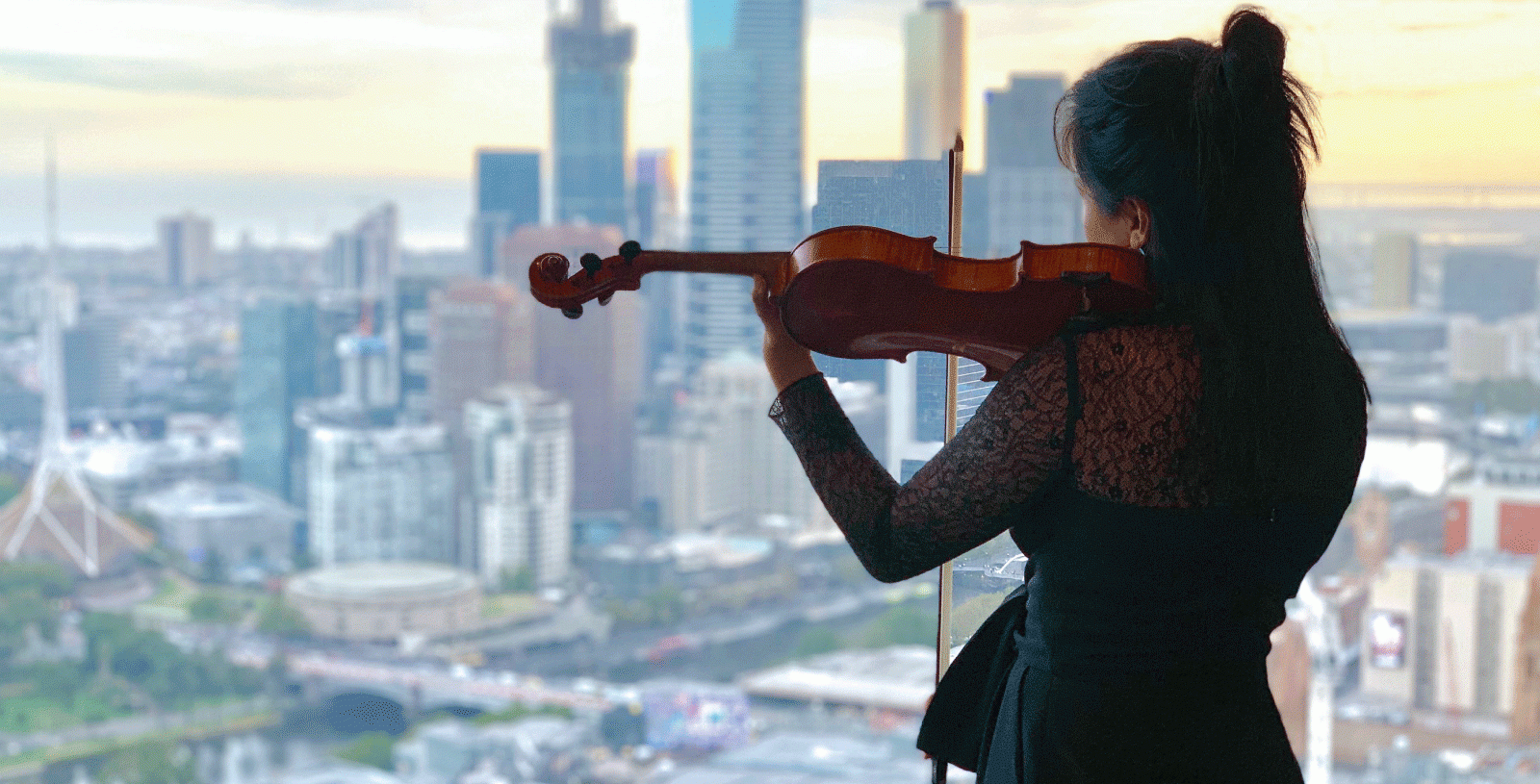 William:
I've recently gained a new appreciation of how great of a composer Beethoven was while learning his violin concerto. I've always loved a lot of Beethoven's works such as the second movement of his Seventh Symphony. However, I admit that I wasn't overly familiar with his String Quartet no. 16 when I pitched the idea to perform this work to the other three Partridges! While it is momentous and famously known as Beethoven's last complete work, my motive was simple. I was completely mesmerised when I first heard the opening movement of this String Quartet, which was played beautifully by some friends at a summer music camp in Brisbane in early 2018. I fell in love with the simple and innocent melody that saunters throughout and wanted to perform it ever since. It is a challenging work with many virtuosic first violin passages, and I look forward to performing it at the upcoming Soundbite.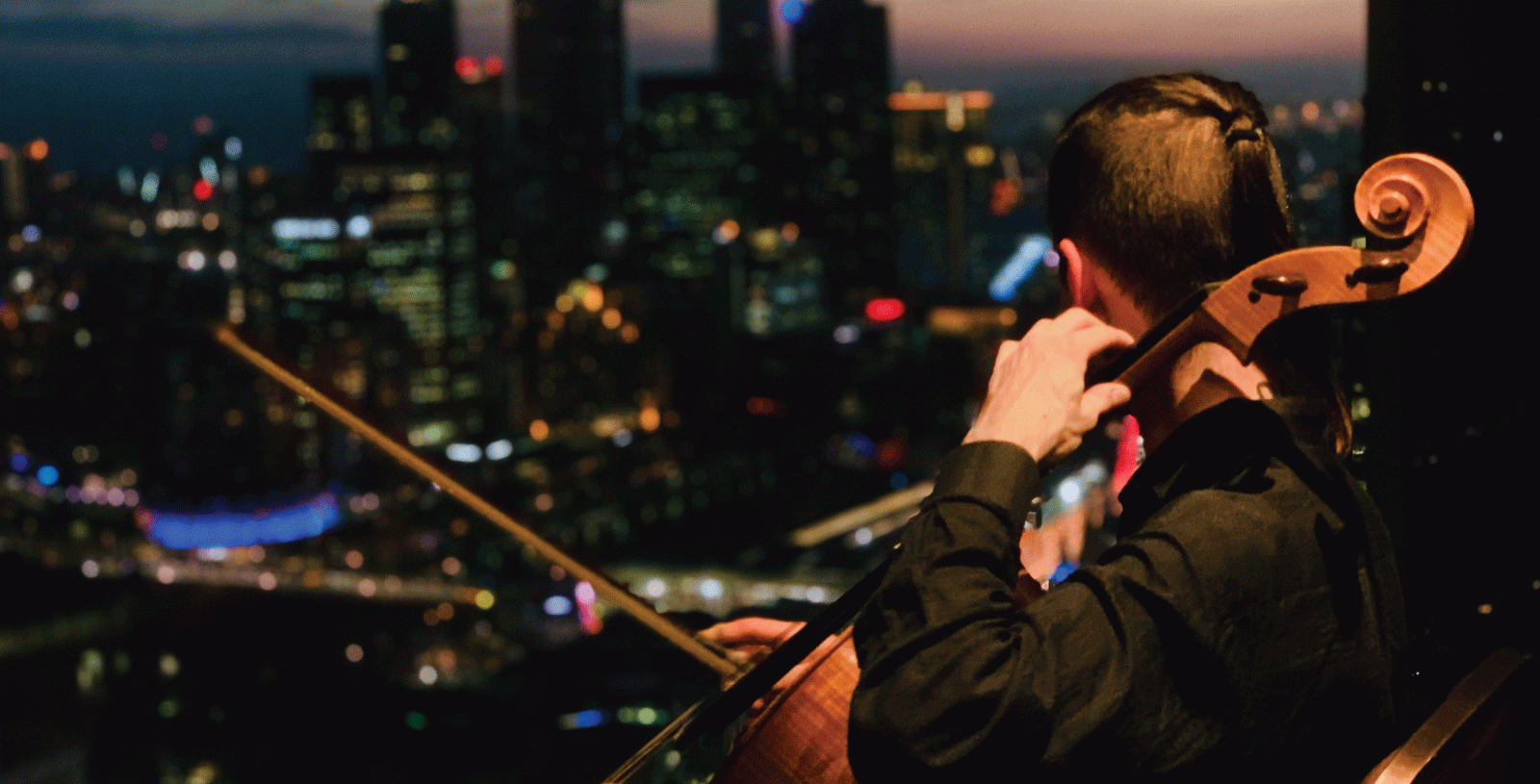 Daniel:
As Eunise mentioned earlier, I requested both Bartok String Quartet no. 4 and the Ligeti we performed last year to be included in the repertoire for the upcoming Soundbite. My taste is quite eclectic and I enjoy many styles, but I have developed a fiery passion for giving a voice to more modern composers. I've been lucky enough to experience the incredible Ligeti Metamorphoses Nocturnes performed live by the Goldner String Quartet a few years ago in Canberra. I remember sitting on the edge of my seat for the entire twenty minutes as I was entranced by it's unpredictable, serene-to-obscene nature. The experience of being in the audience's chair for such a performance has led to a personal affixation as a performer to inspire and challenge the audiences, hopefully breaking any negative preconceptions on modern music they may have had. Like Ligeti, Bartok also uses Hungarian and wider Eastern-European folk influences fused with tonalities, which was quite separate to the period's growing trend of serialist composers. Ligeti and Bartok used interesting recurring motifs and modal frameworks instead of melodic structure. The resulting soundscapes have intricate details that use complicated and extended techniques, and sound completely alien at times. Part of the joy it brings to me as a performer of these masterpieces is that there are hidden details so varied that you can always excavate something new, even after several months of deconstruction. On 1 May: To the regular concert-attendees, we hope to transmit the repertoire's relentless energy and present some of the most beautiful soundscapes you'll ever wander through; to the new listeners, the immense visual element that is paired with a performance of such an intense masterpiece.
Postscript:
We will perform Soundbite just a day after returning from the AYO Chamber Players Program in Sydney. We also look forward to watching incredible international musicians at the Musica Viva Festival and coming back inspired!
Visit 3MBS to hear a snippet of the upcoming performance and to find out more about the Partridge Quartet.
SOUNDBITE
Wednesday 01 May 1PM
South Melbourne Town Hall
FIND OUT MORE
---
The Partridge Quartet is a Melbourne-based ensemble comprised of violinists William Huxtable, Mana Ohashi, violist Eunise Cheng and cellist Daniel Smith, established at the Australian National Academy of Music (ANAM) in 2016. The quartet strives to contribute to the Australian music scene with vibrance and creativity and has recently received national recognition through its successes as recipients of the Musica Viva Chamber Music Prize (2017) and first prize in the prestigious ANAM Chamber Music Competition (2018). In 2018, they were selected as one of 10 string quartets world-wide for a 3-week string quartet residency program at the Banff Centre of Arts and Creativity in Canada. Locally they have performed at the Melbourne Recital Centre, hosted concerts at the National Gallery of Victoria and performed live on 3MBS and ABC Classic FM.
For 2019, the Partridge Quartet has recently performed with leading Australian clarinettist Paul Dean at the 10th Anniversary Gala Concert at the Melbourne Recital Centre. They will be touring to Sydney in late April to perform at the Musica Viva Chamber Music Festival as part of the AYO Chamber Players Program. The Quartet has been involved in an exciting project of connecting Australian chamber music with audiences using motion capture technology. Through a collaboration with the Quartet, Deakin University's motion.lab, Australian composer Paul Stanhope and ANAM, they hope to create a new visual representation of classical music performance through animation set to be released in 2019. As prize winners of the ANAM Chamber Competition 2018, they will be hosting a concert at the Melbourne Recital Centre Primrose Potter Salon later this year in October.