John Daley AM is one of Australia's leading public policy thinkers. He has been Chief Executive of the Grattan Institute since it was founded over ten years ago, and has previously worked in academic, government and corporate roles at the University of Melbourne, the University of Oxford, the Victorian Department of Premier and Cabinet, consulting firm McKinsey and Co, and ANZ Bank.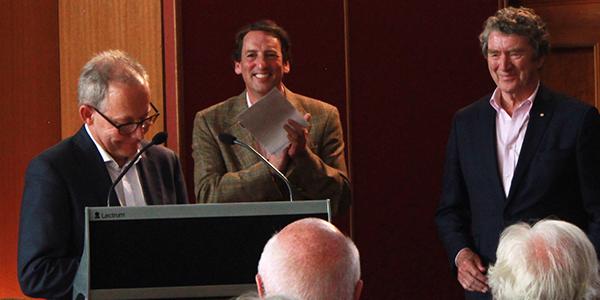 Photo: Nick Bailey, John Daley AM and Ian McRae at the 2019 ANAM Chamber Music Competition
John has a keen interest in the arts. He was the Chair of the Strategy and Research Panel of the Australia Council for the Arts. He was the Deputy Chair of Malthouse Theatre and the Next Wave Festival. He is a member of the Council of the Australian Youth Orchestra, and has been a member of the Advisory Committee for the Faculty of Fine Arts and Music at the University of Melbourne. He played as a violinist in the Australian Youth Orchestra, and studied piano at the Melbourne Conservatorium of Music under Max Cooke.
John has been a member of ANAM's Board since 2018 and this year takes on the role of Chair. We recently asked John three music related question to get to know him a little better:

Tell us something people might not know about you?
Like many musicians I have a history. My grandmother was a piano teacher and accompanist. We played piano duets together to the end of her life, and I still play her Bluthner grand piano, primarily when I panic-practice every year to be the repetiteur for the South Yarra Ballet School exams. My father was a pianist, church organist, and recorder player. From when I was very young I would go to sleep listening to his friends in the end room of our house rehearsing early and baroque music with exotic combinations of crumhorns, viols and a spinet. He was my in-house accompanist as I was learning violin.
What is your first memory of music?
I'm acutely aware of how much difference teachers can make: mine included Leonard Dommett on violin at the Canberra School of Music and Max Cooke on piano at the Melbourne Conservatorium. And I was lucky enough to have some formative musical experiences: two weeks at National Music Camp being conducted by Christopher Hogwood; playing violin, viola and piano in string quartets and piano trios sometimes at concerts and more often in the background at weddings all through university; and singing the Messiah with Nicholas Cleobury and the Oxford Bach Choir.
If you had to pick your top 5 favourite pieces of music, what would they be and why?
It's hard to pick favourites – I love all my children equally – but I find my listening drifts back towards pieces I've played. Bach's Goldberg Variations always seem to be at the top of my 'heavy rotation' list – personally, I've never learnt beyond number 16, but it's a life goal to get to the end. Any of the late eight Mozart piano concertos – God might play Bach, but he listens to Mozart, to paraphrase Barthes. Brahms Clarinet quintet – I'm a sucker for the reprise of the opening of the first movement at the end of the last. Shostakovich 5 – when I walked into my first rehearsal of the Canberra Youth Orchestra aged 13, Wendy Quinlan was playing the flute solo in the slow movement, and my heart nearly burst. Tawadros' Concerto of the Greater Sea melds two musical cultures into a greater whole (I haven't played that one – but there's still hope). And then there's whatever I heard last night…
---
Click here to read more about John's appointment as ANAM's Chair of the Board.