Words by
Phillip Sametz
Former ANAM Career Development
and Alumni Coordinator
How did a violin made in 1885 in Church Street, South Melbourne find its way back 'home' to the South Melbourne Town Hall in the 21st century?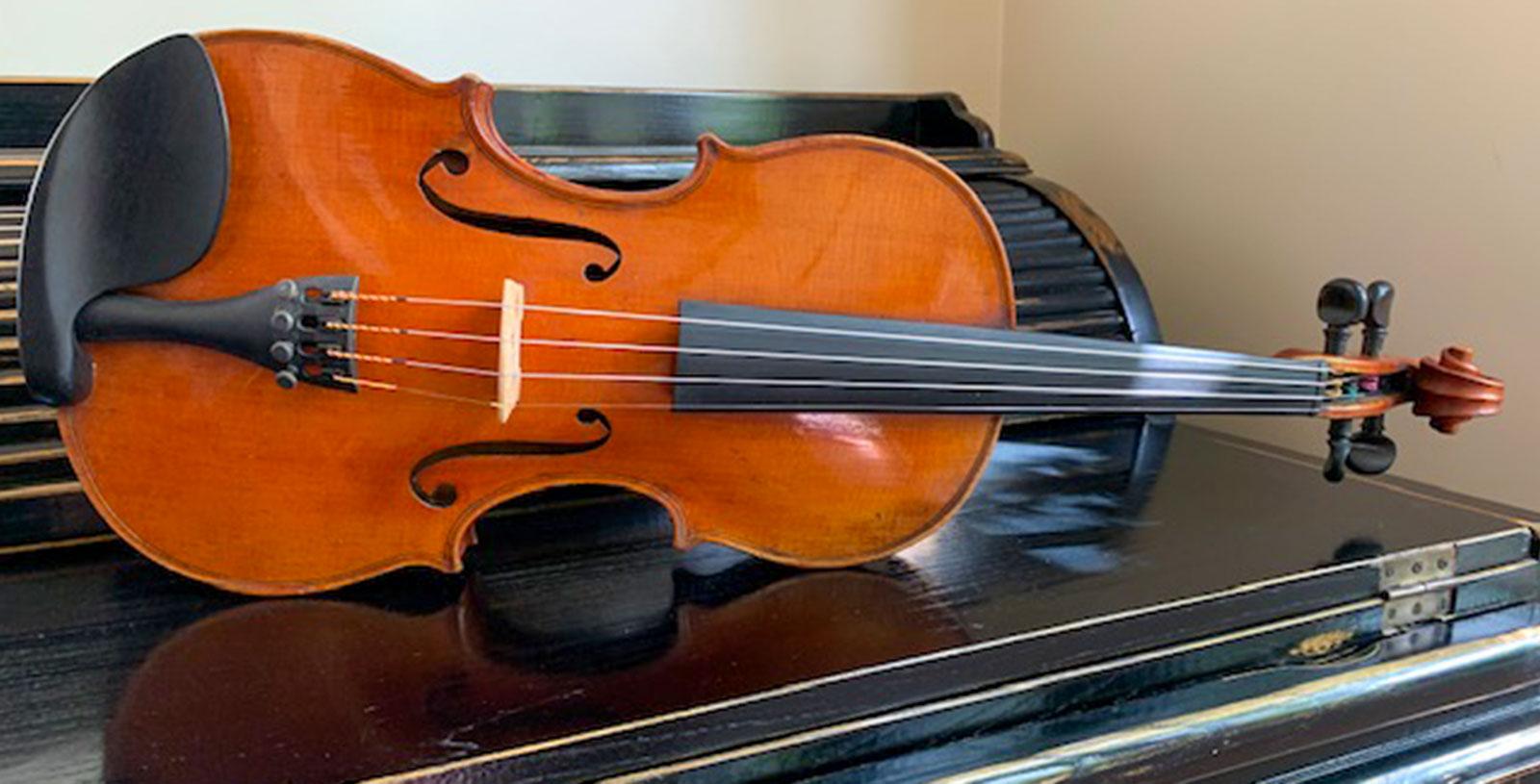 William Henry Dow was born in Scotland in 1836 and emigrated to Australia 19 years later. He worked in wood all his life, firstly, in Scotland, as a joiner. When he arrived in Melbourne in 1855, he was re-united with other members of his family who had made the journey from Scotland to the Antipodes a few years earlier. By the time of William's arrival his uncle James was manager of Langlands Port Phillip Foundry, and there William had a job waiting for him, as patternmaker – someone who made wooden patterns for sandcasting iron and other metals.
The story goes that young William created his first violin when he was 15; he continued to make them as a hobby from his South Melbourne workshop (located in a still-standing building). He entered his instruments in national exhibitions (beginning with the 1875 Intercolonial Exhibition) and won medals for what judges described as his "exceedingly creditable" work. Yet he was entirely self-taught. Dow once said: "I never could get the instruction I wanted from books, and I had to work at night, as I was employed all day at my engineering work." Eventually, he retired from patternmaking to concentrate entirely on instrument-making, and by the time of his death in 1928 he had created more than 200 instruments. How many Dow instruments are there precisely? It's hard to say, as he did not begin numbering them until he was satisfied that they were up to his high standards.
Fast-forward to 2020 to meet Dow's great niece, Jannie Brown, who recently purchased Dow violin No. 24 from a family who had owned it for three generations. In fact, until Jannie purchased it, the instrument had been in the same family since the 1950s. At that time, it was acquired for a young musician who was progressing to a professional instrument; her family would also loan it out occasionally to working musicians. More recently, though, the violin had been literally sitting in a cupboard. No more!
Jannie, who lives not far from the building where Dow made the violin, is a passionate ANAM supporter, and thanks to her, Dow No. 24 is now on long-term loan to ANAM, and currently being played by third-year musician Josef Hanna. Josef's teacher, and ANAM Violin Faculty Dr Robin Wilson, explains just how special the instrument is:
"We are thrilled to have this fine example of Dow's expert craftsmanship at ANAM, for our musicians to play. The violin is beautifully made and in mint condition, meaning that, effectively, it's preserved as it was when it exited Dow's workshop more than 100 years ago. It has a deep, rich sound on the lower registers and is bright and clear on the upper strings. It's very special to play on such a fine instrument with so much Melbourne history behind it, and we're incredibly thankful to Jannie Brown for lending it to our musicians."
This is truly a happy turn of events for a beautiful instrument born and bred – and still thriving – in Melbourne.
With thanks to Jannie Brown for her generosity, and her invaluable background material on William Dow.
– Article orignally published in ANAM's Music Makers vol 36
---
Photo by Jannie Brown