Get to know the ANAM musicians!
In this series, our musicians share more things about themselves beyond the ANAM stage.
First up, the Artamidae Quartet- Nadia Barrow (cello SA), Fiona Qiu (violin QLD), Harry Swainston (viola QLD) and Donica Tran (violin ACT). In this interview, the Quartet talks about how their group was formed back in University, what "Artamidae" means, and their upcoming trip to perfom at the ANAM Quartetthaus at the Royal Albert Hall in London.
---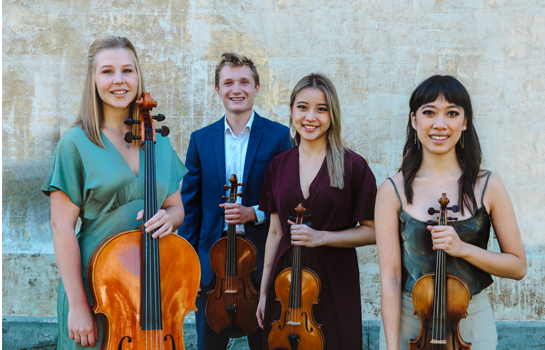 The Artamidae Quartet
(L-R) Nadia Barrow, Harry Swainston, Fiona Qiu and Donica Tran
Photo credit Pia Johnson for ANAM
Please introduce your group and share how your Quartet was formed.
The Artamidae Quartet is made up of violinists Fiona Qiu and Donica Tran, violist Harry Swainston and cellist Nadia Barrow. Artamidae formed five years ago at the Queensland Conservatorium Griffith University (QCGU), after Michele Walsh (Head of Strings and Performance Studies) placed us into a quartet on our very first day. We have loved playing together ever since!
Can you tell us the story behind your Quartet name and why you chose it?
We weren't always called the Artamidae Quartet. During our time at QCGU we were known as the Emperor String Quartet because we were always rehearsing, and waddling around with each other like a group of emperor penguins. Three years down the track we realised the name 'Emperor' was already taken!
We came to the name "Artamidae", a family name for Australian Songbirds, when we started at ANAM. It links Australia, music, and our love of nature into a unique name for our quartet.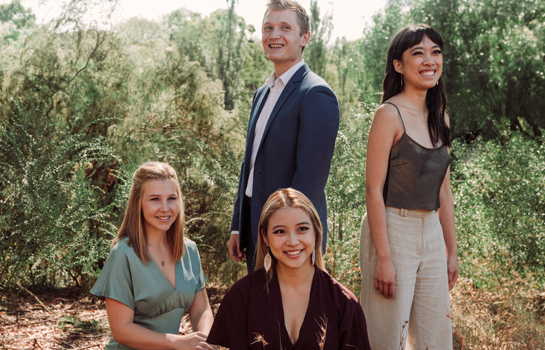 Photo credit: Pia Johnson for ANAM
You will be performing at the ANAM Quartetthaus in London in September. What are you most looking forward to about it? What pieces will you be performing?
Artamidae is counting down the days until we head off to London in September for what will be our biggest performance season as a quartet! 10 days of performances, playing alongside some of Australia and the UK's most incredible quartets is an absolute dream come true! We cannot wait until our very first rehearsal in the ANAM Quartetthaus, which will be situated outside the Royal Albert Hall.
The repertoire we are preparing includes five Australian and four British string quartets. We started this year by sinking our teeth into Miriam Hyde's String Quartet in E minor and Sculthorpe's 8th String Quartet. Hyde and Sculthorpe were truly pioneers among Australia's composers and we have fallen in love with the poetry and lyricism in both their works. We are also performing two one movement works, one by Elizabeth Machonchy: String Quartet no.3 and Poem by Rebecca Clarke. One of the great joys in rehearsing these works is their use of rhythm and harmony to convey emotion. The Walton String Quartet in A minor, with its searching chromaticism and ferocious virtuosity, contrasts with the modern soundscapes we create using extended techniques in Liza Lim's Weaver's Knot. We are really looking forward to working with Liza on this piece in coming weeks.
Finally, we are preparing a special treat with the Australian String Quartet - Anna Magdalena's Notebook by Australian composer Elena Kats-Chernin.
How are your rehearsals for the ANAM Quartetthaus going? What other things have you been up to in the lead up to your performance in London?
Our quartet mentor and concertmaster of the Melbourne Symphony Orchestra, Sophie Rowell has helped us to carefully plan every rehearsal before our London debut. With eight different quartets, a clearly laid-out timetable of which pieces to rehearse each session is vital to ensuring Artamidae is ready for London! This way we are able to prioritise the most important pieces to rehearse each day according to upcoming performances and coachings.
We are currently preparing for concerts in Melbourne and Sydney before we get on the plane to London. These include two ANAMsyndicate soirées, a live and online performance for the Australian Digital Concert Hall inside the beautiful Athenaeum Theatre, a recital at the St Silas Anglican Church and finally a send off concert at Tempo Rubato the night before we depart for London.
A film crew from the Australian Film Television and Radio School (AFTRS) will be making a documentary on Artamidae and ANAM Quartetthaus - which is a completely different yet exciting experience for us!
We will also turn into hermits the week before we leave to try our best to avoid sickness and injury before our trip, which will mean masking-up, eating healthy, and taking a rest from bike riding and rock climbing!
Finally, what are your dream projects/performances as a group?
After the ANAM Quartetthaus Season, Artamidae will spend some time lounging on a beach somewhere in Europe (as well as getting lessons and coachings…).
Next year we are aiming to enter the Melbourne International Chamber Music Competition and participate in both national and international music festivals - we are so excited keep making music together!
---
Visit the Royal Albert Hall's website to book tickets to the ANAM Quartetthaus from Sunday 18- Wedensday 28 September