ANAM flautists Lilly Yang and Rachel Lau came to ANAM after many successful solo, orchestral and chamber performances at Queensland Conservatorium, Griffith University (QCGU). While at QCGU, Lilly and Rachel formed a flute duo named Les Deux Flutistes, and last year the group was introduced to the Melbournian audiences on 3MBS Music in Melbourne, in a live performance of Champagne Fanfare by Matthew Hindson and Muczynski Duos for Flutes.
Until the pandemic put a damper on social activities, Lilly and Rachel were busy planning new projects together – so how have they stayed connected as musical partners during lockdown?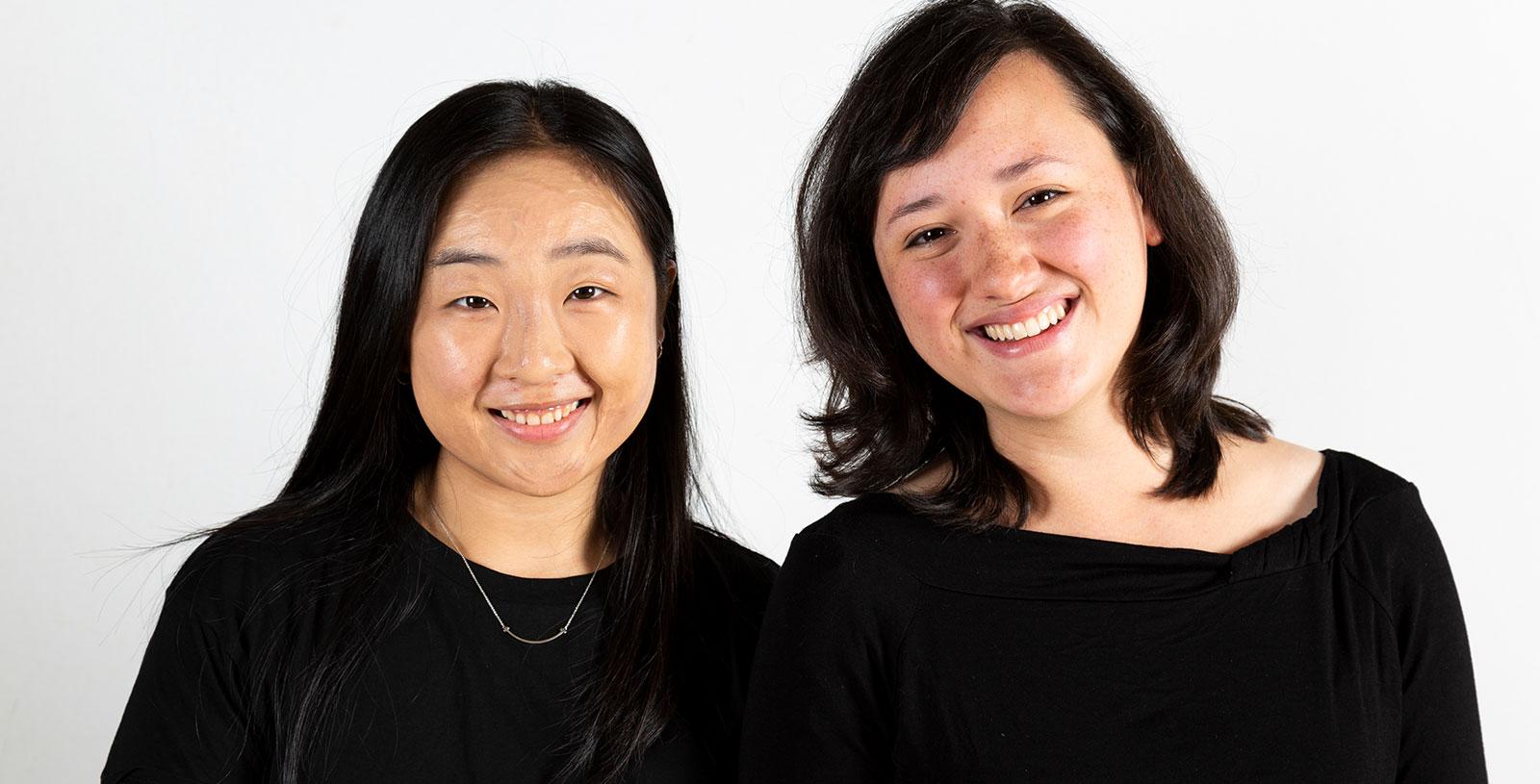 Photo by Pia Johnson
LILLY:
I remained in Melbourne over the last few months and I was able to sneak in little periods of practise in my apartment. However, I left the very loud and high playing to the local music store where my partner works as we have been fortunate enough to be able to access the space after closing hours. This is why the backdrop in my Zoom videos often featured a wall of brass instruments or passing cars.
Rachel and I stayed in touch via lots of internet messaging and Zoom classes. The physical distance was definitely something new for us because we were so used to collaborating together in the same room. As we were unable to rehearse as an ensemble, to work on any sort of project we could only record our individual parts then stitch the video together.
Playing in a duo with Rachel has taught me valuable skills that any orchestral musician or ensemble player needs. Such skills include the ability to blend sounds, match intonation and react musically to other players. It is also incredibly fun and liberating as Rachel and I have complete freedom to make our own musical decisions. Whilst solo flute music can be rewarding and interesting for the audience, I believe that there is largely untapped potential in duo performance as two players can present music with more harmonic depth and create a perfectly blended sound at the same time. Therefore, my goal when performing with Rachel is for us to sound like one beautiful instrument whilst showing off the harmonic complexity that can be achieved with two voices.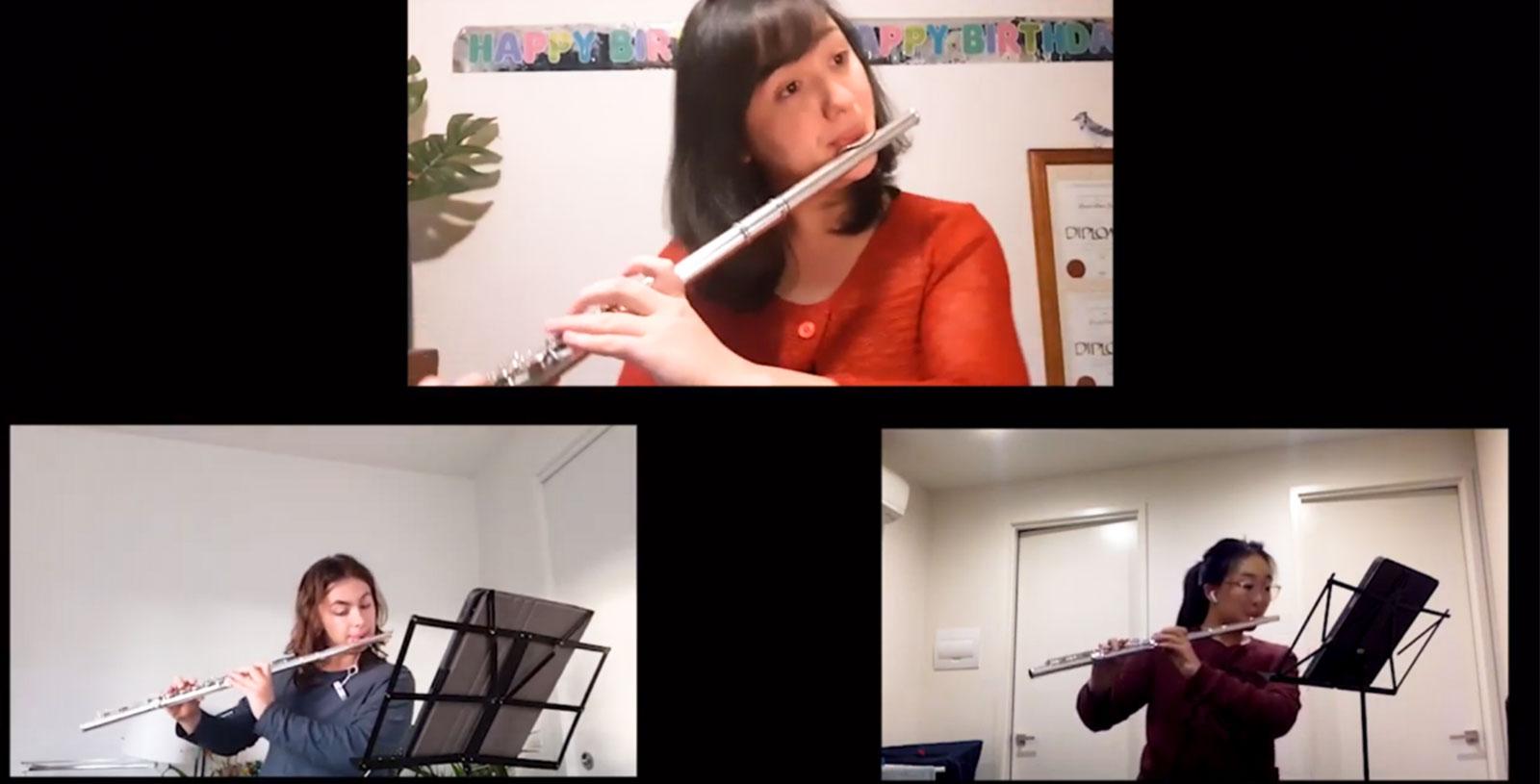 ANAM flautists put on a special performance of "Happy Birthday" for ANAM Flute Faculty Virginia Taylor
RACHEL:
This unique situation we all found ourselves in meant a lot more family time for me! I have the delight of having a little niece and nephew in my social bubble. However, my four-year-old niece realised that I sometimes needed encouragement to keep practising, so I'd get a reprimanding call out (from any room in the house!) if I stopped to check my phone or take a breather. So much for getting a break, but I was grateful for the reminders, most of the time.
Part of ANAM moving online meant we couldn't have practical, hands-on musical collaboration. This was, of course, disheartening as musicians who thrive on real-time sounds! We kept our ensemble instincts alive through having online discussions about the music we'd love to be playing and about the finer details and philosophical elements of playing well together. I am hopeful that these discussions will provide a greater depth to our practice process when we get back to our beloved rehearsal rooms.
Meanwhile, Lilly and I were still able to stay in contact online, and continue to dream up projects for the future. Our next project combines two players playing four instruments, creating some unusual sounds – so stay tuned!
---
ANAM RADIO: From the Archives
Rachel was recently interviewed by ANAM Music Librarian, Phil Lambert, for our ANAM Radio podcast. The episode is about a 2019 ANAM performance of Richard Strauss's Sonatina no. 1 in F major for 16 winds From an Invalid's Workshop that featured both Rachel and Lilly. Click the button below to listen to the podcast and watch a video of the performance.

ANAM RADIO (Ep 4 2020)
---
Lilly Yang's Musician Beneficiary Support is generously provided by Philip Bacon AM