Interview with
Sophie Rowell
ANAM Head of Chamber Music (strings)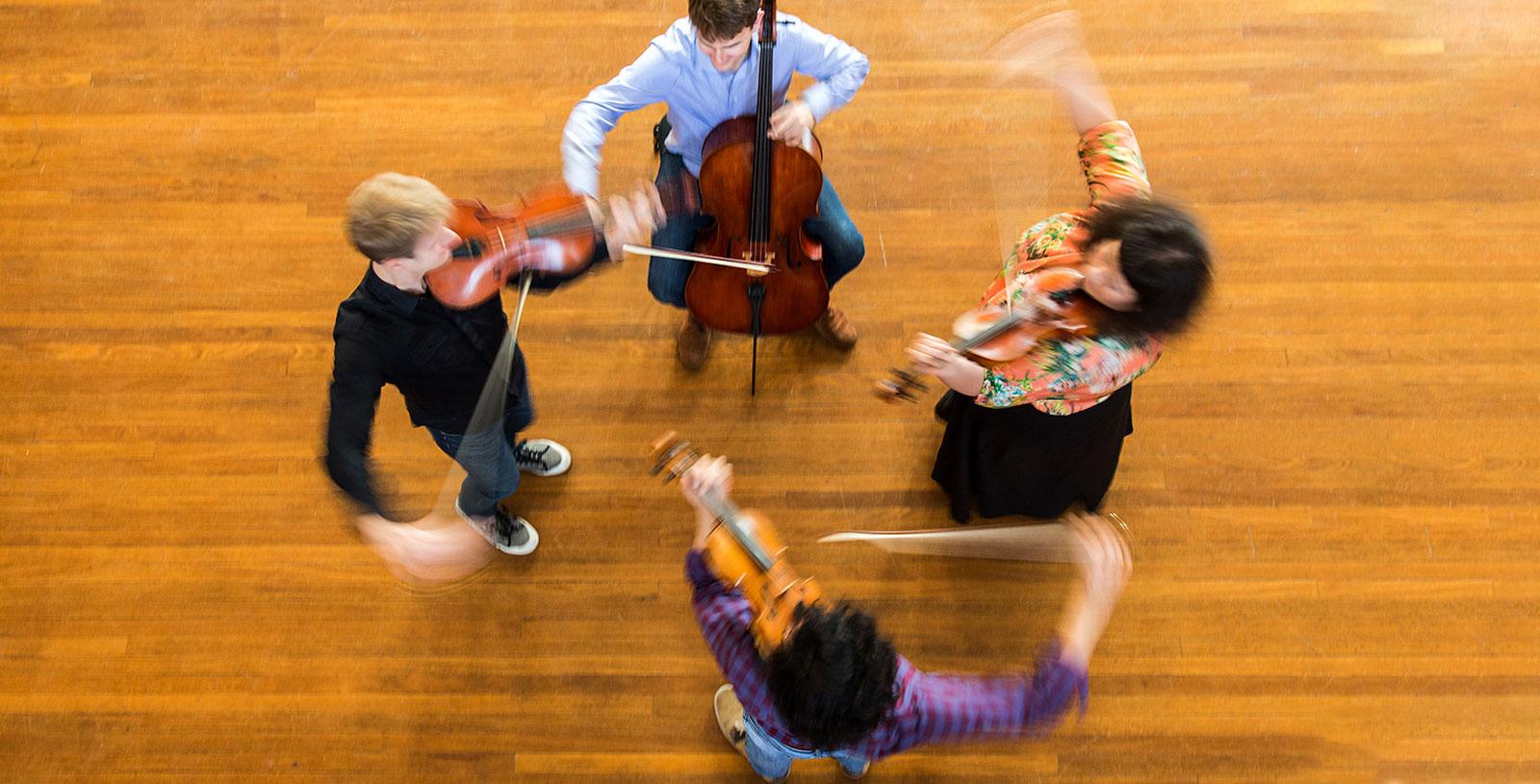 In addition to your teaching role at ANAM, in November last year you were appointed to the newly created position of Head of Chamber Music (strings). Can you talk us through the expectations that you had when this position was announced and how things have changed over the last few months?
I think being a chamber musician is the best thing a musician can be because, in essence, chamber music is a celebration of collaboration with others, no matter the size of the ensemble. It was therefore with great excitement that I approached this new year at ANAM. Tutoring chamber ensembles is one of the greatest pleasures in my professional life. There is a unique energy within an ensemble created both by the excitement of participation and by the incredible repertoire they are discovering. I imagined days of learning these works again through the eyes of the musicians as they, in turn, discovered them. I wouldn't have thought this imagination was too rosy in its aspiration but then 2020 had other ideas. Suddenly we couldn't even be in the same room as each other, and the idea of chamber music vanished. I had to put my dreams on hold.
The Beethoven String Quartet Cycle is a major project in ANAM's 2020 Season. You've continued to work on these quartets with the musicians online in the last few months. Can you describe how this coaching process has worked?
In my opinion, chamber music is one of the greatest forms of communication. My main aim for this new online world was to find a way to keep this communication going through new paths of conversation. Each quartet has listened to numerous recordings of their Beethoven Quartet, both historical and present-day, just one movement at a time. We then Zoom together to discuss this movement, whether that be aspects of articulation or thoughts on tempi, characterisation that may have spoken to one member of a quartet but not to another or aspects of notation in the score that might have puzzled us in some way. The only rule was that absolutely every comment and observation was valid. It has actually been a rare opportunity to learn a quartet from the outside in, if you like. It has been humbling to witness the way all our musicians have embraced this new form of chamber music coaching. I feel lucky to have spent the time with them in this way. Since when do we get to sit around and legitimately talk about Beethoven Quartets for hours?!
Do you have a favourite quartet from the Cycle?
No, but yes. Listening so closely to them all again has only reinforced in my mind just how extraordinary they are. They are simply breathtaking, a musical exemplar of the range of human emotions. They are, without any doubt, the collection of works I hold in the highest esteem of any oeuvre. So, they are all very close to my heart.
On the other hand, I'm often asked what my favourite piece of music is and, while I can't definitively say that, I always answer that my favourite piece to play is op. 131, the incredible C-sharp minor quartet. Playing the seven movements without a break is a Herculean effort, but on my last page when the first violin hits the octaves, I always feel that I have reached the top of the mountain and the world has granted me the best view of all. Even now, just writing this, I am smiling at the thought.
---
It has become very evident to me in the last months that I did not become a musician just because I love the violin. I became a musician to collaborate and celebrate music with others.
---
How did the musicians form their quartet groups?
Some of the groups started playing together last year so it was perfect that they could continue this year but, given there were a number of new musicians in the cohort, the Faculty formed the other quartets and allocated the repertoire to make sure that every musician and every quartet could be a part of this project.
How have you encouraged the musicians to stay motivated to create chamber music while they are apart?
Social isolation is the antithesis of chamber music. All those wonderful compilations we see online are, while wonderfully entertaining, the furthest you can get from the spontaneity which is the joy and fundamental art of chamber music.
What I have hoped we have done, however, is create a real sense of anticipation for when we can all be in the same room together again. Having spent so much time listening and dissecting the quartets means that we are now all raring to go with the actual playing. My suspicion is that these quartets will be learnt in record time the minute they are back in a room together.
How do you create chamber music in isolation?
Some of the quartets have sent me fabulous recordings that they have sewn together. One person will play their part first and then, one by one, the others will add their layer to the mix. Nothing will ever replace being able to play together, but they were certainly wonderfully refreshing to watch and listen to.
Are you working on your own chamber music projects outside of ANAM at the moment?
It has become very evident to me in the last months that I did not become a musician just because I love the violin. I became a musician to collaborate and celebrate music with others. Melbourne Digital Concert Hall has been a lifeline for me during this time, to be playing with my friends and colleagues and making music again. I have been playing duos, trios, quartets, quintets and conversing through music again. One thing I particularly enjoyed was performing Messiaen's Quartet for the End of Time for the first time – a piece that had been on my bucket list forever and something rather fitting for what these last months have felt like.
---
Currently Concertmaster with the Melbourne Symphony Orchestra, violinist Sophie Rowell has had an extensive performing career as a soloist, chamber musician and principal orchestral violinist both in Australia and abroad.