We're delighted to announce that Peter Elliott Architects will be the lead consultants for the much-anticipated restoration and renewal of the South Melbourne Town Hall.
Peter Elliott Architects have extensive experience working in both heritage and performing arts projects, most recently in the Victorian Parliament Member's Annexe, the Francis Ormond Building and Former Magistrate's Court (RMIT), Ian Potter Centre for the Performing Arts (Monash University) and Tolarno Galleries.
"We are delighted to have Peter Elliott Architects working with us to develop and deliver our vision for the South Melbourne Town Hall", said John Daley, ANAM Chair. "One of the State's most experienced firms working in the revitalisation of heritage buildings, Peter Elliott brings a deep appreciation of the significance of this wonderful building and the expertise to creatively unlock its potential for people today and in the future. Peter Elliott Architects also has the broader vision to locate it at the centre of a precinct, which is possibly one of Melbourne's best kept urban secrets.
"We hope that by inter-weaving our project with the City of Port Phillip works to repair and update the building's structure and basic functions, we can together deliver real value to the local Port Phillip and wider Melbourne communities".
Peter Elliott said "This is without doubt one of the most significant heritage and cultural projects in Victoria for some years. The South Melbourne Town Hall, designed by architect Charles Webb, is one of Melbourne's architectural jewels. It is a rare privilege to be engaged with such a building. We believe that a restored and renewed Town Hall will be quite unlike any other civic building in Melbourne.
"We share ANAM's vision to make this building a welcoming place, bursting with the energy of remarkable young musicians and inviting to everyone from across Victoria to engage with. Like ANAM we are mindful too of the importance of this special site for First Nations people and are committed to weaving their stories and narratives through the project.
"I am personally excited by the potential for our project in the Town Hall to pave the way for the entire Emerald Hill Precinct to be transformed into one of the country's most important cultural and community precincts in the coming decades. I am pleased that Port Phillip Council and the Victorian Government share our passion for this special part of Melbourne".
City of Port Phillip Mayor Heather Cunsolo said, "The much-loved South Melbourne Town Hall will soon come to life with the recent appointment of Peter Elliott Architects by ANAM, working closely with our Council to deliver this significant and much awaited project."
City of Port Phillip's base building works program is expected to commence in early 2024, with construction of ANAM's renovation and renewal project expected in 2025, with ANAM planning to 'return home' in 2026. ANAM is continuing discussions with the Victorian and Commonwealth Governments and a number of leading Australian philanthropists regarding their vision for this magnificent building.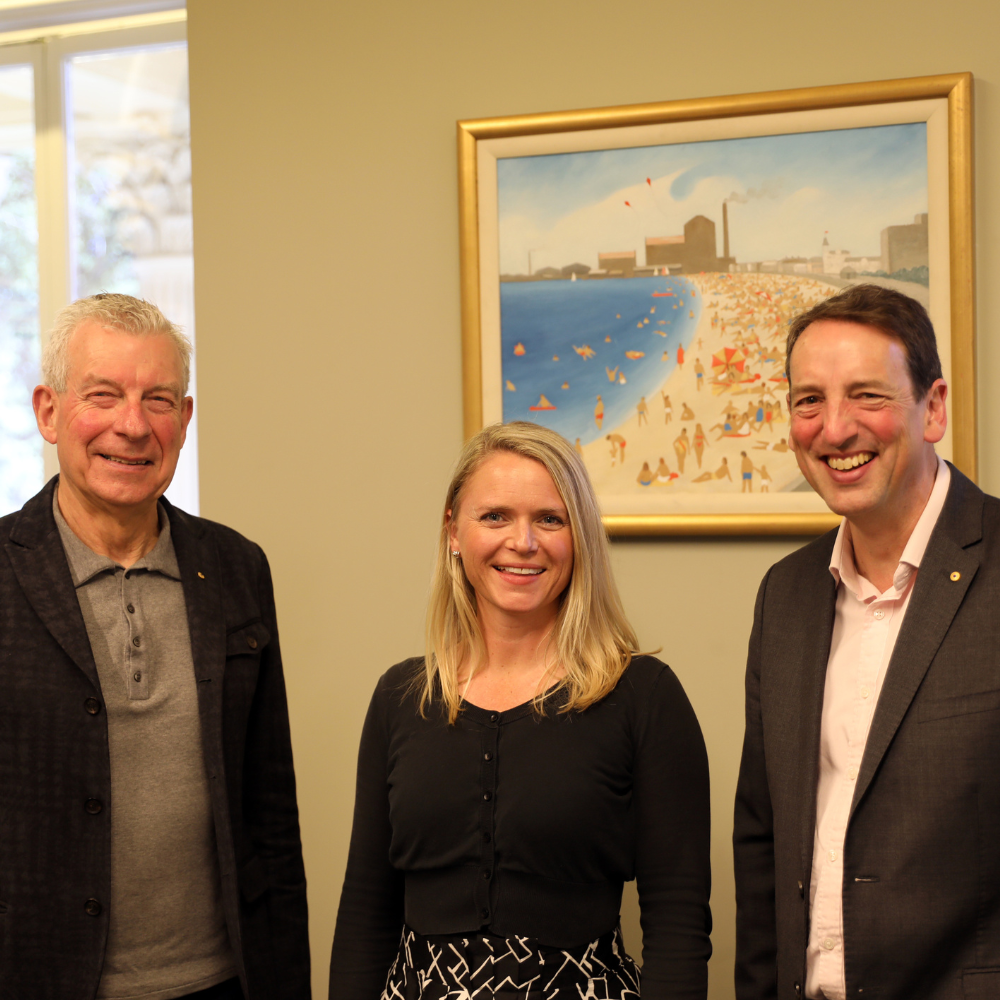 Photo (L – R): Architect Peter Elliott, Cr. Heather Cunsolo (City of Port Phillip Mayor) and ANAM Chair John Daley