ANAM's training program provides musicians with diverse musical experiences and a wider perspective of the musical profession. While a lot of our musicians move on to join music ensembles and orchestras all over the world, there are also a number of alumni who pursue less traditional albeit equally enriching careers in the music industry. We asked some of them to share how they continue to contribute to Australia's music landscape, and how their training at ANAM inspired them in their respective careers.
---
Alex Raneiri (piano, 2015), Artistic Director, Brisbane Music Festival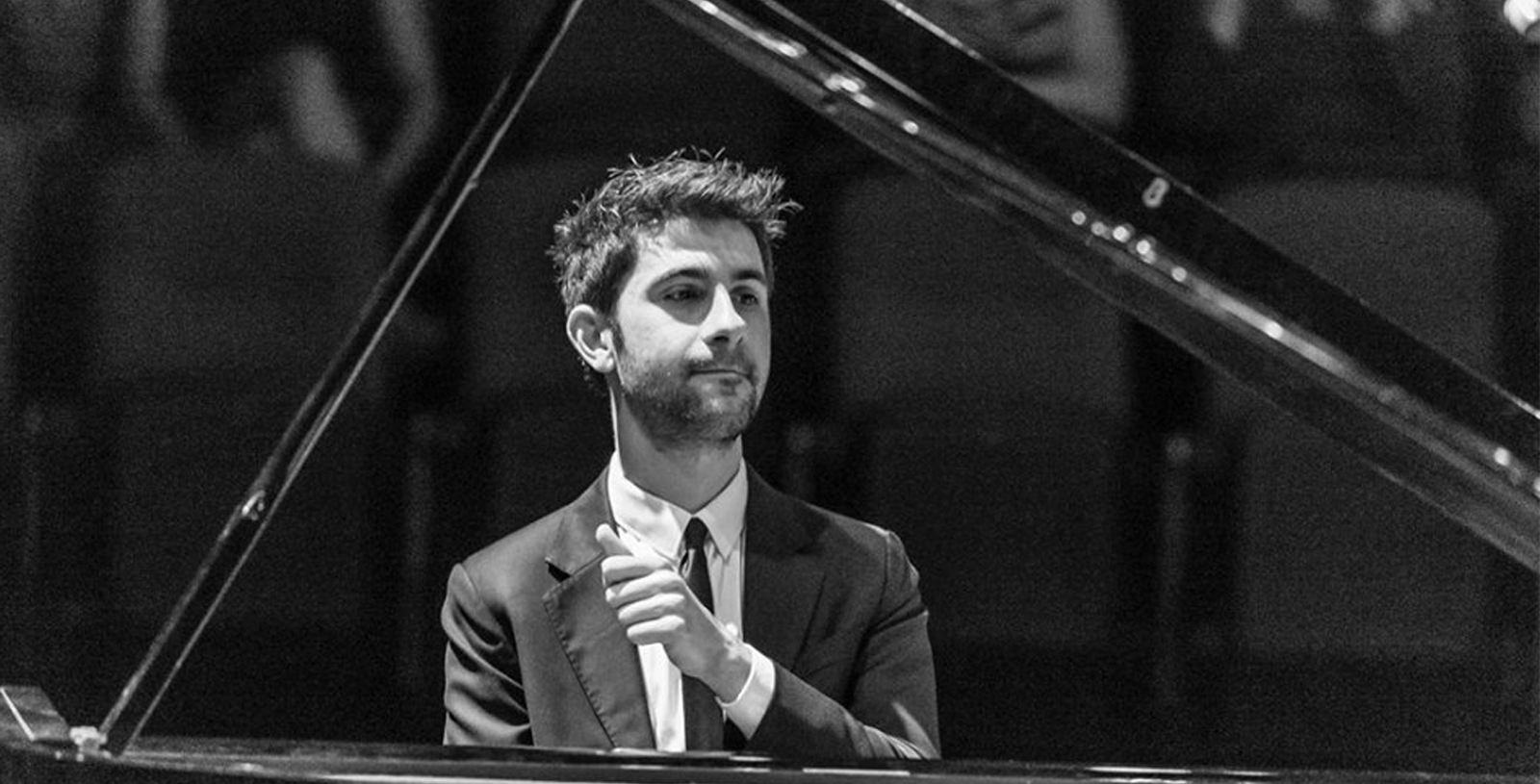 My years training at ANAM were formative in my development both pianistically and holistically as an artist. During this time, my creative identity sharpened. I have enjoyed a colourful portfolio-career filled with wonderful collaborations and exciting performative moments. My own major project of late is the Brisbane Music Festival which under my directorship is a platform for me to generate work for both myself, and the industry at large. In this way I feel happy to have an opportunity to give back to the industry which gives so much to me, professionally and spiritually. I am forever grateful to ANAM for opening my mind and potential, facilitating the journey walking the paths upon which my career has led me.
Stewart Kelly (piano, 2014), Entrepreneur and Owner, Stewart Kelly's House of Pianos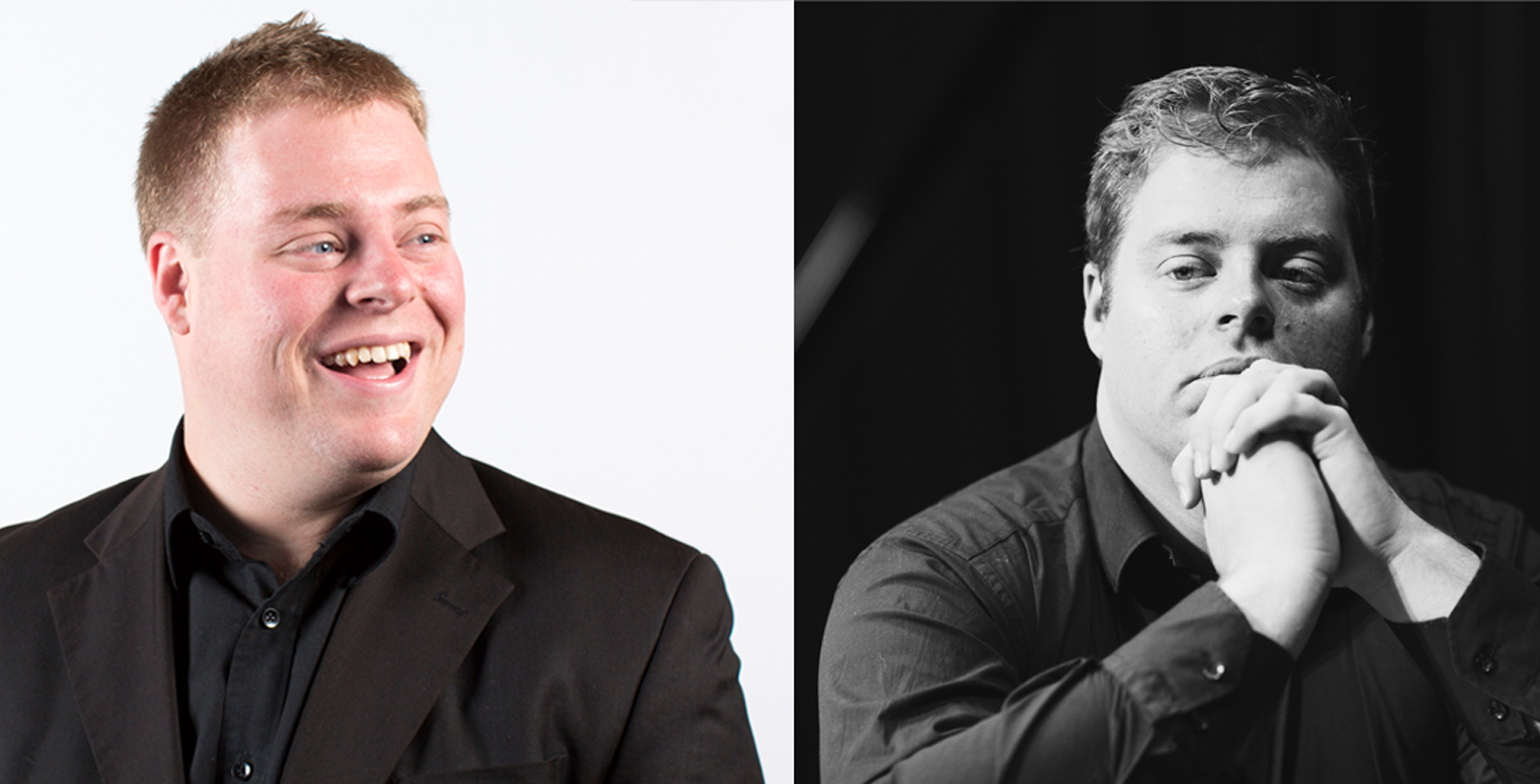 Stewart's ANAM musician headshot in 2014 and Stewart at present
My ANAM years provided such inspiration and insight into a career in the music industry. A few years ago I was in need of a studio space to host rehearsals for my work as a pianist and accompanist and I came to the rather crazy idea of opening a piano shop around it. I had worked selling pianos during my years studying my undergraduate and masters degrees and had a good understanding of the industry. I am very passionate about promoting the future of the piano and inspiring kids to learn. Buying a piano is an intimidating and confusing thing if you are not an expert and there are many traps you can be easily led into without good advice so I am always pleased to help people have a positive experience. The piano and its repertoire have enriched my life beyond measure and still provide daily inspiration. I love that I now get to help others enter this endlessly inspiring world.
Emily Sheppard (violin, 2013), Honours Candidate, Institute for Marine and Antarctic Studies, University of Tasmania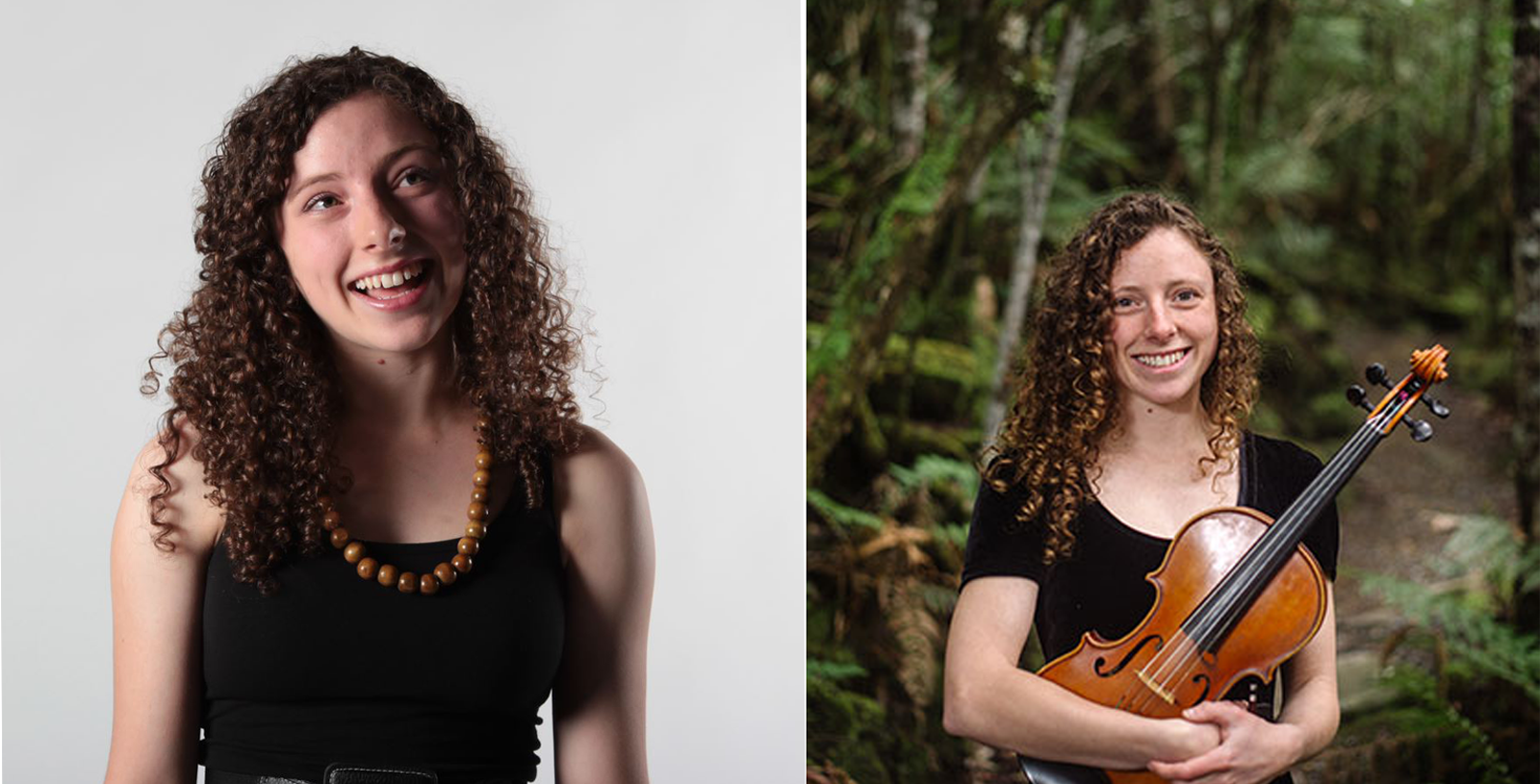 Emily's ANAM musician headshot in 2012 and Emily at present
My time at ANAM was a highly concentrated bubble of energy, with inspiration flooding in from all sides. Since moving to Tasmania, this concentrated energy continues to spill-over into the varied portfolio career I've found myself in. One of my major interests in these last few years has been all things seaweed. Sparked by a love of diving in Tasmania's beautiful temperate rocky reefs, I then studied marine science in my undergraduate degree, learning about the plight of kelp in a warming ocean. I'm now in the middle of an honours, looking at whether growing seaweed could help to sequester carbon for long-term storage in the deep ocean. However, research is only half the story - to be effective, it needs to be understood by policy makers and the public. I've been exploring how music can contribute to this conversation, which can connect these facts to an emotional understanding of why we should care. This began with composing music inspired by the experience of diving with the endangered Giant Kelp (see Sea murmurs below). Through further explorations, I found that dried bull kelp has quite good acoustic properties, and I found a way to use it as an amplifier (see YouTube link below). Since then there have been a few Tasmanian instrument makers crafting gorgeous instruments from bull kelp. There are now several kelp violins and one kelp ukulele in existence. Stay tuned for the kelp orchestra!
Sea murmurs: emilycloud.bandcamp.com/track/sea-murmurs
Kelp amplifie: youtube.com/watch?v=iZKJZoBg0Yw
Kaylie Melville (percussion, 2015), Artistic Associate, Speak Percussion

Kaylie during her ANAM training in 2015 and Kaylie at present
My love of percussion was sparked by variety - being able to play so many different instruments in so many different musical settings means there's always something new to learn! During my time at ANAM I discovered that playing chamber music - and especially new music - was where I felt most inspired and excited. My current role at Speak Percussion as Artistic Associate continues to build on those themes of innovation, curiosity and new challenges. In any one week at Speak, we might be performing, touring, recording, developing new works with collaborators and composers, or working with students in our education program. Speak's focus on postinstrumental practice is especially exciting to me. When you embrace the idea that any object could be a fascinating musical instrument, the possibilities really are endless!
Thea Rossen (percussion, 2016), Musica Viva in Schools, Artist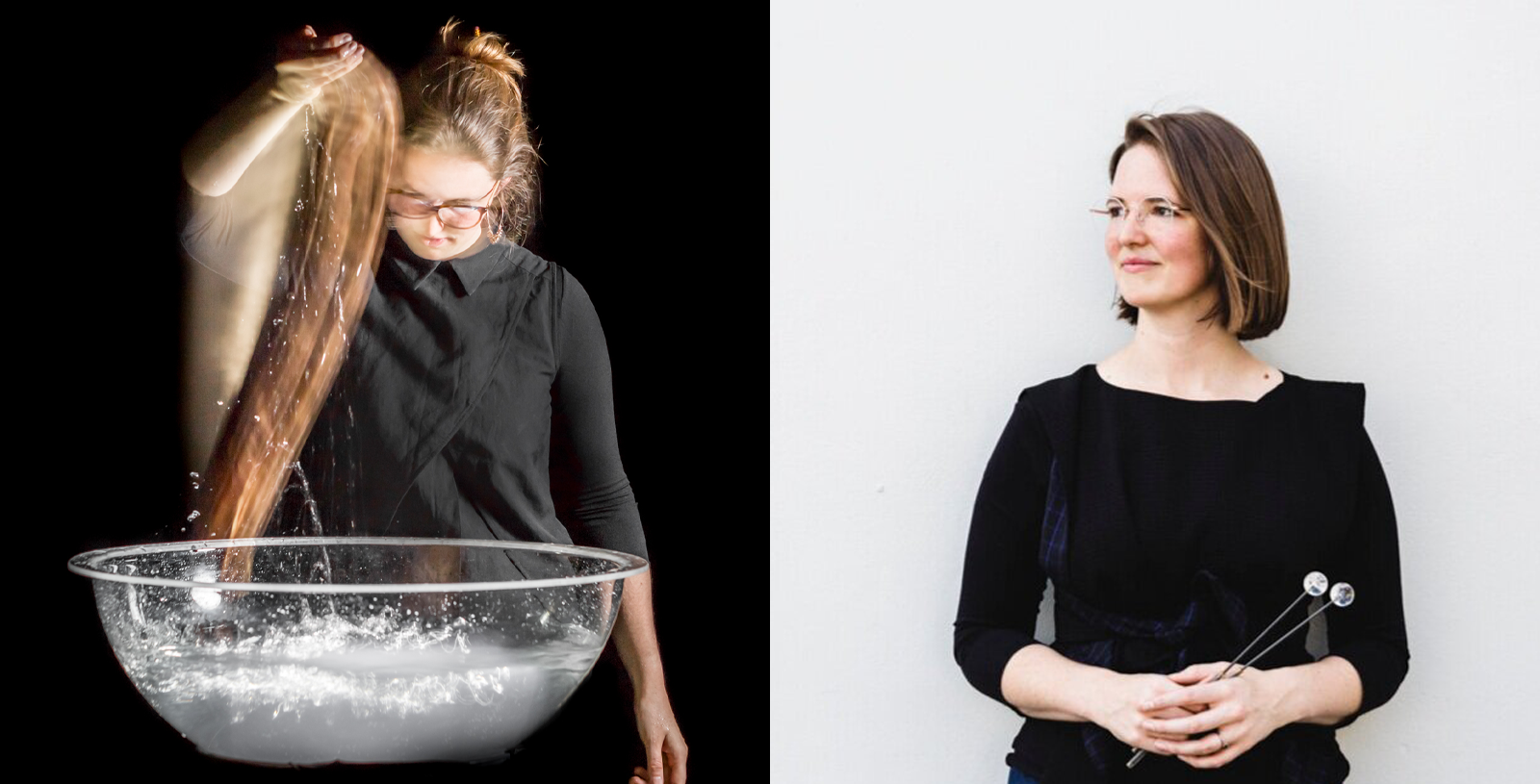 Thea during her ANAM training in 2015
I fell in love with the Water Concerto by Tan Dun in 2015 while in my second year at ANAM. With the help of Phil Lambert in the ANAM library I was able to get the orchestral score and spent the next few months in the ANAM kitchens learning all the different water techniques for the piece. We performed a sextet version of the Water Concerto for my recital which included piano, double bass, cello, clarinet and an extra percussionist. In my final year at ANAM I spoke to Richard Gill about my passion for education and my interest in presenting. He put me in touch with Michael Sollis at Musica Viva and I pitched the idea to turn the water concerto into a trio version that could tour schools with Leigh Harrold on piano and Luke Carbon (clarinet 2016) on clarinets and percussion. Since then we have performed Water Water Everywhere for over 50,000 school children in around 280 live and online performances. I am very grateful to all of the ANAM staff and students who have been a part of the journey with this extraordinary piece and feel lucky to be able to bring it to so many students around the country!
See Thea's ANAM performance in 2015: vimeo.com/161698674
Water Water Everywhere presented by Musica Viva in Schools: vimeo.com/296982982
Chris Howlett (cello, 2011), Co-Director, Melbourne Digital Concert Hall

Chris during his ANAM training in 2011 and Chris at present
It is rare to have the support that enables utter immersion in one subject but for three years ANAM enabled me to do so. I went there for the studio time with Howard Penny but the immersive experience, hallway conversations with the likes of Paul Dean, Anthony Marwood etc, opened my eyes to new and different repertoire and lit my love of programming. It is that love of programming that enables me, as Co-Director of Melbourne Digital Concert Hall, to shape the 420 concerts that we have presented in the last 17 months.
Aidan Boase (piano, 2014), Associate Artist, ANAM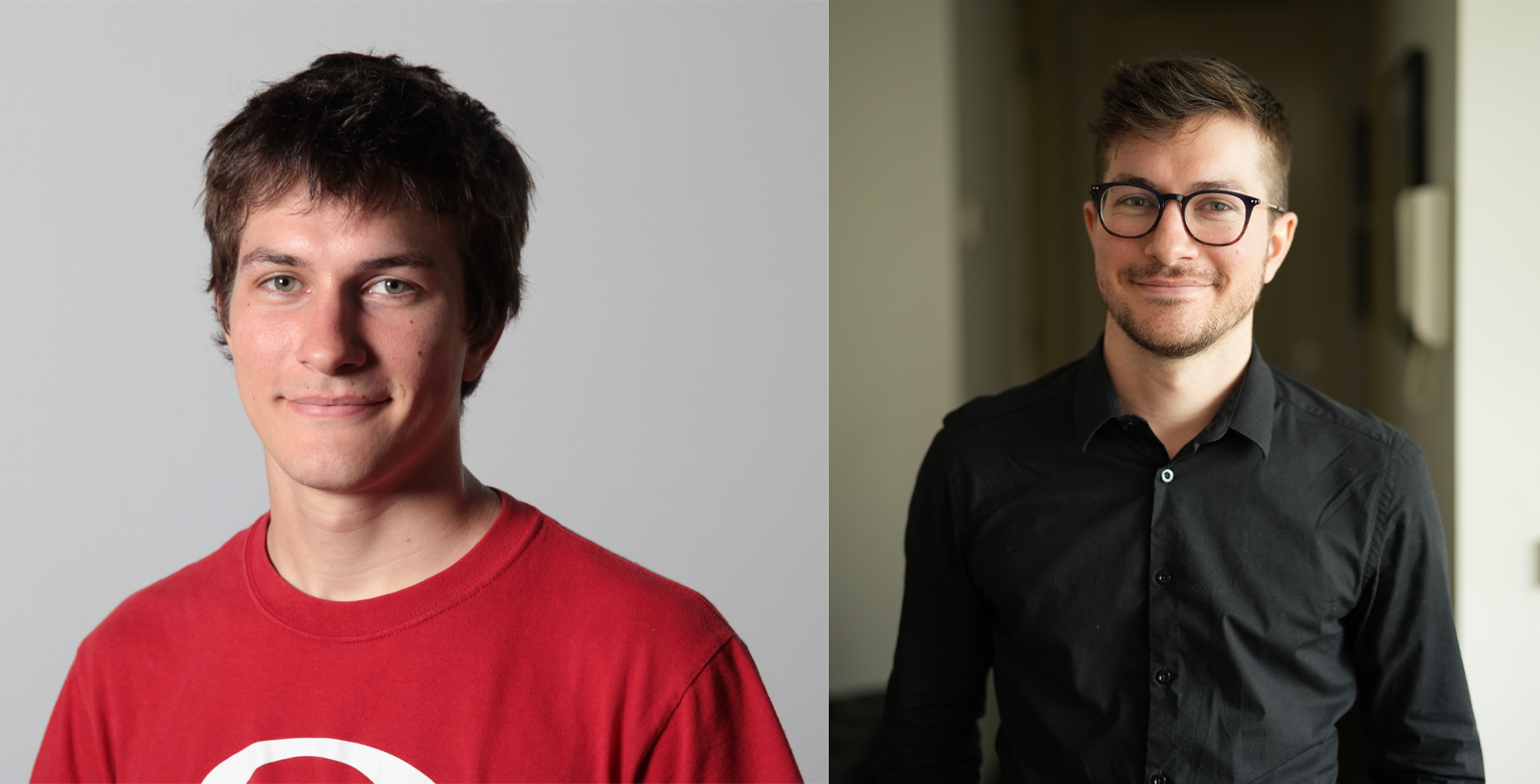 Aidan during his ANAM training in 2012 and Aidan at present
I'm a pianist and an ANAM Associate Artist, which means I collaborate with the musicians of the Academy. We rehearse, play in lessons and classes and perform in recitals and other things throughout the year. I get to work closely and creatively with some of the best young musicians in this part of the world, alongside their amazing teachers and guest faculty. I studied at ANAM myself not so long ago. As an ANAM musician I was exposed to many wonderful, inspirational people, not least of whom was the entire keyboard staff of the academy. I was in awe of what they could do - and still am today as their colleague. To me that seemed like the dream job for a collaborative pianist in Australia, "but gee it seems like hard work" I thought. Well, I was right on both accounts. What did surprise me was that I got an opportunity to do it, and so soon after I finished my own studies. I've known for a long time that I wanted collaboration to be the main part of my career as a pianist, and ANAM is about the best place I can think of to do it.