David Thomas reading a score in the wandering session (2011).
Our 'online lessons' are conducted over the 'Zoom' video call/conference computer platform. Depending what technology we each have at home, we use a laptop computer, an iPad or a phone.
The musicians are positioned so that I can see both of their hands, and we each have a good quality microphone plugged into our computer. We have experimented with microphone position so that the sound is actually quite good. We're both using headphones rather than just the computer speakers, which also helps to optimise the sound quality. There's about a one second lag between when you speak or play and when the other person hears you, so you can't play 'together', but we don't do that a lot in lessons with advanced students anyway. Zoom also has 'screen sharing' so if we're working on a concerto or chamber music piece, the student will play from their own part on their music stand, but we can both have the full score of the piece on our computer screens, with the video boxes smaller and on one side, and I can scroll through the score, point at things as we discuss them, or even write onto the score in real time for the student to see, if I'm using an iPad.
Lessons are still 60 or 90 minutes long. We thought these video lessons would be more fatiguing than face-to-face lessons, but for most of us that's not the case.
There is a limit to the sound quality we can hear in these 'live' video lessons, so between lessons the students also record themselves onto their computer using a different recording programme. The teacher can then hear a near-CD-quality recording of what the students are working on, make notes, and start the next lesson with feedback from that recording, or simply email comments back to the student. This has actually been happening all along, as these video recordings with good sound-quality are widely used for scholarship applications and auditions as well as general documentation of the students' work.
With Zoom we also hold the classes which have always been part of the ANAM schedule: classes for all the players of an instrument, 'section' classes (strings, woodwind, etc.) and also Performance Class, where students present their 'finished products' to each other and faculty. With screen-sharing of music and scores, everybody can see the music which is being performed.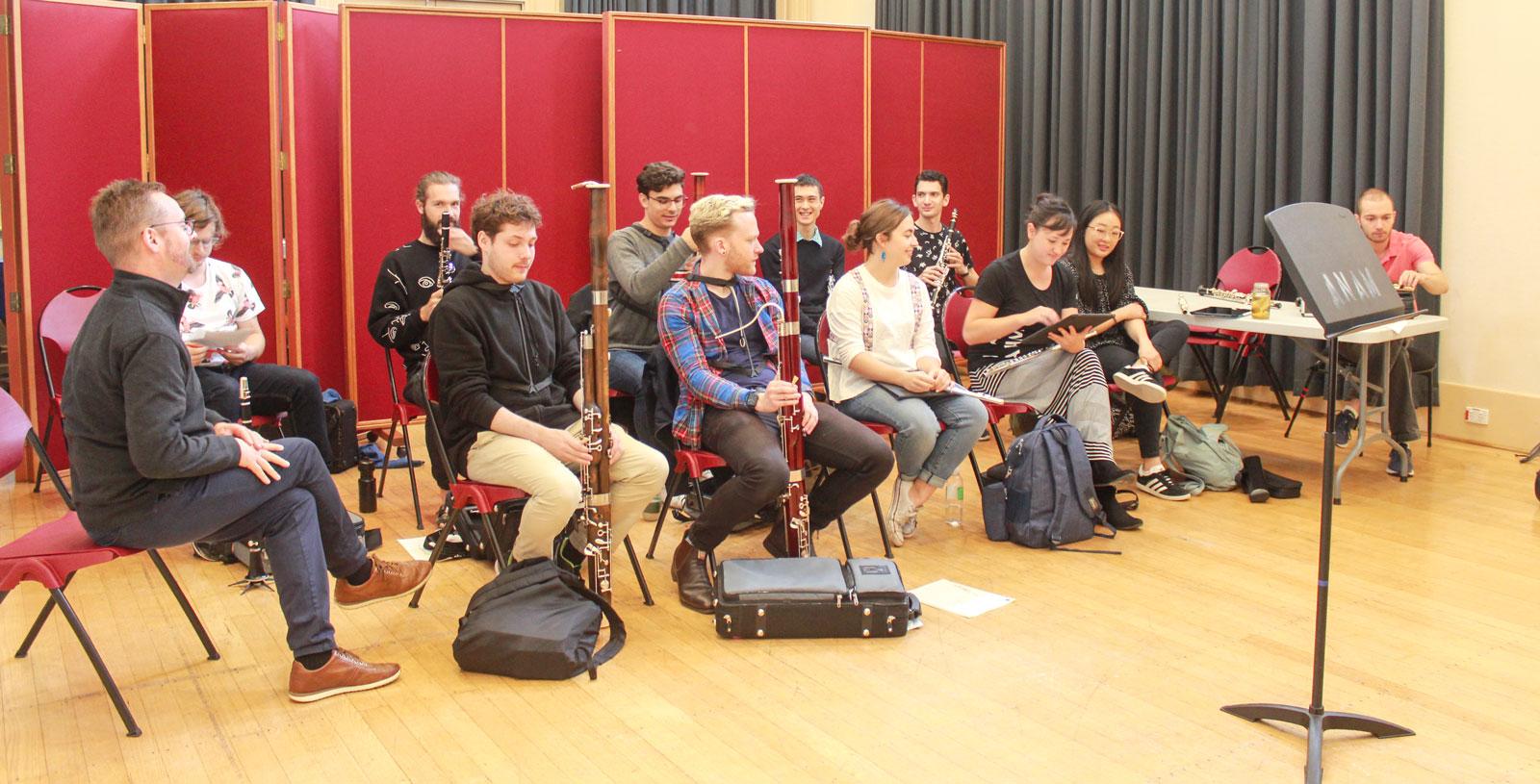 ANAM woodwind musicians in their first sectional class of the year (March 2020).
Will this type of lesson completely replace face-to-face teaching in the longer term? No, not at all. Just as sound recordings will never replace the concert-hall experience, many aspects of the sound we produce can't be assessed properly on any recording — such as 'projection' which is the ability to fill a big space with your sound. The adjusting of reeds can't really be assessed or taught online, and as I can't move around the student as they play, some aspects of posture and breathing can't be properly assessed either. However for working on tuning and intonation, and most aspects of technique and phrasing, online lessons are quite a good substitute.
Online lessons have been a steep learning-curve for us all, but we've actually had a very productive term working and teaching remotely, and the 'pastoral care' aspect of teaching hasn't really increased, it's just changed a little. Other staff at ANAM have also been wonderfully pro-active in caring for the students' and faculty's mental well-being as we all get on with our work at home. Of course, we can't wait to actually make music together again, which is such a big part of the ANAM experience, but the students' improvement of their instrumental skills and broadening of their musical minds has certainly not slowed down during lockdown.
---
Born in Melbourne in 1971, David Thomas studied clarinet at the University of Melbourne with Phillip Miechel and the Vienna Conservatorium with Roger Salander. He has held the position of Principal Clarinet with the Melbourne Symphony Orchestra since 2000, and was previously Associate Principal Clarinet with the West Australian Symphony Orchestra. He is a regular member of the Australian World Orchestra, and teaches clarinet and chamber music at the University of Melbourne and the Australian National Academy of Music (ANAM), where he has been Head of Woodwind since 2008.